Earning some of its best ratings since 1984, Sunday's Grammy Awards telecast fluctuated between somber and joyful moments, between the "old guard" and the relative newcomers, and between the powerful and head-scratching performances.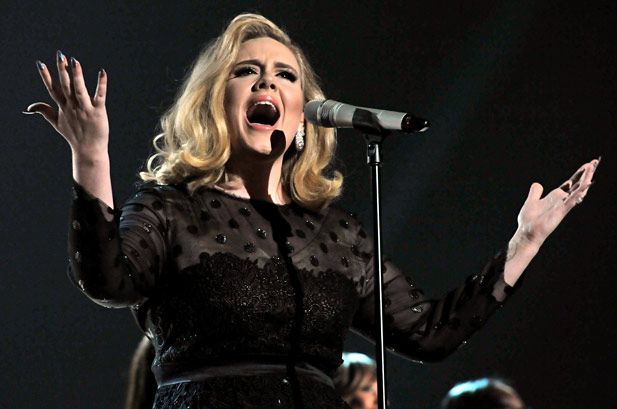 What follows is an overview of some of the best and worst, and the so-so moments of the telecast:
The Best:
The Beach Boys reunion: Sure, the aging band might not legitimately be called "boys" anymore. Yet the newly reformed group showed they could still deliver tight harmonies, and listening to the fragile Brian Wilson croon his solo parts tugged at the heartstrings. The enthusiastic crowd reaction proved that "Good Vibrations" still resonates with the young and old.
The Glen Campbell salute: The Band Perry and Blake Shelton competently covered "Gentle on My Mind" and "Southern Nights" respectively. But the real star was Campbell, who playfully interacted with the audience while belting out "Rhinestone Cowboy." Suffering from Alzheimer's, Campbell still remembered the lyrics and seemed to be having the time of his life. The crowd greeted him with great enthusiasm, with Paul McCartney pumping his fists in the air while singing along in the front row. The segment served as a fitting sendoff for a legendary country star.
Adele's comeback: Will her voice sound the same? Audience members held their collective breath as she took to the stage. But her rousing (if slightly raspy) version of the gospel-tinged "Rolling in the Deep" from 21 demonstrated that Adele was back. Her subsequent sweep of all six major Grammy categories and emotional acceptance speeches sent a message: right now this is Adele's world, and we all just live in it.
The Ending Guitar Battle: Delighting classic rock fans everywhere, McCartney took to the stage to provide the show's rowdy finale. Joined by rockers Joe Walsh, Bruce Springsteen, Dave Grohl, and his own band, the group delivered some blistering guitar solos that propelled the "Golden Slumbers/Carry That Weight/You Never Give Me Your Money/The End" medley to enjoyable heights.
LL Cool J's hosting: Bring him back next year! The classy MC deftly handled the pall Whitney Houston's death had cast over the proceedings. His opening prayer served as a low-key yet moving tribute to the singer, and his shoutout to Don Cornelius also demonstrated his respect for the past.
The Worst:
Nicki Minaj: The rapper has established a reputation for eccentricity. I get it. But her Exorcist-themed treatment of her single "Roman Holiday" came off like an unfocused mess. Was she trying to recycle Madonna in shock value? Whatever she tried to do, it simply did not work.
Coldplay and Rihanna: While they joined forces on "Princess of China" from Coldplay's last album Mylo Xyloto, here they seemed awkward around each other. Rihanna gave a typically dance-heavy and professional rendition of "We Found Love," but Coldplay sounded weak on "Paradise." It appeared that Chris Martin wanted to be somewhere else that night.
Chris Brown's comeback: Brown fans say that he has learned from his mistakes. But it seemed inappropriate to shower him with accolades (namely Best R&B Album for F.A.M.E.) and feature him in not one but two performances. All of this is particularly strange considering that Brown assaulted Rihanna on the eve of the 2009 Grammys. What message does this send, particularly to young fans?
Lack of diversity in music: What happened to the Grammy tradition of featuring artists from different genres? Remember when Ricky Martin excited the crowd and became a star after his performance of "La Copa de la Vida" during the 1999 telecast? The Grammys should be a showcase for artists from all different forms—jazz, bluegrass, classical, folk, world, and many more—to educate the larger public. Shame on the Grammy Awards producers for strictly focusing on safe artists who would ensure the 18-35 demographic.
The So-So Moments:
Rave featuring Chris Brown, Deadmau5, Foo Fighters, David Guetta, and Lil Wayne: At last, the Grammys features dance music; the bad news is that they acknowledge it by putting on a sloppy rave-lite. Guetta DJ'ed with a huge grin on his face, while Deadmau5 entranced the crowd with his heavy beats and "Mickey Mouse from hell" persona. But what were the Foo Fighters doing there, particularly after Grohl had delivered his impassioned speech about machines overtaking music and championing "singing into a microphone and learning to play an instrument and learning to do your craft, that's the most important thing for people to do"? Just minutes later, there was Grohl jamming to electronica. What a strange segueway.
Jennifer Hudson's tribute to Whitney Houston: Having a respected singer step onto a bare stage, Houston's image towering over her, seemed to indicate a moving tribute. But did Jennifer Hudson have to choose "I Will Always Love You"? While Hudson boasts impressive pipes, she simply could not match Houston's iconic, powerful version. Instead, the song highlighted Hudson's shortcomings.
Bruce Springsteen and the E-Street Band: The Boss opened the show with the debut of his new single "We Take Care of Our Own." While the group displayed their usual energy and camaraderie, the song wasn't particularly memorable. Clarence Clemons' absence also left a hole on the stage, which will be extremely difficult for Springsteen to fill.
Bruno Mars channeling James Brown: Mars certainly wins the award for the best quote of the night ("get off your rich asses!"), but sorry—he's not the Godfather of Soul.
Maroon 5 and Foster the People's tributes to the Beach Boys: Who selected these groups to perform the harmonically difficult "Surfer Girl" and "Wouldn't It be Nice"? Both certainly gave their best effort, but the vocals were weak and tentative.