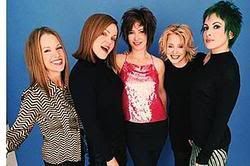 When I learned the Go-Go's were going on tour for the Summer of 2011 with the B-52's, I had to call my friend of 35 years, Jeff, a ravenous Go-Go's fan for nearly as long. In NYC, the Go-Go's "Girl Gone Wild" tour and the B-52's 34th Anniversary show, surprisingly, were scheduled as two separate dates with each band headlining the 1,000-capacity Irving Plaza instead of a co-headlining date with both acts. The price for each show was cheaper than most so the obvious boomer crowd could afford both shows for less than the price of the two together. Regardless of the venue or lineup, I was excited about the possibility of having mindless fun with rock and roll once again. I also have a family memory connection with the Go-Go's.
The first time I witnessed a Go-Go's performance was while they were opening for The Police on their first big tour. It had barely been two years since The Police came to Birmingham, AL while introducing themselves to the US in a van, with one roadie, and played to 30 people. Booked months before the release and instant success of Beauty & the Beat, but just like the headliners, The Go-Go's had two verifiable hit singles with "We Got the Beat" and "Our Lips Are Sealed." A sell out of large arenas was pretty much a given. Unlike today's music fans, people tended to like a variety of music so it was not unusual for 18,000 people to want to see The Go-Go's as well as The Police.
The concert stands out in my memory because it was a post-Who in Cincinnati disaster with festival seating, (i.e. standing on the arena floor pressed up against a wooden or metal barricade if you were fortunate to be up front or a massive smashing of bodies if further back). A small group of friends, including my sister, held out at the front of the line, sitting and standing, for 8 hours in the hot Alabama sun to get the premium standing room in front of the stage. After the doors opened and the mad rush to the front of the stage, all of us made to the premium spot – front and center and with breathing room to spare. The massive crowd on the arena floor moved in tighter and tighter and got to a breaking point as the Go-Go's played every song in their repertoire. My sister made it through the Go-Go's set but fainted from the heat, just before The Police took the stage. She was safely pulled from the audience by erstwhile roadies and given a prime spot to recover and watch the show. There was nothing I could do with the massive wall of bodies behind me. From past experiences, I knew that concert-goers falling ill, for a variety of reasons, were treated well with lots of water and most times given premium seats on the side of the stage. I enjoyed The Go-Go's more than The Police but both acts were great and The Go-Go's played with a tight fervor of a band that had been together so long they did not have to think too much to be tight as a band. They also looked like they were having fun and liked each other.
It was not long before The Go-Go's released their follow-up LP Vacation and went out on their first headline tour in 1982. MTV had just taken off in a huge way and the video of the girls on water skies, although obviously fake, made the listening – and watching – public love them even more. Once again, they came to our town and had festival seating. I don't think the news of The Who debacle made it down south, at least to promoter's ears. At least this time we ran to the front there were no dilemmas. This show was even better than their first tour and they had the look of superstars, possibly the first, as a group of women actually writing the songs and playing their own instruments – and playing them very well. After the run of a couple of hit singles, they disappeared from sight.
Two years passed and I read they were playing at Six Flags Over Georgia with opening act INXS. INXS was yet to have a hit in the US but, thanks to a progressive radio station and a friend who bought import LPs, I was already a fan. Besides that, The Go-Go's had released a single from their forthcoming third LP, "Talk Show," that had to be the best female anthem since "Da Do Ron Ron."
"Head Over Heels" is a perfect radio single and whenever I hear it, under any circumstances, I have to stop and listen – and it makes me feel better even if I am not feeling bad. The opening piano figure, despite the simple chopsticks style, is immediately catching. The drum beat is infectious and I can only imagine the late, great Martin Rushent putting Gina Schock through the repeated intricacies of making a snare drum sound like something that would grab people – and it does to this day.
The show at Six Flags holds a special place with me. I carried my youngest brother to the show for his 13th birthday. He passed away 12 years ago but every time I hear key songs of the day, I am taken back to the moment and don't feel sad, I feel happy and good which is what their music should do to anyone no matter what your tastes. We rode the rides all day then got in line to be close to the stage. While standing with about 10,000 people, I heard "Tainted Love/Where Did our Love Go," for the first time, blast over the speakers. I will never be able to hear that song without being taken immediately back to that day.
Friday night June 3, I waited outside of Irving Plaza in NYC with Jeff who flew in from Illinois for the The Go-Go's, without the B 52's, headlining their own performance. Yet another "festival seating" show, I was not quite sure I was up to it three decades later but I am glad I stuck it out and stayed on the front lines. Years of reading about the endless breakups, the drugs, the animosity was all forgotten when they ladies took the stage.
Musical purists may chastise me for being such a fan as to know the guitar lines, lyrics and drumbeats for an all-girl pop band but, in my lifetime, I have experienced few acts that just present themselves as having fun and wanting to make the audience have fun, don't think about your troubles, just have fun. From a musician's point of view, I was surprised at how precise and tight the band was after years of off and on performing together. Jane Wiedlin's driving and precise rhythm guitar fit perfectly with Charlotte Caffey's lead guitar lines and Kathy Valentine's superb bass work. Gina maintains her position as one of the best, solid drummers in the business. Belinda Carlisle, the diva of the band, sang as great as she did 30 years ago and looked even better. Her interaction with the rest of the band was even more sororitorial than in a couple of decades past. In other words, they were actually having fun playing together again. There is a rumor that this is the last tour. Just like I said when I saw the Stones in '98, "They are having too much fun to stop now." The ladies in the Go-Go's are more or less my age and I feel like going on for a couple of decades, I hope they do too.
For surprises, they played a couple B-sides and some rare solo cuts but mostly stuck to the three albums that made their place in rock history books. As I was adjusting my camera for filming "Head Over Heals," I heard one of them shout out,
"This is my favorite Go-Go's song!"
I don't care or want to know which band member said it, I just agree.