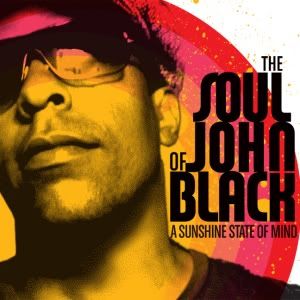 If I was late to the party on The Soul Of John Black before I'd say I'm a little early to the party this time or at least fashionably right on time. John "JB" Bigham gained notoriety with Miles Davis and Fishbone and is doing a hell of a job carving out a niche for himself with his TSOJB alter ego. In February I reviewed his third album Good Thang (second with Yellow Dog Records which "My Brother" was awarded Best Blues Song Of 2011 at the 11th Annual Independent Music Awards) and I was thrilled with it from essentially beginning to end.
Just in time for summer we get more TSOJB music in the form of several digital downloads collectively called A Sunshine State of Mind. First up we have "Lemonade" and "Summertime Thang," which are the first two singles available with two more digital downloads offered each month through the end of fall. In a recent press release, JB said he felt digital downloads in smaller doses was an ideal way to go because it gives listeners time to digest the music more completely. He says, "You get two into your system, then we'll give you two more."
This strategy is pure genius because I can't get either of these songs out of my head and don't really want to. I listened to "Lemonade" first because that was the order my downloads were delivered and let me tell you, this is not a G-rated song about little freckle-faced girls shilling the refreshing beverage for $0.25 a pop. "Lemonade" starts off innocuously enough with lyrics like, "I got a lemon tree in my backyard baby, pickin' lemons all day long" I started catching on right around the time "...and then I squeeze em' all night oh! Lemonade! All night long" kicked in. The message was further driven home with, "oh I like the way you shake that thang, whip it up real good, got lemon meringue?" This fast-paced, up tempo song is perfect for dancing around your car on a hot, summer day with a bucket of suds and a hose, preferably not alone.
Moving on to "Summertime Thang," already relatively hot and bothered is the perfect sequencing with the opening line "Would you mind if we turn up the heat, make it feel like June, in the middle of Spring?" JB's voice is smooth and sexy on this sultry number. Where "Lemonade" makes you want to run around outside half naked, "Summertime" will make you want to run around inside (probably also half naked). If you don't believe me you will by the time Bigham sings "We made love, so much love."
These are two high quality songs musically and lyrically with catchy hooks perfect for this time of year. I can't wait to see what else TSOJB has in store for us as we traverse these scorching months into the cooler but no less sultry Fall months. At the conclusion of the series the entire A Sunshine State of Mind collection will be available for purchase in digital album format, as well as individual tracks. Hurry and snatch these two songs up kids, that's not just merely a suggestion, and you're welcome.