Tonight on The Voice judges Cee-Lo Green, Christina Aguilera, Blake Shelton and Adam Levine must choose between twelve more acts vying for a spot on the live shows. This will comprise six duos from the same team and after a duel in a boxing ring stage their mentor must select who goes home and whom moves on to the loves shows to sing for your votes.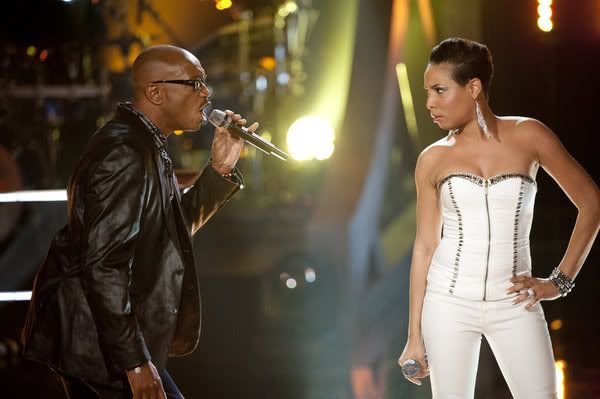 Christina Aguilera's first group -- Sera Hill and Geoff McBride -- will battle on Aretha Franklin's "Chain Of Fools." Sera is clearly a favorite of Xtina's after she joined her onstage during her audition, then at their rehearsal Geoff rose to the occasion and made Sera feel like it was less of a sure thing. Geoff's mentor Lionel Richie was very impressed with the sheer power of his voice and asked the legally blind man if he had to wear those shades all the time because eye contact is so crucial. Jewel mentored Sera and said she had crisp runs and was delivering believable notes whereas Geoff is more methodical. The two start off in unison and it's actually a damn shame they can't both win this round because they're a sublime duo! I love each of their soulful, R&B voices I can't pick a favorite or a clear winner; the only thing I'll say is Sera might have the slight edge being a female singing such a popular song by one of the foremost female vocalists. Sera fought to the very end and kept adlibbing and riffing and adding more notes eventually grabbing the final note in a selfish, show stopping, ingenious move. Cee-Lo said if he had to pick he leans toward Geoff but loves them as a duo most; Adam Levine loved Geoff's believability and power, while Blake said Sera turned him on more so he picks her. Xtina is impressed with them both and thought they both battled hard, ultimately picking Sera Hill sending Geoff home too soon.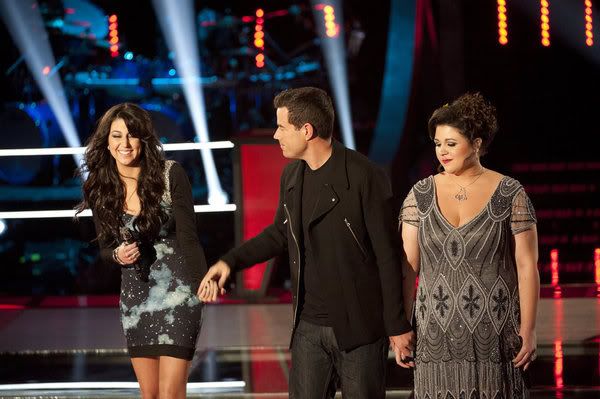 Blake Shelton pits Lex Land against Charlotte Sometimes on Foster The People's "Pumped Up Kicks" and I know from Lex's shaky audition and meek personality she will be outshined and overpowered by the chick that named herself after a song by The Cure. Kelly Clarkson loves everything about Charlotte; her vibe, voice, tone, personality and thought her likability would take her far. Blake's wife Miranda Lambert mentors Lex and says her shy introverted personality is perfect for the song. For someone who played SXSW I'm a little put off by the lack of confidence Lex is showing us at this point. Out of the box Charlotte gives me instant goose bumps and her vocal styling is not only interesting but really pretty, then Lex's little sexy, shy, librarian voice comes in and while it's nice too, Charlotte was fun to watch and stole the performance. Battle over. Xtina picks Charlotte, as well as Cee-Lo citing two great voice with Lex fading into the background too much, Adam gave Lex the sympathy vote while Blake easily chooses Charlotte Sometimes to move on to the next round.
Cee-Lo's first pairing of the night is rockin' Juliet Simms against folky Sarah Golden on Rod Stewart's "Stay With Me" which is instantly skewed in Juliet's favor because she has that gravelly voice and has been told she sounds like a female Rod Stewart. Going with the trend the Battle Rounds have taken so far I'll go ahead and call Juliet the winner as the clear favorite in a show where underdogs haven't prevailed. Babyface is just about the worst mentor fit possible for Sarah but tells her to stay true to her roots and even encouraged a yodel mid-song. Ne-Yo says Juliet's voice is a throwback and the raspy growl is not common "especially nowadays." Juliet is dressed like a slutty, biker chick Wonder Woman and comes out and kicks the song's ass, with poor Sara in her vest and slacks ensemble looking and sounding so plain and ordinary next to gritty, captivating Juliet. Adam quickly picks Juliet, Blake said Sara is a great secret weapon to have and picks her, Xtina said picking Juliet is "a no-brainer." Cee-Lo pretends it was a hard choice before picking Juliet Simms.
For Adam Levine's first battle of the night he chooses his early favorite Kim "You're Chaka Khan, Baby!" Yarbrough against Reno's own Whitney Myer to sing it out on Mary J. Blige's "No More Drama." Whitney get Alanis Morissette as her mentor who tells her she has breath control issues and to extend her notes when going up against big, bad Kim. Robin Thicke sings more during Kim's rehearsal than she does, which is fine by me but it makes me think they're keeping it from us because she's going to blow poor Whitney out of the water. As Adam's early favorite I know Kim's got this in the bag. Whitney was clearly outmatched here, and came off as someone pretending to feel the song while Kim was wholly connected to it. Kim Yarbrough easily won their battle and Adam's final vote.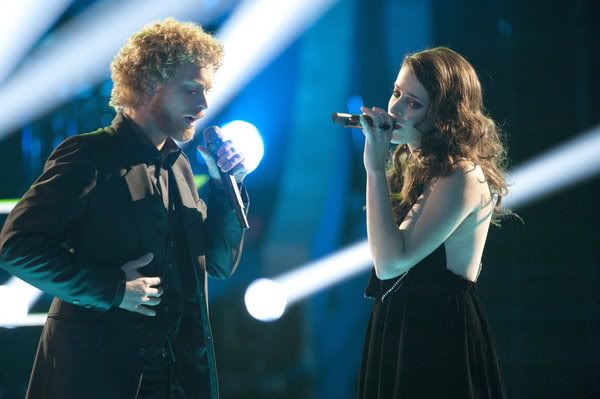 Xtina's next Battle duo is Lindsey Pavao against poor, little Lee Koch the baker who hasn't a chance against this powerhouse who's already garnered so much attention from her audition. Their song is "Heart Shaped Box" by Lindsey's favorite band, Nirvana. Lee is seriously screwed, even more so when his mentor Jewel is picking apart his performance and not instilling confidence in him. Lindsey is "stoked" by her mentor Lionel Richie who coaxes the style and charisma out of the already vivacious singer-songwriter. This odd pair was weird, creepy and perfectly suited for this eerie, haunting song. Initially I was more drawn to Lee's delivery, but Lindsey steals it in the end, while neither of them blew me away which is surprising, especially from Lindsey. Adam calls the performance "Delightfully creepy" before picking Lee, Blake has never heard this song, prompting one of his fellow judges to say "you're fired!" Christina of course picks the early front-runner Lindsey Pavao as the winner of this battle.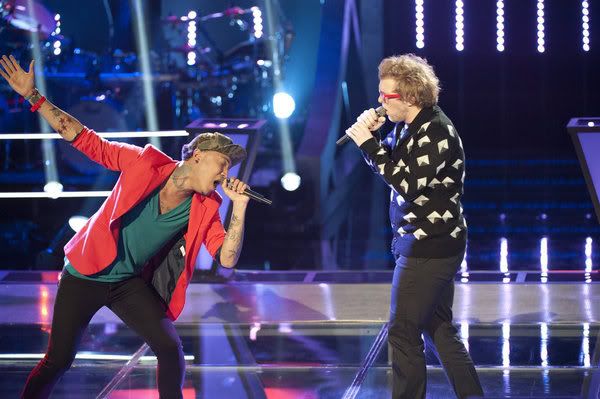 Up next for Cee-Lo is Jamie Lono and second chance kid and American Idol castoff Jamar Rogers on "I Want To Know What Love Is" which seems tailor fit for Jamar and him having a lot of buzz after his audition, he's the clear choice over sweet Jamie whose mentor Babyface cited nerves and a thin voice as a possible deal breaker. Jamar hit the mother lode with Ne-Yo in his corner and is clearly the brightest star in this boxing ring, easily making himself the standout against Jamie's one-note voice, Jamar slayed it and sang his heart out, even Jamie walked over to hug him before Jamar was even done. In the most obvious pick of the night Cee-Lo goes with his biggest fan, Jamar Rogers about whom Jamie tearfully announces could easily win this competition.
That concludes an evening of great performances, with no surprise victors moving on to sing live for American's votes. What did you think of tonight's show? Any upsets? Are your early favorites still around?