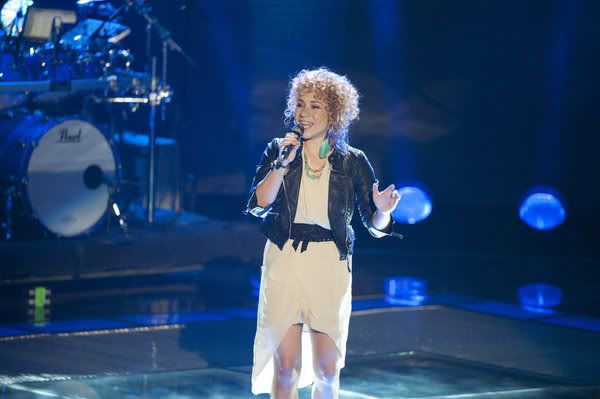 Tonight's the night on The Voice that we finally get to put these Blind Auditions behind us, as mentors Blake Shelton, Christina Aguilera, Cee-Lo Green, and Adam Levine complete their teams of 12. Whitney Myer kicks things off with "No One" and gets the attention of all four mentors, with Adam turning first and that wins her over, she's Team Adam.
The Shields Brothers have two things that set them apart from the pack: They're a brothers duo, they're rockin' and they annoyed me more than anyone else this season. That's quite a feat on a show with Cee-Lo and Adam Levine. The brothers performed "Dancing With Myself" much to Cee-Lo's delight who gets them as no other chairs turn around.
Hawaiian beauty Cheesa did a song I can't stand (not because of the song but because she was singing it) and got the attention of Cee-Lo at the very, very, like literally last note end, making her his 11th act. Cee-Lo says to her after their hug "you're going to win this thing." She's not, but that's nice of him to say.
The King of Beale Street, Preston Shannon is a legend in his circle and he's exactly what I want to see on The Voice. He's 64-years old and says even though he's legendary, he's still "lookin' for some learnin'" Playing his own guitar, he does a rapsy, rockin' version of "Wait Til The Midnight Hour" that has Blake almost hitting his button a few times. It's a DAMN shame no one turned around, the second the song stopped and all four turned around, Blake said "dammit," Adam swore and was bleeped and Preston's response was "my sentiments, exactly!" Once he leaves they are all hurting they let that one go.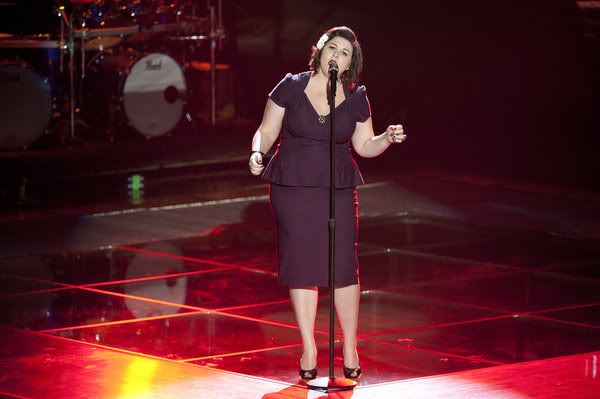 Lex Land is classically trained but started to gravitate toward singer/songwriter fare and sings jazzier tunes to make a living. After only a few bars of "I Can't Make You Love Me," she had Cee-Lo and Adam turning around with Blake following shortly thereafter. I didn't like anything about her voice, especially the lower register but that's what everyone else liked, so what do I know? She is Team Blake.
Orlando Napier has had a long, tough road that even included a jail stint where he re-focused on his life and career and wrote a bunch of music. He chooses John Mayer's "Waiting On The World To Change" and almost before he even opens his mouth, Adam turns around. He's bluesy and even a little jazzy, Adam's super into it, and enjoying the show. No one else turns around so Orlando is Team Adam and has filled his team of 12.
Cameron Novak claims to be the triple threat because he's able to freestyle/do hip-hop, sings oper,a and whatever the third thing is. He sings a very dramatic, almost trip-hoppy version of "You Oughta Know"; it definitely had Sneaker Pimp/Massive attack moments in there, then he'd belt a big note. No one turns, he's pissed, he's attitude-filled and Cee-Lo is kicking himself he can't get him now.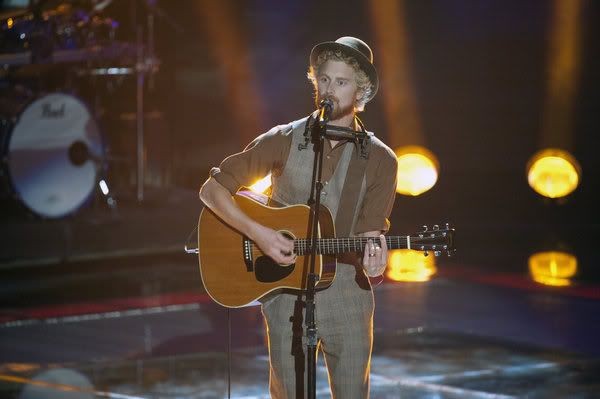 Singing baker Lee Koch gives the judges an earful on "Like A Rolling Stone" with only 3 mentors left looking to fill their teams. The competition is stiff and they're being more picky than ever. Once he starts the harmonica at the end, Christina inexplicably turns around making Lee her 11th team member.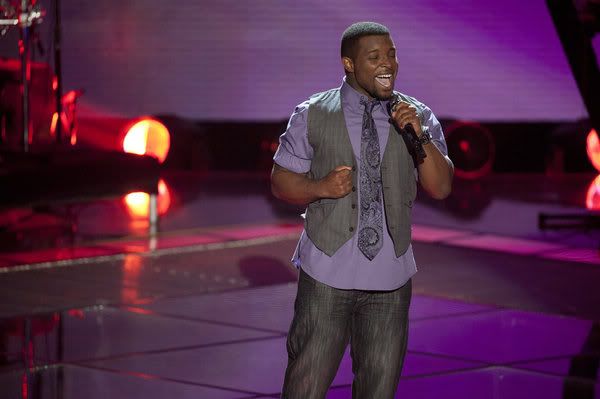 Wade is an 18-year old who didn't even know he could sing well, he just thought he was a good imitator of voices. He surprises the heck out of me with a funky, fun, bluesy, up-tempo version of the late Amy Winehouse's "Rehab" and fittingly is Cee-Lo's final act. Team Cee-Lo is also complete.
Adley Stump is a mediocre vocalist who gets both Blake and Xtina to turn around, looking to complete their teams. This white trash Barbie wisely choses Blake but, she won't last long.
Sera Hill is a lifer in the music business; she's signing anywhere and everywhere even the front desk at her hotel job. She's looking to be Xtina's final team member and belts out a shaky but strong "I'm Going Down" that got her mentor to turn around pretty quickly and she looked pleased with what she sees and hears, even asking for a mic and joining the astonished singer for the chorus. So that's it, kids. The four teams are complete, and Battle Rounds start next Monday!