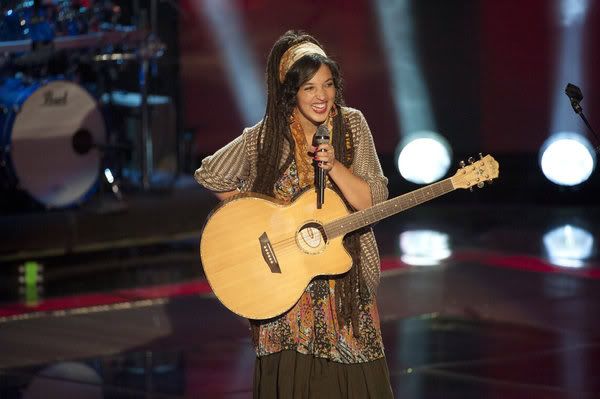 This week's episode of The Voice finds megastar mentors Christina Aguilera, Cee-Lo Green, Blake Shelton, and last year's winner Adam Levine vying for the most distinct voice and standout talent as their build their teams of 12. I've watched this episode three times in its entirety and it just never felt cohesive or fluid to me at any moment in time. So instead of my usual step-by-step recap, we're doing a broader overview.
While the judges seem to have been downing Hooch between takes and are giddy and ridiculous (albeit infinitely entertaining), flirting with each other, and loving median talent, I was stone sober and considerably less impressed.
My hands down favorite of the night was Santa Monica busker Naia Kete, who has dreads and loose hippie-style clothing and a silky, fluttery voice that was perfect on Bruno Mars' "Lazy Song." Cee-Lo and Blake both turned for her but she ultimately chose to be on Blake's team, much to Mr. Green's obvious disappointment. I've been seeing a lot of hype about two or three others from tonight's show and hardly a mention on this girl. Dark Horse alert.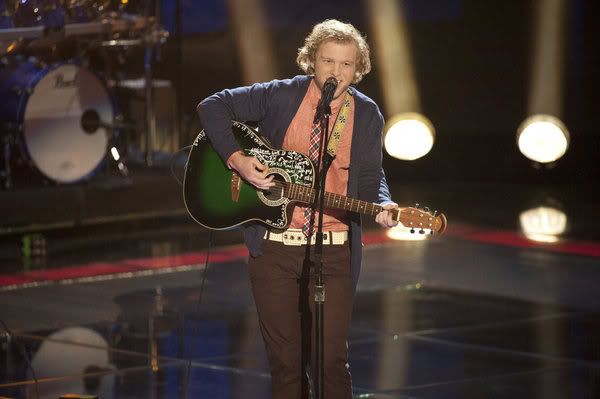 Another bright spot of the evening was Jamie Lono, whose rendition of Johnny Cash's "Folsom Prison Blues" debuted at #46 on iTunes directly following the show. He's a disheveled, indie mess who's endearing and sweet with a unique, comforting voice. Adam turned his chair around within seconds and Cee-Lo joined him shortly thereafter with Jamie placing himself on Cee-Lo's team. Watch this kid, he's a contender.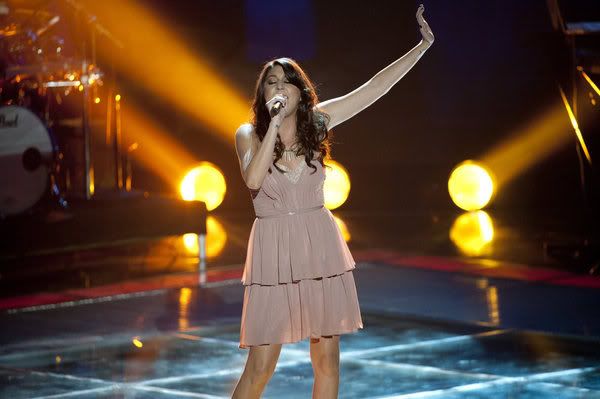 One that has the judges and the interwebs all a-twitter is New Jersey's Charlotte Sometimes (hedging a bet that this is not her birth name, just a hunch) who did that slowed down, scaled back thing everyone's doing these days on "Apologize." She got all four judges to turn around but was swayed by the country charmer and is on Team Blake.
Adam got a big break on Nicolle Galyon in being the only one to turn around for her. While she was obviously nervous and that caused some shaky vocals on "You Save Me," like Adam said "when you weren't nervous, you were so special" and I agree; I like her chances a lot.
Maybe it's the Adele connection or maybe there really is more to this girl than I saw, but while you and the judges alike are super stoked over Mathai's take on "Rumour Has It" I was left pretty cold. Nice voice, really good in fact but not a voice I could listen to for an entire album's worth of tracks. Isn't that sort of the point? She got three of the four judges to turn and take a look while she went for the smarmy sales pitch and landed on Adam's team.
Cee-Lo landed my least favorite audition of the night; I liked Tony Vincent even less than people who didn't get picked. Tony rocks the guyliner well and gave us a very over-the-top, excruciatingly theatrical performance of "We Are The Champions" that compelled only Cee-Lo to turn around. This kid's really arrogant and fake. Don't get attached to Tony, he's not sticking around.
In case you're noticing a trend here that the boys seem to be getting all the goods tonight but never fear; the start of the show was all about Xtina as she quickly snagged Usher's vocal doppelganger (no, really)- Jonathas. Cee-Lo turned around too but was no match for Ms. Aguilera, who Jonathas confessed was his first major crush growing up. Despite that creep factor, I'm actually rooting for this kid. Another Xtina score is Anthony Evans, who has a pretty hardcore gospel pedigree and while he was underwhelming on "What's Goin' On" I feel like he's a bit of a powerhouse and some tricks to blow us away with down the road.
These are my highlights of the night, who were your favorites? Did you see any potential Season Two winners from this Blind Audition session? Check back next week as we recap and dissect the final Blind Auditions as the four judges complete their teams.