Tonight on The Voice we will watch as the show's four superstar mentors Cee-Lo Green, Christina Aguilera, Blake Shelton and Adam Levine pare their teams down from twelve to only six.
Adam makes the first battle pairings of the night after delivering the news to his twelve acts. First to go head-to-head are former Mousketeer Tony Lucca and Atlantan Chris Cauley who will be vocally sparring on U2's "Beautiful Day." This is an interesting matchup because they're not just similar but just about carbon copies of each other. Chris admits he's nervous to be up against Tony with all his experience in the biz. The next day the boys meet their advisors and Alanis Morrissette is very complimentary of her charge, Tony Lucca. Chris Cauley has a great advantage in my opinion by having Robin Thicke advising him, it's a great match. When it's time for the boys to go up and duke it out Tony gets what I think is the enviable position of starting first. Chris picks it up like a pro and with one line each under their belt it's a draw. Heading into the chorus this is clearly Tony's round to lose, he's way under-matched it turns out. When it comes time for Adam to pick, Carson Daly asks the other judges to weigh in and Blake says pick Chris, Xtina obviously picks "her boy" Tony, while Cee-Lo agrees by picking Tony. It's ultimately Adam's decision and he says when putting this team together he didn't think it'd be this difficult. And in picking Tony it seems he said "Chris, I thought it'd be a lot easier to eliminate you." Chris Cauley leaves with class and has kind words for Adam.
For Blake's first matchup he pits country darlin's Adley Stump and Miranda Lambert's biggest fan Raelynn, he gives them "Free Fallin'" and Raelynn's dreams have come true when she gets Miranda as her advisor and Blake said she reminds him of his wife when she was 19 and on Nashville Star. Adley hits the mother lode by getting Kelly Clarkson as her advisor and I feel like Blake is almost setting Adley up because she's just not getting a lot of feedback from Blake. Adley has at least shed her ugly "Let's Get Physical" headband and while her hair still looks hideous, it actually looks marginally better "natural." While I think starting first is usually an enviable position, it was the kiss of death for young Raelynn. Adley came out with a voice I didn't even know was in her. Adam even leaned way out of his chair and looked down at Blake with a smirk. In the chorus she got a little pitchy but once they were on their own, she sang circles around her competitor who went for some breathy weirdness while Adley was just gaining momentum and impressed until the very end. Christina said Adley was the far superior voice tonight with Cee-Lo agreeing but, Adam goes the other way and says Raelynn was more unique. When Blake started saying he was looking for a storyteller, I knew he'd go with the "unique" voice of Raelynn and while he said it was tough (liar) he did go with the 17 year-old singer and Adley continued the trend of classy exits by thanking Blake for believing in her.
Christina breaks the news of the battle to her group then tells Chris Mann and Monique Benabou they are going to duel on Celine Dion's "The Power Of Love," and classically trained Chris seems like a lock over self-taught, raw talent Monique. Lionel Richie advises Chris to go for passion and feeling while displaying less perfection. Jewel watched Monique's Blind Audition in front of her and her advisor is very complimentary while also regaling her with tales of the more passionate singer being at the advantage in this battle. Billed as the operatic singer looking for his voice, Chris Mann goes second which I think bodes badly for him as Monique opens with a voice dripping with emotion and I think there's no topping her. Then Chris comes out and is a little over the top with the theatrical stuff but he's really reached into himself and is slaying it but I think the robotic delivery will leave Xtina cold. Cee-Lo and Adam both say they'd pick Chris while Blake says Monique really holds herself well against Chris and picks her overall. Christina calls Monique's voice angelic and then without much deliberation at all, chooses Chris which was the wisest choice by far. We're three for three on classy exits and Monique tells everyone she learned a lot on this journey.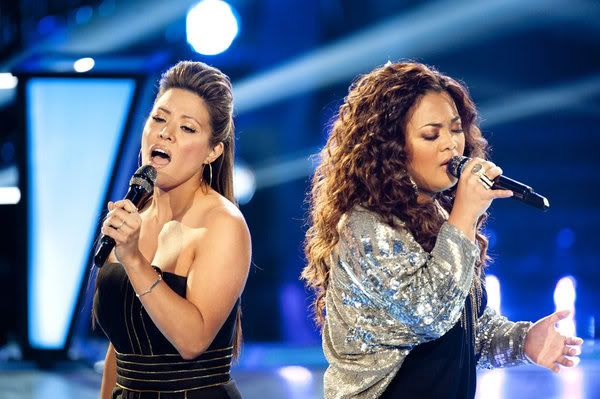 Cee-Lo's pairing is Angie Johnson and Cheesa going toe-to-toe on "Total Eclipse Of The Heart" which seems more suited to Angie as she did a Pat Benetar song at her Blind Audition. Babyface is Cheesa's advisor and the note change made by Angie is really giving her a hard time and says it's right in the range of her vocal breaking point. Angie's advised by Ne-Yo to hold her power back in the beginning and let it fly for her finale. Cheesa starts off a dramatic replaying of the song and right up to the chorus it's neck and neck for the ladies and while the sounded great together, Cheesa finished the strongest when it counted most. Adam reluctantly picked Cheesa, Blake cites Angie's clarity and diction before choosing her, and Christina agrees and says Angie kept getting better throughout the song before choosing her. In a better decision Cee-Lo picks
Cheesa.
Blake's next choice is Brian Fuente against my beloved Jordis Unga and gives them "Ironic" by Alanis Morrisette which seems swayed in Jordis' favor (which I'm fine with) but Kelly Clarkson tells Brian that when he's not hesitant "he's killer." And Blake said Jordis has a ton of talent but is in her own head and after she asks him what she has to do to blow him away when choosing; he tells her to be herself and stop second guessing herself. She seems very nervous and terrified before stepping on stage and cites this as her last chance because she's "not getting any younger." Billed as "aspiring rocker" Jordis takes ahold of this song from the get-go and never releases her grip on it, she also way overshadowed him in the chorus; it was like Jordis and her backup singer not Jordis and her competition. Christina called them both out on pitch before choosing Jordis, Cee-Lo is insane and says Brian was more aggressive, Adam says Jordis is his pick and Blake says while he wants a rocker and neither of them were as good as he knows they can be he went with his gut and picked Jordis.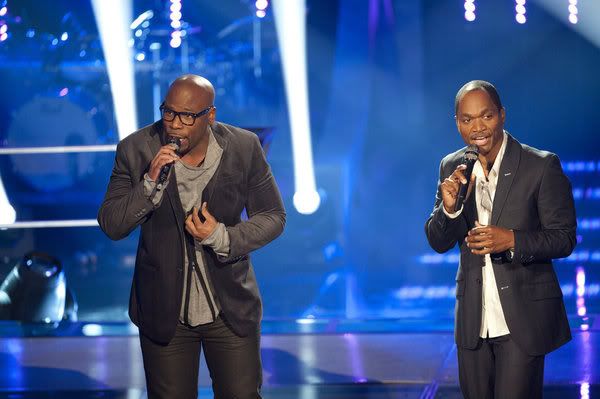 The next song is "If I Don't Have You" by Alicia Keys and is pitting Jesse Campbell and Anthony Evans against each other which seems like an unfair matching as Jesse got all four judges to turn around in his Blind Audition while Anthony showcased a weaker voice. Lionel Richie told Jesse he needs to slow down and milk his moments, while Jewel says Anthony needs to not let a single note that he doesn't mean to come out. In a more back and forth style than other acts, Anthony and Jesse are actually pretty much evenly matched, where I expect Jesse to break out is the chorus when actually that's when Anthony stole the show and took the lead. Jesse was fantastic as well but not as special or exciting as Anthony who showed the most soul. Jesse is clearly the best singer of the two but Anthony is captivating, I much prefer watching him. Cee-Lo says he was blown away by the entire thing and picks no one but Adam and Blake both say Jesse which is no surprise since they both turned their chairs for him in auditions and Christina goes the obvious way in picking Jesse, which as much as I loved Jesse in his audition I was sad to see Anthony go.
Next week the mentors continue the seemingly impossible job of narrowing down their teams of twelve get to the six acts that advance to the live shows.