Things are getting exciting on this week's The X Factor now that the grueling audition process is over! Tonight we start Boot Camp, which consists of first axing contestants down to 100 from 162 and then placing those 100 into ensembles that receive help from vocal coaches, choreographers, and stylists.
Part of the process of cutting the fat is dancing then singing solo again for the judges. Brian Bradley ("Stop Lookin' At My Moms") refuses to participate in the dancing portion because "MCs don't dance, you don't see Jay-Z dancing."
I'd bet if he was a snot-nosed, 14-year old trying to get his start he would. After the choreography, they sang for the judges and it was the predictable mixed bag. Some were disappointing, others didn't bring anything new, and a few rose to the occasion while a select few even rose above it.
The judges dramatically split the 162 into three groups: the first group containing Brain Bradley, Stacy Francis and the Johnny Depp look alike Nick Voss all make it through. My Bob Schneider look alike blew his audition and was in the discarded group. The final group containing my favorites Chris Rene, Tora Woloshin, and Dexter Haygood are all going to Boot Camp. After the big announcement the 100 get to party with the judges and some go to bed early while some end up in the hot tub together. If this becomes like a Real World type thing along with a singing competition I will love it! hate it.
Now the contestants are split into ensembles (remind you of American Idol? Me too). Unlike Idol, they again have the help of choreographers, vocal coaches and stylists.
The first ensemble contains Drew Ryniewicz, Dexter Haygood, Caitlin Koch, the trio The Answer, Ike Turner's ex-wife, Audrey, and a few other forgettables. Their group got "Creep" by Radiohead and young Drew Ryniewicz started it off and was by far the best, whereas Dexter was easily the weakest link, doing a Mick Jagger/James Brown copy again.
Jazlyn Little, Aaron Surgeon, Stacy Francis, Melanie Amaro and Arin Ray slaughter U2's "I Still Haven't Found What I'm Lookin' For." My sweet, shy Jazlyn Little starts off hot and strong and… forgets the lyrics. She carries on but is the obvious weak link of the group as everyone else (that they showed us, at least) shined brightly on an overall weak effort.
The next group contains Skyelor Anderson, Leroy Bell, Paige Ogle and their song is "Desperado," which is shaky at best and didn't go well for Skyelor.
Brian Bradley and Reina Williams are among this next group and they get "Wishing On A Star" by Jay Z and while Brian has proclaimed himself the next Jay Z, he forgot lyrics, lost his timing, and was outshined by Reina Williams who was actually the best rapper of the two. That said, they played off each other wonderfully. It was a fun group to watch.
Nick Dean, Josh Krajcik, Tiger Budbill, James Kenney got "Superman" by Five For Fighting and Nick Dean started it off and blew it badly by being off key and forgetting words. The elder statesmen of the group at 42 and 30, Tiger and Josh were the highlights.
Tiah Tolliver, Nick Voss, and Phillip Lomax perform "Feeling Good." it was okay and barely memorable save for the fact that Simon felt vindicated since Paula and Nicole didn't want to give Tiah a yes in her first audition and she showed marked improvement.
Sassy little Rachel Crowe is in the next group that also includes boyband 4Shore and they get "I Have Nothing" by Whitney Houston, which the vocal coach dubbed the hardest song of all of the groups. Everyone did a great job and I had a hard time picking any one weak link. Annoying duo Makenna and Brock are in the next ensemble alongside Emily Michalak, Siameze, The Stereo Hogzz and perform "Run" by Snow Patrol to abysmal results.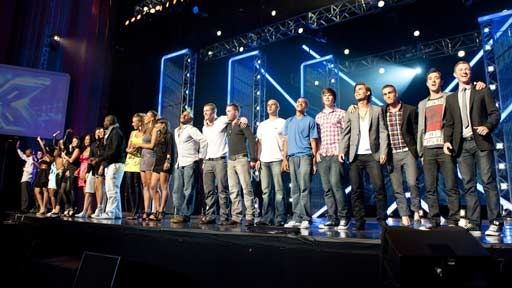 Although it was only a 90-minute episode, I'm exhausted! Tomorrow night we find out the results from these performances and also they reveal which judge will mentor which category; Boys, Girls, Over 30, and Groups. Tonight was definitely more exciting and entertaining (although fairly similar to) Idol's "Hollywood Week."
What did you think, any clear front runners? Who do you think should mentor which category? I want Nicole Scherzinger to get Groups, LA Reid to get Boys, Simon Cowell to get Girls, and Paula to get Over 30, although I'd be okay if Paula and Simon were the other way around. Check back and we'll recap who gets what and where we see things heading.