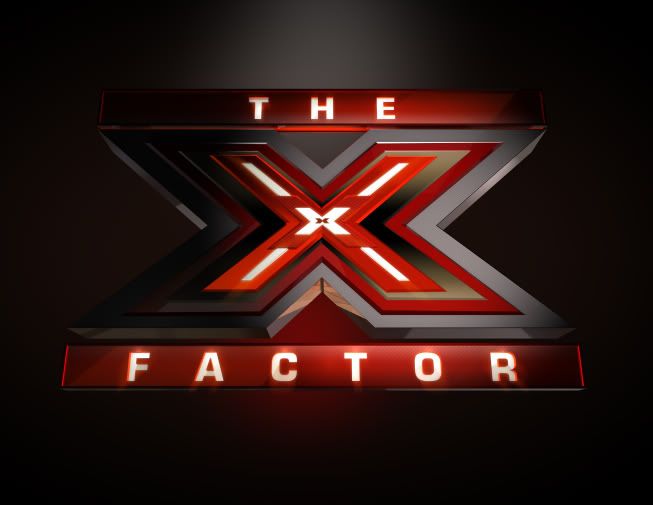 Tonight's episode of The X Factor opens in Newark, NJ which LA Reid says encompasses New York, New Jersey, and Connecticut – he's sure we'll find a star. Simon's just excited because he's a Jersey Shore fan and loves the people, their sense of humor and personalities, he's sure it's going to be a blast.
Brian Bradley is 14 and tells Simon he hasn't had a record deal yet because of politics, which makes Simon smile. He's a charming and well-spoken kid. Suddenly Brian goes into an ill-advised rant of "Yo, Simon what you lookin' at?" to segue into his rap "Stop Lookin' At My Moms." It was so odd and uncomfortable, as cute and well-spoken as he was, he's lost me already. Simon said he was argumentative, rude, and arrogant and he loves him. LA said "television, records, movies, whatever you set your mind to, you can do it. And I want to help you out." We'll be seeing him in Boot Camp, which starts next week.
Kelly Warner looks like she just finished an audition for Flashdance, sings Simon's favorite song (which is apparently the only song anyone on any singing contest knows) Leonard Cohen's "Hallelujah", and she's in. Aaron Surgeon sings an average version of "I Don't Want To Miss A Thing"; the girls both say yes, Simon agrees with me, and LA Reid buys him one more week with the deciding yes. Lilianna Rose sings "You Are My Sunshine" and Simon gives her an easy yes, Paula calls her magical… she's in.
Clarissa "Cashmere" Cheatham sings Mariah's "Always Be My Baby" and for some reason Simon and Paula have the giggles the entire time, even while talking to her. I'm guessing they heard her rehearse or someone tipped them off to the atrocity coming their way. Simon's still cracking up and can barely can get out his vote, which is a wholehearted no.
Cari Fletcher is 17 but looks like a 30-year old Housewife of Beverly Hills. LA Reid has a huge grin on his face as soon as she walks out. Cari picks one of my favorite songs, "Alone" by Heart and the beginning is okay -- nothing special -- and her big note at the chorus is wonderful. I liked her a lot. LA says she has a star's face, voice, and name, he loved her. Simon was bored because she's common. Only needing three yeses, Simon's opinion doesn't matter. Paula tells her to come back ready and relevant and Simon relents and gives her a fourth yes, because he thinks she will listen and come back ready to knock it out of the park.
Ausem (a play on their names, Austin and Emily) are friends who love singing together in a very off-key, pitchy, and theatrical way. I hate it. Seems the "Au" of Ausem can actually sing and Emily is holding him back. Simon thinks their target audience will understand them and says yes. LA Reid agrees with me, and says Austin is the star. Nicole says she'd say yes to Austin, no to Ausem. Then Simon says "So you'd split them up now?" Nicole is stammering, can't make up her mind and Simon is so annoyed he leaves. Predictably she says yes. But we won't see Emily again or for long, trust me.
Tora Woloshin is 21 and looks like a 65-yr old housewife. She loves fast cars and wants to own an auto body shop. Simon said she's the perfect girl with tattoos, looks and car love. She sings "I Want You Back" and with her mild drag queen appearance I really thought she'd be a joke. She's my favorite girl of the competition so far! I couldn't keep my eyes off of her. Simon has a good feeling about her and says she's special. Fours yeses!
Brennin Hunt is apparently hot and is worried he will be judged unfairly by his looks. He's toured with a few big artists and still hasn't made it. He's performing an original song he wrote and Simon snickers and says that's risky. He has that raspy voice I love but he's just… unremarkable. I think we discovered the real reason he hasn't "made it" yet. Simon says he's got a brilliant voice, and thinks he could make Brennin a star.
Paige Elizabeth has a forced, annoying voice and now also has four yeses to go along with it. Leroy Bell is a 59-year old singer/songwriter who looks 28, he sings "Lean On Me" and his voice is pleasant, not amazing but he gets four yeses. The Brewer Boys are young and sound like a TMBG/Guster hybrid. Nick Dean is a high school student who sings what he refers to as his first single. He did nothing for me but I'm sure he'll be huge if he gets that far. We're on quite a roll of yeses!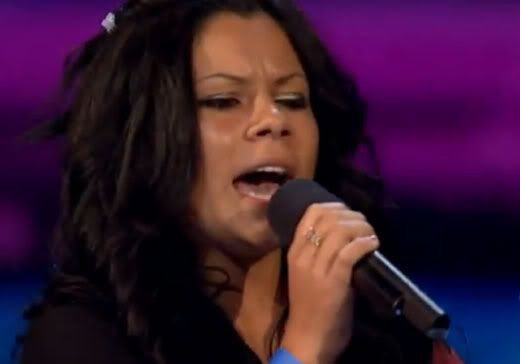 Jazzlyn Little is 16 but looks 40, and extremely nervous. Simon asks if she's tried to put herself out there, online perhaps. She said yes, "how many hits did it get" she says "about 500" and he says, "that's terrible." She was scared to death. She's singing "I'm Going Down" by Mary J. Blige and OH.MY.GOD! The most jaw-droppingly good voice, I can remember from these auditions so far. WOW. With some confidence this girl will be a household name. Paula called her a gem, and Simon said "I'd love to see you with some confidence!" and told her "You're the one to watch young lady, I'll tell you." I think she's a major contender without a doubt.
Auditions are finished, and so it begins! Next week introduces us to Boot Camp, another major Idol difference; I am super excited to see how this unfolds. I'm hooked on The X Factor, are you?