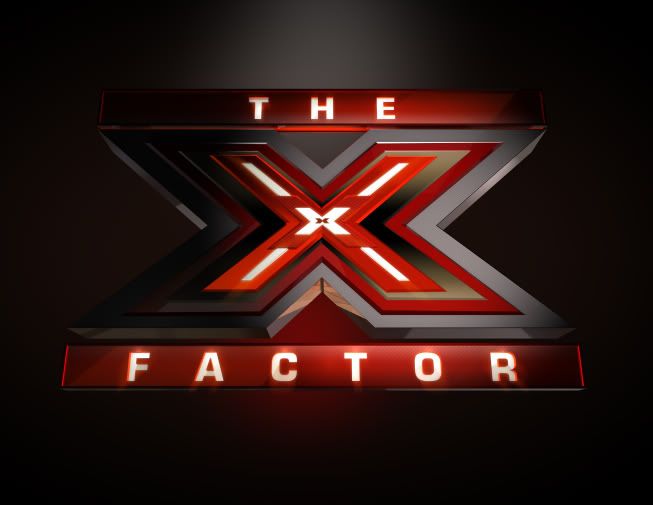 Night two of X Factor auditions take us to Miami this time, which should prove to be full of equal parts talent and flava.
Ashley Sansone says she already looks like a pop star, so much so all her friends assume she is one, which means her audition will be horrible. She even called herself a poptart. She's a frenetic weird chatterbox and the judges were begging her to stop talking and just sing. She took off her ugly boot heels and started strutting around the stage and wailing, and the actual singing ("Take Another Little Piece Of My Heart") sounded a lot like she swallowed Kermit The Frog. LA Reid said he hopes she has thick skin because as bad as her talking was, her singing made him want to slit his wrists.
The trio of singing cowboys looked promising but fell extremely short and they were followed by a crappy mother/daughter duo shrieking to Heart's "Barracuda;" auditions are so abysmal they have Gloria Estefan come out and give a pep talk to the crowd.
A sweet faced high school student named Caitlynne Curtis comes in and you can tell she'll be the game changer for this episode. She sings Katy Perry's "Fireworks" with only a piano accompaniment and she was… good. Not perfect, but, adorable. Former Pussycat Doll Nicole Scherzinger was the expert voice on this one and when she said only "there's room to grow" that was a big fat no to Simon who passed on her. Caitlynne lost it and Mama Paula ran up there and loved on her and told her to pull it together.
Simon just has a stress out saying it's pointless and he knew they shouldn't come to Miami and Paula reiterates this is a big deal and cause to worry, they can't put on a show with bottom of the barrel talent. Cue Nick Voss who loves his family and just lost his job in order to make this audition. He's a good looking kid in a Ricky Martin/Johnny Depp kind of way, but has an unfortunate hairstyle and shaved eyebrow thing going on. Thirty minutes in to the show with no one inspirational or even good, I know this kid is going to be Hour One's "big deal." He chooses "Trouble" by Elvis Presley, he billed himself as more of a performing artist than just a singer and I didn't like it but the audience goes nuts. He definitely has the most personality and charisma of anyone we've seen so far tonight. LA said he was the first person today to get him excited. The judges said he's an entertainment package and needs to work hard on the vocals. Simon just says simply, "Nick, I absolutely love you." And was won over by the emotion in his voice when telling his story because it shows this is in his blood and his passion. First four yeses of the night!
A ghost hunter with a bad voice begins a string of more crappy auditions, and leaves in her wake strange noises and light outages. 55 year old former music teacher Marivana Viscuso looks like Bette Midler and Tiny Tim's lovechild and although Simon likens her rendition of "Summertime" to wolves mating in the woods she gets through. Huh?
Girl group 2Square'd wasn't good at all and looked straight out of the '90s but got four yeses because of their positive message and energy. Kendra Williams storms out there looking like Meshell Ndegeocello and covered me in goose bumps with her voice. Bob Schneider doppelganger Brendan O'Hara came out sounding like ole Bob as well and the judges love him… four yeses. A sweet little male soprano comes out, rocks it and mesmerizes the judges. Melanie Amaro sings "Listen" by Beyonce and while I thought her voice was great, there was no spark or specialness there. She gets a standing O from judges and audience.LA says she has the swagger, Nicole's bawling, and Paula said it was like nothing she's heard, ever. Simon is equally enamored and she's in.
Hour two of The X Factor audition show brings us to Dallas, Texas andwe meet Johnny Rodgers who has fluffy Bieber hair, sings an original song, and dances like Olivia Newton-John on her "Let's Get Physical" video. His song is bad, his voice is bad, and he forgets the lyrics to his own song. Simon called him a Justin Bieber clone that went awry, an easy four nos.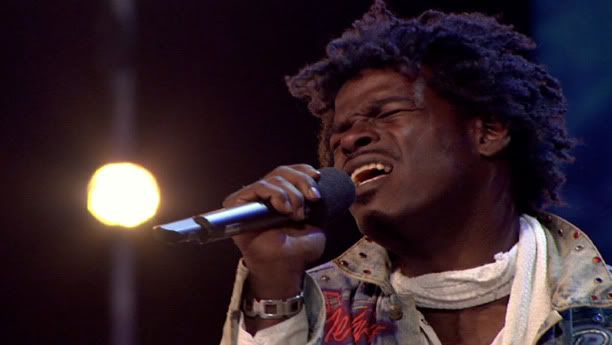 Dexter Haygood is 49 and was in a band (Xavion) that had a record out and toured with Hall and Oats. He's out to recapture his glory days and make his comeback, calling this his "last chance." Dexter chooses "Sex Machine" by James Brown and having done this for a long time, Simon knows this will be karaoke and called him a tribute act. It hurt my heart because he was crying and looked so desperate. Simon said "forget the craziness; sing something else… 15 seconds, acapella. Go." There was a long pause, Dexter looked lost and I though he didn't have another song to sing, and my heart was just breaking for him. We learn his sad story (homeless, no money), and he opens his mouth and gives us a bluesy, moving snippet of "It's A Man's World" by James Brown and Simon called that "taking your moment." The audience was in love with him and LA Reid gave him a yes, followed by three more yeses. He has soul, actually has a good voice, and I am very eager to see him progress. I'm reveling in this feel good story and won't mention that he walked out calling his friends on the speaker of his shiny cell phone.
Caitlyn Cook is a 21-year old rugby coach and player who looks like a supermodel. She sings "Stop In The Name Of Love" in a slowed down, piano-heavy, almost Carole King way and it's simply beautiful. LA Reid says it was very special, and he likes her a lot, the girls loved her, Simon was impressed and said "no more rugby."
Xander (don't call me Alexander or Xavier) is sassy, and annoying, also slightly fascinating and giving Simon verbal jabs. He quickly loses his charm, making the judges edgy. He sings "I'll be" by Edwin McCain; three seconds into it Simon stops him and says it's not working. His second song choice is better but it's still off. His voice is good, he's just super nervous; Simon says he's lippy and gobby and he loves him. LA Reid and Paula said no, he had Simon behind him but needs three yeses. Simon said he got the audience to hate him and that's what killed him. Show ends with footage of Xander fake crying and ruminating on his mistakes.
I was less captivated and impressed by tonight's X Factor but, I'm seeing this through to the end and I'm super eager to see what next week's auditions bring us.