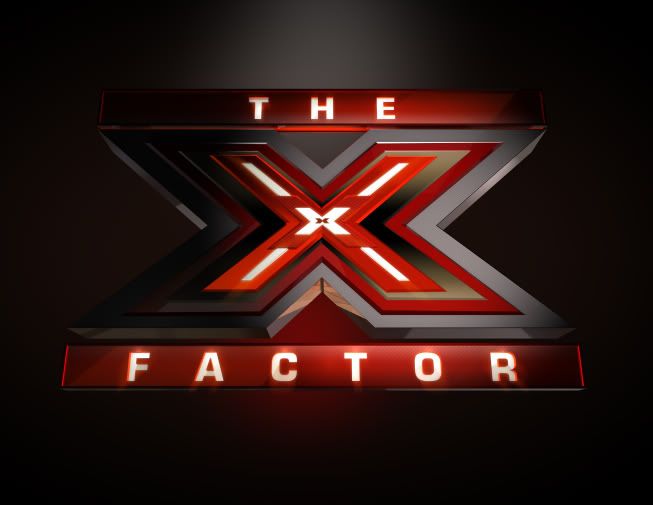 It's Rock Night on 'The X Factor,' a theme so broad and vague I couldn't get a "What Should They Sing" prediction column written despite four separate attempts. As it turned out, I wasn't the only one who had trouble pitting artists with rock songs. Let's take a look at what the mentors came up with for their proteges.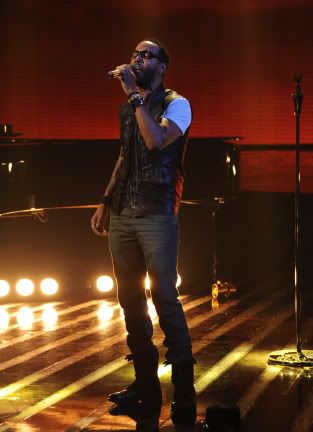 LeRoy Bell kicks off the show with Bob Seger's "We've Got Tonight" which is an excellent choice. We learn his tattoo sleeve is symbolic for his never intending to work a "regular" job again, and that LA Reid finds LeRoy "B-O-R-I-N-G" and he's right. His voice is amazing, but he isn't even remotely dynamic or engaging. LeRoy could be a studio/radio artist with ease. Simon says, "Nice song, good voice" but that he did nothing to develop the song or make it interesting. He also tells LeRoy that he's being "mentored like a session singer." His comments were right on, and LeRoy looks devastated. Worthless Host Steve Jones addresses LeRoy with "So, what do you think of the judges horrible comments?" Smooth.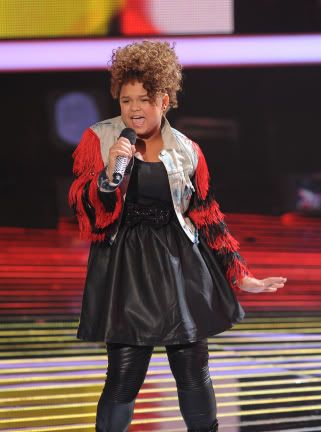 Simon chooses "(I Can't get No) Satisfaction" by the Rolling Stones for 13 year-old Rachel Crow. I don't know why he can't give her current, normal music. She sounded great but she wasn't showcasing the "sweet spot" of her voice and was all over the place. It was less than stellar for sure. Nicole Scherzinger loved this performance more than anything else Rachel has done and Simon said she can for sure win "the whole thing."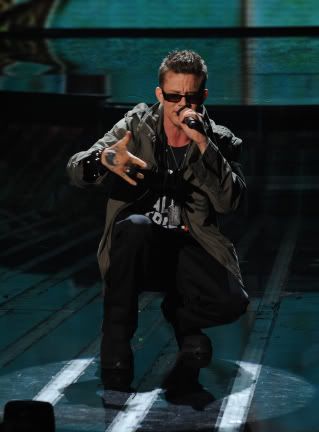 My front-runner favorite Chris Rene goes the predictable route with Bob Marley's "No Woman, No Cry" which apparently reminds him of his childhood. Not sure how I feel about a guy fresh out of rehab singing a song by a perhaps the most notorious pothead with peace signs flashing behind him. But, who asked me? Nicole said it was good but not her favorite performance by him. Simon loved the performance but thought it was better suited to Reggae week. Simon also contested whether or not this was a "rock song" and said why have themes if you're going to disregard them. LA said, "Okay, let's have a hip hop week and see what Drew does." I seriously laughed at that catty and spot on remark.
Stacy Francis tackles Meatloaf's "It's All Coming Back To Me Now" and it's a slow, low train wreck. She is singing in a weird, low register. I felt so uncomfortable; I couldn't watch it at all. Stacy's coming apart at the seams and every judge save for her mentor, Nicole, agrees with me. Simon tells her to "sort yourself out."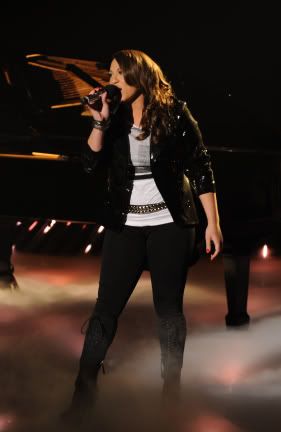 As Melanie Amaro is introduced, they show clips of the judges saying they can't imagine Melanie and "rock" or "edgy" in the same sentence. Simon picks REM's "Everybody Hurts" and does the American Idol trick of stripping everything back and having just the voice and a piano to showcase the beauty and power. And while it was both beautiful and powerful, it left me ice cold, and I love this song. LA takes issue with that mellow, sedated version being passed off as rock when Simon attacked him for Bob Marley not being rock enough. Simon says she was reminiscent of Adele and Alicia Keys…who are not rock by the way!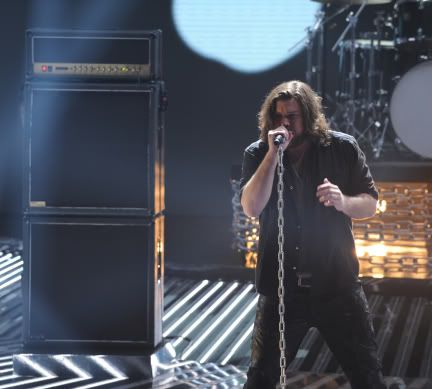 Singing the first actual "rock" song of the show since Rachel Crow's "Satisfaction" debacle is Josh Krajcik, who does Foo Fighters "The Pretender" and I cannot stress enough how much I loved this song choice and performance. Josh has this big, raspy voice full of soul but this is the direction I hope he goes in. Nicole is out of her seat, head banging, back in her seat, writhing and making a general fool out of herself. Good times. LA Reid says "You have the authenticity, stage presence and picked the perfect song for you." Simon said he was "bloody fantastic" and I couldn't agree more, he killed it.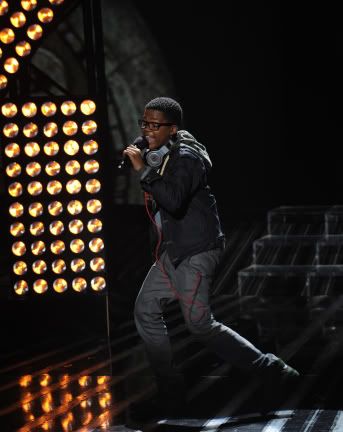 I'm starting to fall madly in love with Brian "Astro" Bradley, and no one's more surprised than I am. The moment I knew it was when I heard him talk to and about his "moms" with such sweetness and fondness that as the mom to a sweet, young, son I actually got tearful. Astro raps over "Every Breath You Take" the Puffy/Faith Evans/112 version that's actually titled "I'll Be Missing You" and is not a rock song. Talk about a loose interpretation of a rock song! The judges are blown away and heaping the praises on the young rapper.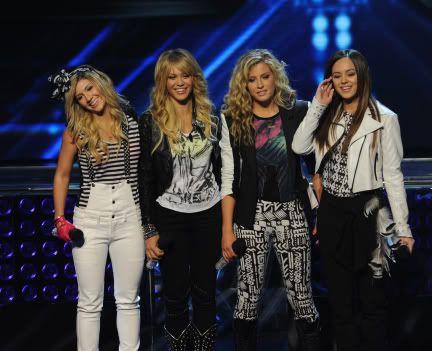 X Factor-created group Lakoda Rayne is also the final act in Paula's Groups category, and they do something so unthinkable and wrong to Fleetwood Mac's "Go Your Own Way" I don't think there's even a term created for it. It actually started good and quickly unraveled like a broken, off-key, out of sync string of pearls. They were subpar and dressed all '80s, with no country flair for a supposed country group. Simon rips them apart and says it was gimmicky, silly, and just a mess.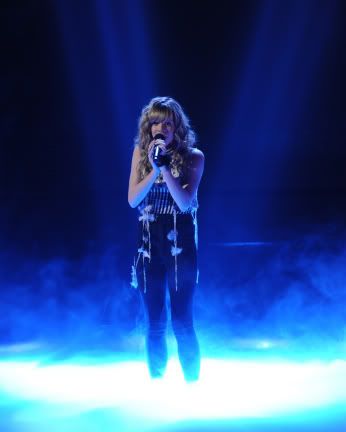 Drew No Last Name has been accused of sounding the same every week, so this theme could be the perfect opportunity for her to crank up the energy and tempo and let loose. She starts off slow, in fog, and looking a bit of a ragged mess on U2's "With Or Without You." I love this song; it's one of the better songs ever written. Even though it was beautiful and the invisible background singers were eerie and kind of fabulous, it doesn't take away from the fact that THIS WAS THE EXACT SAME THING SHE ALWAYS DOES! Maybe that's part of her genius that she sticks with what she does well no matter the criticism because her fan base will love and support her. LA Reid's still bored, Nicole's confused and Drew said she's staying true to her genre. Whatever her genre is, it's boring as crap.
Marcus Canty is aiming to be a good boy rocker and he makes a good start at it with Janis Joplin's "Piece Of My Heart." He was rock-ish while not looking so much like a "preacher's kid" as LA labeled him. His faded jean jacket with spangley sleeves makes this week number two of unfortunate jacket choices for Marcus. It was a fun performance but, only for about 30 seconds. I was bored blind by the end of his two minutes. Nicole and Paula loved it, Simon said he was pretending to be something he wasn't and he wasn't impressed.
Tonight's standouts were Josh Krajcik and Astro and I think Stacy Francis and Lakoda Rayne will be in the bottom two. What did you think of tonight's performances, were they "rock" enough? Who did you vote for, and why? Check back tomorrow and every week as I recap the show and results.