Another pair of indie releases from Toronto-based bands … both superb recordings that start with and expand upon classic forms, with the results fresh and undeniably, inescapably vital …
The 24th Street Wailers – Unshakeable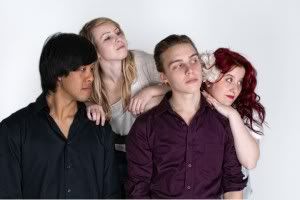 For a bunch of twenty-somethings working in a genre that typically reveres its elders, Toronto's 24th Street Wailers are generating a lot of buzz. They're definitely not the typical blues band – featuring a female drummer/vocalist (Lindsay Beaver) and guitarist (Emily Burgess) who compose all the band's tunes, the lineup also includes sax man Jonathan Wong and bassist Michael Archer.
The band's sound is rough and tumble, bristling with raucous energy and greasy, grinding grooves. The well-written material seems geared to live performance and rowdy and lively audiences. They're tough, take-no-prisoners tunes rich with innuendo and double-entendre, with lots of off-kilter stops and fills to keep things interesting throughout.
Packaging proudly proclaims that "no computers were used in the recording and mixing of this album," and indeed there's a bit of a do-it-yourself feel to proceedings. Sound is thick and fuzzy, with lots of distortion, particularly on Beaver's vocals, and the drums are high in the mix. Wong's sax has a deliciously dirty, downright nasty tone to it, and Burgess proves a solid string-bender, favoring a vintage tone and an old-school "less-is-more" approach to solos.
It's primarily a band-only effort, with guest guitarists on just one tune, the trading-solos "Love Triangle" that finds Carter Chaplin and Marc Doucet alternating riffs with Burgess on the disc's longest track (and lone instrumental). Elsewhere, Gary Potts handles drums on the furiously swinging "Jack, Jim, Johnny, And Me" (implied last names, respectively, include Daniels, Beam, and Walker), while Barry Cooke adds organ accents to a pair. Solos tend to be succinct and to-the-point – apart from the aforementioned guitar extravaganza that is "Love Triangle," they're there as part of the structure rather than serving as the focal point of the songs. Still, both Wong and Burgess manage to inject some seriously greasy instrumental interludes, with Wong in particular honking and growling ferociously to excellent effect.
Often featuring tricky and unexpected changes, the material is bluesy without resorting to convention or cliché, and the lo-fi sound has a classic, vintage feel with a vaguely menacing edge - this stuff is raw and real and dangerous. A fine disc and a band to watch!
Cameo Blues – 10,000 Hours
The "10,000 hour" rule states that, whatever the discipline, it takes that amount of time to truly master one's instrument. We have no way of accounting for the number of hours the members of Cameo Blues have been practicing, but 10,000 Hours the recording, the latest from the woefully under-recorded veterans from Toronto, shows complete mastery at every turn.
Led by vocalist extraordinaire John Dickie, who also had a co-writing hand on all seven originals included here, the band tears its way through a set that leans to the rockier side of blues but never strays far from the basic building blocks that give their raucous, rollicking sound its irresistible oomph.
As a songwriter, Dickie has been called a mix of Tom Waits and Randy Newman. He has a sharp eye for detail and a wicked way with words, and his tunes tend to be whip-smart and often hilarious, though there's usually a serious message to be found; the title track, powered by booming drums and raw, distorted vocals, examines the burning quest for instant fame, while Plowing Our Row examines society's hypocritical quest for energy at the expense of the environment. The former gives co-writing credits to Sloski, the latter to guitarist John Bride, while pianist Ray Harrison is co-writer of "21st Century Rocket 88," a tune every bit as boisterously exuberant as its title suggests.
Covers, all grouped at the end of the disc, include a grinding "Howlin" (Actually "Howlin' For My Darlin," by Chicago stalwart Willie Dixon), the oft-recorded "Sittin' On Top Of The World," with Dickie contributing some wheezy harmonica, and a furiously rocking version of Led Zeppelin's "Rock "N" Roll." The closer is an acid-tinged romp through Jimmy McGriff's "All About My Girl" that gives solo space to Harrison, Dickie (on harp) and Bride, each strutting his stuff with masterful aplomb.
The incendiary guitar work from Bride and the swaggering strut of Dickie's leather-lunged vocals may stand out, but this is a band project through and through; performances are indeed masterful, but participants are all savvy enough to understand that an instrument is just that – a means to create music, not an end in itself. This is great stuff indeed!