Two recent indie CD's from Toronto and area-based artists show just how strong and diverse the Canadian roots scene is...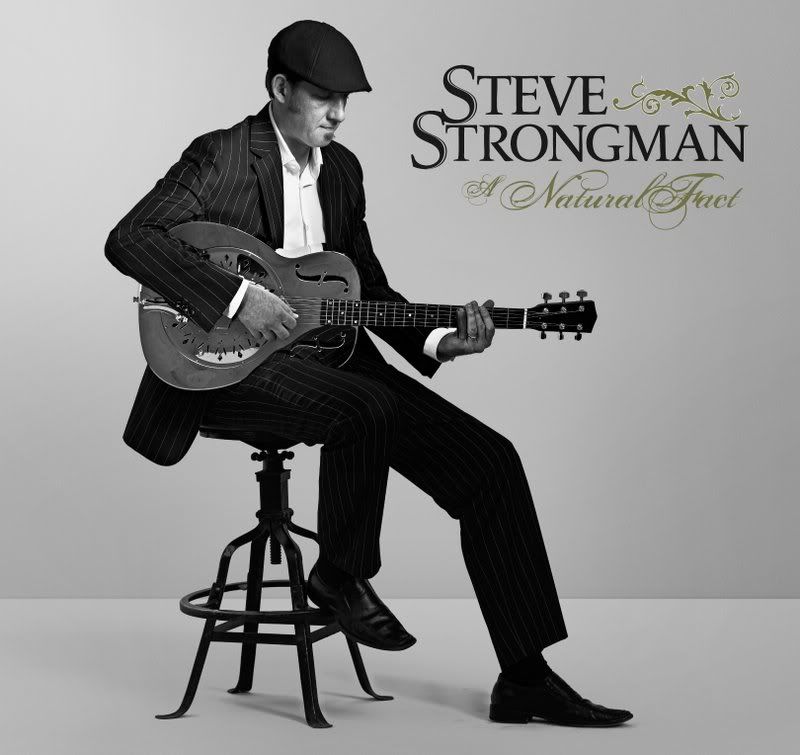 Steve Strongman (based in Hamilton, Ontario) steps up with his first acoustic offering, an all-original outing (with co-writing credits to producer Rob Szabo on seven tracks). While the structures and overall instrumental palette are familiar enough, Strongman's passionate performances and superior songs raise this one well above the pack.
Strongman's gritty, true-to-life compositions avoid trite repetition of tired clichés, and while he's established a reputation as a hard-hitting electric guitarist, his acoustic work is nothing short of revelatory. About half the disc's dozen tracks feature Strongman solo, with only his guitar and harmonica in support of slightly growly and thoroughly believable vocals, and he handles every tune with aplomb. Backing on roughly half the tracks comes from a hand-picked cast including Alec Fraser on bass and Jesse O'Brien on keys, with Szabo contributing bass on one and the great Suzie Vinnick adding engaging vocal counterpoint on "I'm Leaving."
The band adds welcome variety to proceedings, but in truth Strongman is (pun intended) strong enough to carry things on his own. His fretwork is dazzling without being showy, and his natural, unforced delivery is invariably appealing.
Strongman's songs range from the straightforward blues of "I Got Trouble" to the bouncy and positively joyous "I Forgot," with catchy hand-claps and rubbery bass lending a gospel feel to a heartfelt song of love. Elsewhere there's the grinding blues of "The Mood" and "Rocking Chair Blues" and the irresistibly infectious "Full Of You." Traditionalists will find much to like in darker fare like "Can't Go Back" and "I Got Trouble."
Whether he's alone or backed by a full band, Strongman is fully in command, and A Natural Fact is, quite simply, as good as it gets.
Based in Toronto, Soulstack is led by guitarist and vocalist Jon Knight. Aptly named, their sound is rooted in the blues but owes much to the soulful keys – lots of moody organ to provide a sonic cushion – courtesy of co-writer Mark Wessenger. Kicking off with the hard-driving "Stone Cold Man" (featuring stinging guitar from former bandmate Dylan Wickens), Soulstack deliver a dozen superior originals along with a fine, gospel-flavored "In My Time Of Dying."
Knight and Wessenger have obviously taken their time crafting these tunes – every song here is masterfully assembled, layer by layer, vocals and guitar, piano and organ expertly interwoven, all anchored by supple bass courtesy of Knight's younger brother Josh and loose-limbed drums from Tom Bona, whose sheer exuberance comes through in every beat.
Compositions are based on classic soul forms, and there are many moments that sound vaguely familiar, but that's because Knight and Wessenger are working with the basic building blocks – the DNA of soul, if you will – yet never resort to imitation. They're patient enough to allow songs to unfold organically, and as a result each tune builds in seemingly inevitable intensity. Knight has a near-perfect blue-eyed-soul voice, and Wessenger is quite simply a marvel on both piano and organ, stepping up front for a couple of vocal turns and contributing harmonies throughout.
Gospel figures prominently, particularly on "River Of Love" and rave-up closer "Miss Me." Both are secular rather than spiritual, but the genre's fervor and passion are amply evident, and both tunes reach heavenly heights. Elsewhere, though, the boys get earthy with the unapologetic "Skinny Girls" and swampy on the moody "Let Me Be Your Man."
Straddling that fine line between exuberant expression and impeccable execution, Soulstack prove that 'rootsy' can still result in something thoroughly fresh and exciting.
Without a substantial promotional budget, it's all too easy for excellent recordings to slip under the radar these days. But both A Natural Fact and Big Red are the equal of any major-label release on the market, and both are well worth seeking out. Highly recommended!