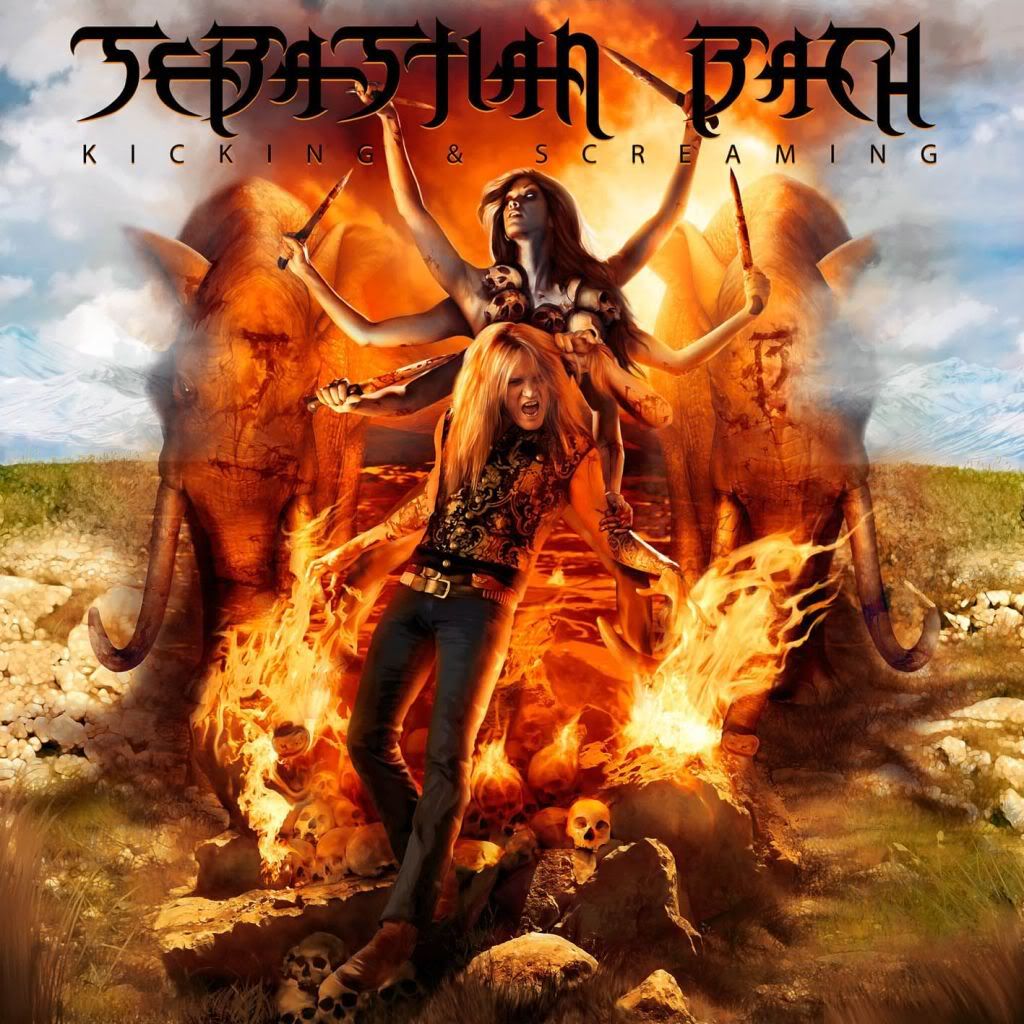 When Skid Row was on top of the world, Sebastian Bach was the epitomy of a hair metal singer. His voice was the envy of the metal world. With that came an ego that eventually caused the band to split. Bach went off into obscurity for years it seemed, showing up on broadway, and every now and then making guest appearances at shows or on albums. In 2007, Bach unleashed his first full-length, studio solo album Angel Down. Four years later, Bach returns with his follow-up album Kicking & Screaming.
Regardless of what you may have heard, Bach rocks out on "Kicking and Screaming" people. He may not have the same range as he did when he was in his twenties, but who does? He sounds gritty in this one, much like he did on the Subhuman Race album. I like it better. It seems more real to me. A kick ass song to start off the album is what "Kicking and Screaming" is.
Sebastian returns to those classic harmonies on "My Own Worst Enemy" which is really a guitar driven song. I am not big on the drums here, but the guitars rock and Bach is good on this one. "Tunnelvision" has a sweet mix of heavy hitting guitars and some accenting acoustic chords and "Dance On Your Grave" sounds like a hard rocking FU to Bach's ex-wife of 18 years, Maria Bierk. It's a great song, but ouch!
"Caught In A Dream" is accented with a funky bassline and heavy guitars, but it doesn't really work for me. It isn't terrible, but definitely a weak one. "As Long As I Got The Music" is in ballad form, but not really a ballad. It's like a sweet anthemn if that makes any sense. Again, it sounds like a big FU to his ex. As long as Bach has his music, nothing bothers him. Good tune.
"I'm Alive" again has that ballad feel, but this is more of a sad song. "Cause I'm Alive, this love is fake" Bach sings to us. I really like this song because it is full of raw emotion and a very nice bass line from Bobby Jarzombek.
As "Dirty Power" starts up it really sounds like "(Love Is) A Bitch Slap" from Bach's previous album Angel Down. It's very odd, but quickly morphs into something different. To me this is a weaker song from the album. The lyrics didn't really do much for me, and the music was just okay. "Dream Forever" gives us a vocal from Sebastian that we haven't heard in years. A deeper bassy vocal at the begining of the song before we get into classic Bach. It's a pretty song, but the lyrics are a little bit cheesy.
Things pick right back up with "One Good Reason" as we get the gritty Bach once again. I'm kind of a mixed bag on this song. It has its good points, but mostly just seems like a screamer for the sake of screaming at times. Lyrically, we are back to the ex on this one it seems. Boy it must suck to be the subject of so much anger.
"Lost In The Light" has a very Black Sabbath feel to it both musically and vocally. To me this is the highlight of the second half of the album. I really enjoyed this one.
"Wishin'" closes down the non-deluxe version of the album. It is a sweet ballady song to close out a pretty hard hitting album and reminds me of how Slave to the Grind closed out on "Wasted Time" back in the day. The song lyrically sounds like something you would get from Michael Jackson instead of Sebastian Bach, but it is pretty good.
Overall, Kicking & Screaming is a pretty solid heavy metal rocker from Sebastian Bach, and Bach still has one of the best voices in the metal world. Highlights of the album include "Kicking & Screaming", "Tunnelvision", "Dance On Your Grave", "I'm Alive", and "Wishin'". Major props to Nick Sterling, a guitar prodigy since the age of 7, who just ruled the guitar on this ablum. Overall, if you are a fan of Skid Row, Bach as a frontman, or just plain good hair metal, do yourself a favor and pick up Kicking & Screaming from Sebastian Bach.