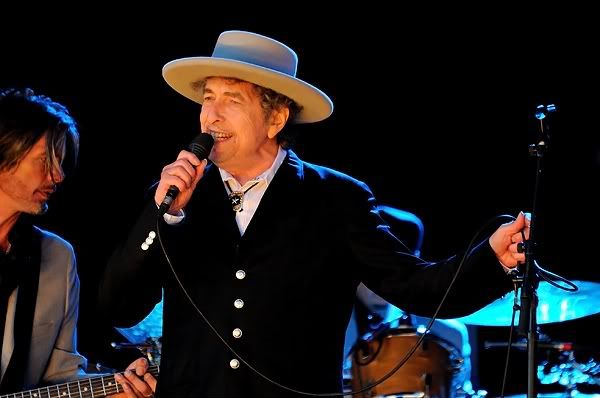 We told you about the the upcoming album from Bob Dylan, Tempest, his 35th studio album being released in September. We've been waiting for the first single from the album to reach digital distribution. There have been rumors of it but so far it hasn't materialized but we do have a video for one of the songs.
Okay, so he didn't actually make the video for "Early Roman Kings" so much as he allowed the song to be used in a promo for a show on Cinemax, but it does give us an opportunity to hear something from the record while we wait for its arrival. The song finds Dylan once again reaching back to vintage sounds, copping the start-stop riff from "Hoochie Coochie Man" and countless other blues numbers but it's an accordion rather than a guitar pushed out front. Dylan's voice has always been an acquired taste but its weathered, craggy rasp makes him a modern day Delta blues singer. He's old enough to sound this grouchy and he seems to be reveling in it (or just doesn't give a shit, something we've resisted believing since the beginning).
In addition to the arrival of this video comes a whole lot of conjecture and Dylan conspiracy theories. Tempest is the name of the final play Shakespeare wrote and the internet is abuzz with theories that this album, being released 50 years following his eponymous debut, may be Dylan's last. It's a fun, plausible theory but it seems a bit obvious for the inscrutable Dylan. The man is in his 70s. We are getting closer to the point where he'll have released his final record but I don't think he's the sort to call his shot. I wonder if he knows about all these silly rumors floating around. I wonder if he's pleased that we've all missed the plot once again or annoyed by it... assuming it's not actually true (whether by design or fate). I don't know that Shakespeare knew Tempest would be his final act. Why assume the same for Dylan.
I've pre-ordered my copy of the record and I hope it's not his last. His most recent work has been among the best he's done and that's saying something. I was excited for Tempest before hearing this and I'm even more eager now. Check it out below, kids.