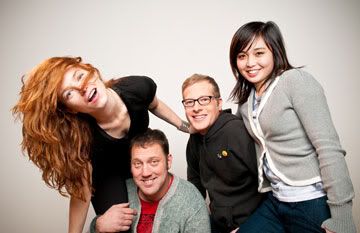 Rachel Flotard and Ben Hooker have announced Seattle-based Visqueen is going on indefinite hiatus after 10 years and three albums, and they'll play a Farewell Show at Seattle's Neptune Theatre on November 26.
Well that's a kick in the gut!
I was late to the Visqueen party, hearing about them through my professional association with multi-instrumentalist Barrett Martin, who filled in on drums for the band on a recent US tour. I got to see them perform in Nashville and fell in love with their harmony-laded power pop. I was looking forward to a fourth album to succeed the fantastic Message To Garcia, but alas, it's not to be.
It's too late for many of you to see them live if you don't live in the Seattle area but you can still do something if you've never heard of them. All three of their records -- King Me, Sunset On Dateland, and Message To Garcia -- are highly recommended, the latter being my favorite. I also suggest checking out Rusty Willoughby's Cobirds Unite, featuring extensive harmony vocal from Flotard as well as instrumental support from Martin (available through Flotard's Local 638 label).
I got to meet Rachel after that Nashville show and "interviewed" her, by which I mean we sat in my car while I learned to operate my voice recorder. I attempted a few poorly formed questions and sat back as she held court. It was a special experience as I ached and laughed my face off as she told stories of her band's history and the passing of her father, which profoundly impacted her personally and professionally.
Most of my friends have great senses of humor and I do my best to keep up, turning a phrase on my own here and there. I don't presume us best buds but in a life that has been blessed by the presence of many who make me laugh, Flotard is easily one of the five funniest people I've ever met. It was an absolute pleasure meeting her, Cristina Bautista, Barb, and Barrett that night. I hope this hiatus doesn't mean she's leaving music forever or even for long. I hope our paths cross again. Until then, thanks for three great records and a memorable night of amazing music and a hell of a lot of laughs.