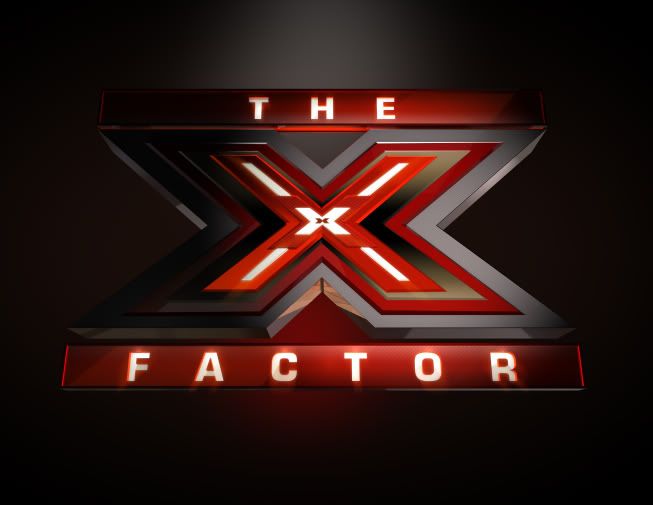 It's the second and final week of The X Factor auditions Cheryl Cole gets more face time, we get a little more talent than we did last week (especially compared to Night 2), and we realize that host Steve Smith is utterly worthless. Pretty, but worthless.
While this episode had considerably more talent than Night 1 or Night 2 from last week, there were the inevitable clunkers and shriekers and annoying contestants that I'm not even going to feature today. I'm focusing on the positive and interesting. Don't worry" this stance won't last.
The first hour of the audition show takes us to one of my favorite cities on the planet, Chicago, Illinois. Makenna and Brock are young, college-aged friends (pretty sure Brock would ask her out, pretty sure he has, actually) and they do "Colder Weather" by Zac Brown Band. I didn't like it at all- Brock was better and more interesting than Makenna but they get four yeses and we'll be seeing them again. If anyone in the universe is looking out for me, it will be a Makenna-less live show (They can break up and reassemble groups, duos, solos during Boot Camp, if I understand correctly).
Skyelor Anderson is 16-years old and he looks to be The X Factor's Scotty McCreery. He is an all-American teen who loves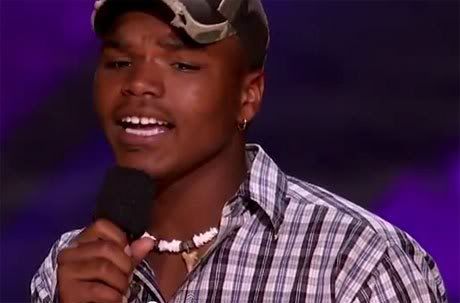 fishin', muddin', and says he wants to pursue this dream because there aren't a lot of young, black, country singers (I can't think of a single one ). Skyelor sings Billy Currington's "Must Be Doing Something Right," the music cuts off only a few seconds in and after an "I'm fixin' to throw up" look on his face, Skyelor keeps going and he was actually better without the music! Not awesome or polished considering it was his first audition ever, but he was good and has natural talent. Paula tells him he has work to do and when says she believes in him, I almost lost it. Simon was very impressed and calls him unique- Skyelor gets four yeses.
Joshua Krajcik is a 30-year old disheveled, greasy, eccentric mess whose mother drove him the 9 hours from Ohio to Chicago for his audition. He tells the panel he is a burrito slinger and they are so removed from reality, they are actually thinking he's slinging them around a room instead of just a slang term for "selling burritos." Completely ignoring the old adage about judging books by their covers, the four judges have instantly written Joshua off as a joke before they even hear a note. He tells Simon he's singing "At Last" by Etta James and Simon actually rolls his eyes and says, "really?" Simon's snotty expression quickly changed to a huge smile as Josh opened his mouth and instantly blew everyone away. He's a Joe Cocker throwback. The audience went insane and the judges shooed him right on to the next round.
Heading back to Seattle (we were there last week, remember?) suddenly Nicole Scherzinger is back and presumably Cheryl Cole is out for good, which is a shame because I find her infinitely more likeable than the former Pussycat Doll.
14-year old Drew Ryniewicz is a cutie pie who, like every other 14 year old on the planet, has Bieber fever and is singing Bieber's breakout hit "Baby," which she chose because she knew LA Reid gave the Biebs his big break. Drew opens her mouth,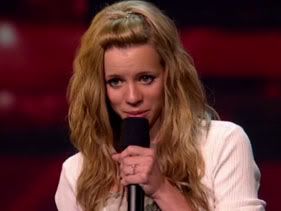 and her unique rendition of this overplayed song is akin to almost anything by A Fine Frenzy – and this is a 14 year old! She's instantly likeable with mega talent. Judges are in love, Nicole says she prefers this version to the original, Simon agrees, and I can't wait to see how she progresses.
4Shore is next and they are a four member boy band who had a lot of fun with Boyz II Men's "End Of The Road." The audience really enjoyed it, LA Reid looked like he wanted to make out with all of them, and Simon thinks they could be a worldwide success; my 10 -year old and I gave them a resounding, "eh." We'll be seeing them in the next round.
Tiah Toliver is a 19-year old deli clerk with a huge gap in her teeth, emphasized by the fire engine red lipstick she chooses to wear. Her banter with the judges is nice, they call her a firecracker; everyone seems pleased with themselves although for some reason LA and Nicole keep whispering to each other and even turn away from the stage to chat with someone behind them at one point. Tiah's first song is "Impossible" by Shontelle and it's okay, the judges said she couldn't stay on key and LA asks if she has something with a track because he doesn't listen to music a capella.
Simon whole heartedly feels she has something special, and he's 100 percent behind her and has a real feeling about her, he says "I promise you, this girl potentially is great." Simon is fully her fan, LA Reid likes her and both girls are saying all kinds of nonsense about being off key and Simon says with the two girls Tiah was "dead on arrival." Tiah gets two nos from the girls and Simon is pissed, even throws something. LA Reid asks if there is anything she can do to change the girl's minds. She comes up with "It Don't Mean A Thing" by Duke Ellington. It was good, I too wish there was music to back her and after, Simon says, "Paula and Nicole-I am begging you!" He asks the audience, they love her and Nicole gives her the third yes. Simon tells her to "practice, practice, practice" and he says he "has never felt so strongly" about a contestant.
So there we have it. Thursday night is our final audition show and we head right into Boot Camp and start getting down to business.