After reminding us of last week's Rachel Crow nightmare (hear what Rachel had to say about it the day after), The X Factor gets quickly down to business with contestants doing their Pepsi Challenge songs picked by the fans. The voting for the three contestants who'll make it to the Finals is completely up to America -- no survival song, deadlocks, or judges -- votes have never been more vital.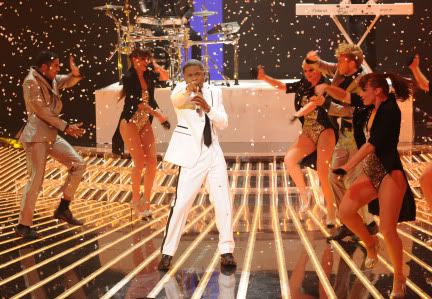 Marcus Canty does "I'll Make Love To You" by Boyz II Men and it was a great song for him. It was like Bobby Brown doing Boyz II Men at karaoke – how fun! He vocally was great but there was smoke and dancers and a mess going on behind him. Marcus has a great sound but his sound is dated and wholly unoriginal. Nicole Scherzinger says he's bringing sexy back and Simon Cowell was thrown off by the "zombie dancers" and felt it wasn't changed up enough.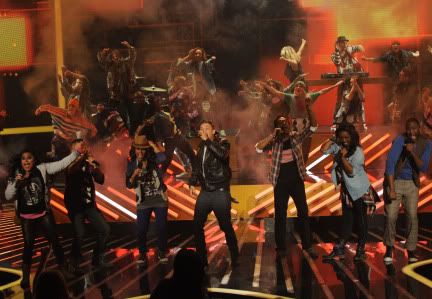 I absolutely called this: Chris Rene is a Sugar Ray/Everlast hybrid and his Pepsi Challenge song was "Fly" by Sugar Ray, a band who have punk roots and ended up doing the poppy rap/singing gig… just like Chris Rene. He had 500 backup dancers -- which were ridiculous -- but otherwise he was fun and on point. Nicole loves how Chris makes us feel good (she had to stop because the audience was chanting his name), Paula Abdul says he looks like $5 million and Simon says it was fun to watch but only gave it a seven out of ten, telling him to come back for the second song and give it all his effort and concentration.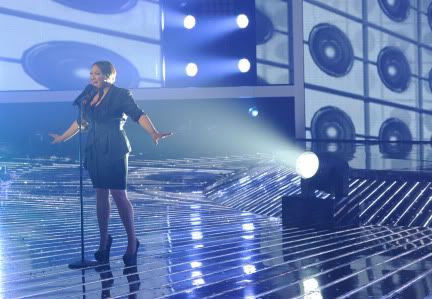 The voting public has no imagination and picked "Hero" for Melanie Amaro, which was beautiful and yawn inducing. Simon promised some changes in it; I must have dozed off because I didn't notice any drastic change. LA Reid said the song choice is predictable but it's not her fault. He also didn't feel the usual love and passion coming from her. Paula said her voice is impeccable and thinks the song choice was genius and also said the major chords got changed to minor and felt it made the song sadder, not as happy as it should be.
"Come Together" is a perfect choice for Nicole Scherzinger's final act, Josh Krajcik, and his big, raspy voice. The voters got this one right by a mile! I was actually a little bored but he really sounded great and I could hear that version being played on the radio right now, if I listened to the radio. LA said Josh is the one of the best in the competition and could easily win and he was the best tonight he's been in weeks. Paula says Josh attacks your soul with his voice, and Simon loved the arrangement and song choice and also said Josh not being in the Finals next week would be a shame.
In a bit of an unexpected twist, Marcus Canty and his mentor pick "Careless Whisper" as his second choice. I'm so thrown off by this weird choice - and it's the remix version -- that it takes me a second to adjust. He's definitely overdoing it and acting out the lyrics but I kind of love it anyway. Nicole says it was an unexpected song and it kept getting better and growing on her. Paula loves the classic ballad song being turned into a current, danceable hit. Simon hated the performance calling it "grotesque" and "a joke."
Pulling out all the stops at the exact right time, Chris Rene opens Alicia Keys' "No One" on the piano for a few bars before getting up and dancing for the chorus, putting on the best performance of the night. He was fun to watch and made me happy. Nicole says his spirit transcends across the universe and despite not having the best voice he makes people love him. Paula says this performance should be enough to get him to the finals and Simon said Chris heeded his advice and came back strong and gave the perfect performance at the right time. LA Reid says he has "lovability" and people can't help but be drawn to him and he's right. Something about this kid makes you want to protect him and only want good things for him.
Simon gives his show pony Melanie Amaro what he calls "an old-school classic" with "Feeling Good" by Nina Simone and it kills me to say she absolutely slayed it. She showed parts of her voice we've never heard before, she gave me goose bumps. LA said it was not predictable for a change and there's a reason Melanie is the lone girl in this competition. Simon said people like Melanie are why he wanted to bring The X Factor to America. He also pleads to the voters to vote, vote, vote "because of what happened last week."
Josh Krajcik gets tonight's pimp spot with his version of "Hallelujah" which is a Leonard Cohen song made infamous by Jeff Buckley's voice. This is a risky, overdone song and I'm concerned until I see him seated at a piano- I like where this is headed. He's doing it justice but it's not in the top of the covers I've heard, by far. This song is special and to me he didn't elevate it, he just kept it afloat. I'm curious what Simon will say as he's said on American Idol that this is his favorite song, one that he gave Lee DeWyze for the finals and ultimately won him the show. LA agrees with me and says while it was good it was not special. Paula is in tears and says he's the one to beat. In a surprising move, Simon said he agrees with Paula and feels it was sincere and enough to put him in the Finals.
An overall good night for all four contestants, but I still guess Marcus to be a lock for the Bottom 2 taking Josh Krajcik with him. I guess Marcus' run of good will finally end and our final three in the Finals will be Melanie Amaro, Josh Krajcik, and Chris Rene. What did you think of the performances, did you love them as much as I did? Check back for the results after Thursday's show and look for my conference call write-up with the latest contestant voted off.