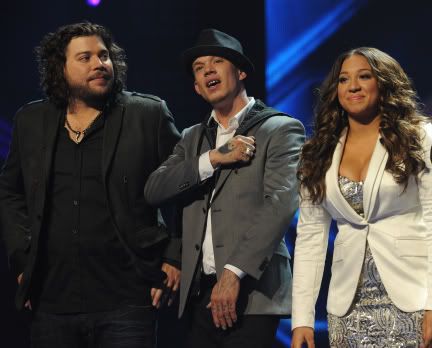 Here we are, kids! This is the moment we've been waiting for: the final performance night for season one of The X Factor (USA), Simon Cowell's baby he brilliantly brought over to America. The winner will receive a $5 million recording contract with Sony Music and an "iconic" Pepsi commercial. Down from 100,000 auditions- we're looking at the final three: Josh Krajcik (Over 30s), Chris Rene (Boys), Melanie Amaro (Girls).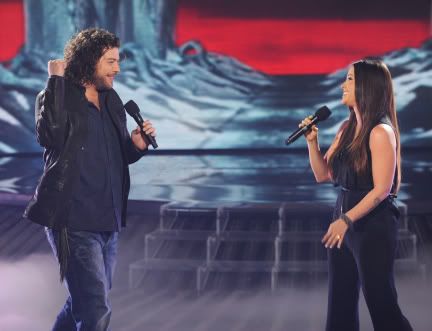 First up is Nicole Scherzinger's act, Josh Krajcik doing "Uninvited" with Alanis Morissette which starts off low, slow, and really rocky. The best part is when Alanis comes out and shows him how it's done. I could think of 15 better matchups for him than this one; it's just terrible. It was bad when he went solo and it was worse when they sang together. LA Reid said it was terrific and they are a natural pairing and we started off at a very high mark. Simon said Alanis was amazing and looked cute but that Josh seemed intimidated and he hopes he nails his second song, giving him 8 out of 10.
Now we go to Josh's old high school in Ohio and Josh's Grandma says her heart is swelling with pride at which point my eyes swelled up with tears.
Chris Rene is eight months sober and in his wildest dreams did he ever think he'd be sharing the stage with Avril Lavigne doing her most popular song, "Complicated." He was fun, high energy, on point and sounded the best he had ever sounded. I say Chris just won this thing. Nicole said he started shaky but ended up shining. She's wrong…he shined the entire time. She did admit his light was contagious and infectious. Simon said he felt Chris' total joy and confidence being here and that he could hear that song on the radio right now.
We now go via satellite to Chris' next door neighbor who is live in the old club he used to play at in Santa Cruz, CA and he's so emotional the entire time, especially when two friends from rehab wish him well and say they love him. I adore this kid.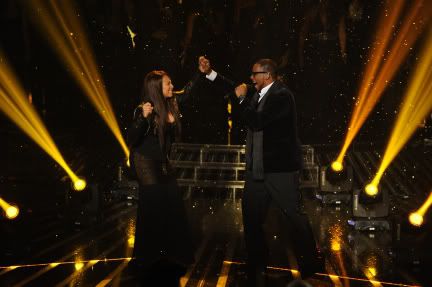 Melanie Amaro goes the most predictable route possible besides singing a Celine, Mariah, or Whitney song and sings R. Kelly's "I Believe I Can Fly" and does so in a low register that is not flattering to her voice and talents. I don't like her but girl can sang. She didn't show any of the beauty or sweet spots until R. Kelly came out there and by then she was so overshadowed by this superstar (who did an amazing showoff run with vibrato that was so surprising and hilarious to watch) that I don't think anyone will remember her vocals. LA Reid said she sang one of the most important songs in the last 50 years but that she was overshadowed by her duet partner and the low key was not flattering at all. The other three kiss her ass and disagree with LA and me but it doesn't matter: she choked.
Melanie's church in Sunrise, FL is crowded and her pastor gets all full of love and God and is funny and cute…very excitable down there, apparently.
Round One goes to: Chris Rene.
Next we're treated to a crappy Cirque du Soleil performance set to Michael Jackson's music; it was pointless and left me cold.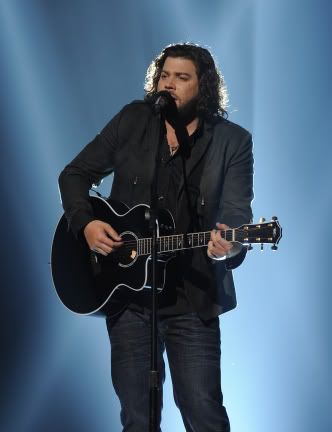 Josh Krajcik does his audition song, "At Last" by Etta James which is very smart and strategic because that is the song we fell in love with him to. However he performs it with a guitar and it was much better as an audition song. LA called him a rock star and Simon said this was why we love him and this is going to be a very hard show for America to vote for. Not really, Simon.
The moment I've been waiting for is here: Chris Rene doing his audition song "Young Homie" with updated lyrics. He looks insanely hot, and like a star walking around into the audience and interacting with the crowd and judges. This is his moment and the best he has ever looked or sounded, I feel like a proud parent. And I'll say it again- Chris Rene just won this thing. Nicole said that song is his purpose and she thanks him for it, Paula is freaking out and says he is the consummate performer and urges America to "vote, vote, vote." Simon says, "Chris that was your $5 million song" and praises him for staying clean and he shockingly gives Chris his blessing and hopes he gets America behind him with the votes. Somewhere backstage Melanie is swearing at him and it may or may not be in a Caribbean accent. It needs to be noted that Chris is the only one of these final three to do not only one original song this season, but two, and did them well.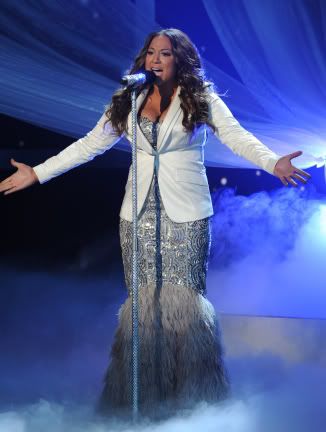 Our final performance of the night is Melanie Amaro doing "Listen" and it was gorgeous, confident, powerful and she looked and sounded like a better version of herself. She just killed it at the exactly right time. LA Reid said she gave a $50 million performance. Nicole and her stupid hairstyle cried, Simon said he can't explain how proud he is of her. Then calls her one of the best singers in the world and that he thinks she should be the winner.
Round Two goes to: Chris Rene and Melanie Amaro (tie).
We have the long time busker and night club singer; Josh, the shy girl with the disarmingly big voice who Simon originally sent home; Melanie and the sentimental story the man turning his life around and battling his long-time addiction, Chris. I stand by my prediction that it will be Chris or Melanie and if it's based on tonight's performance, Chris had two strong performances, and Melanie only had the one. I think America has no imagination and will pick Melanie Amaro, but Chris Rene is my pick.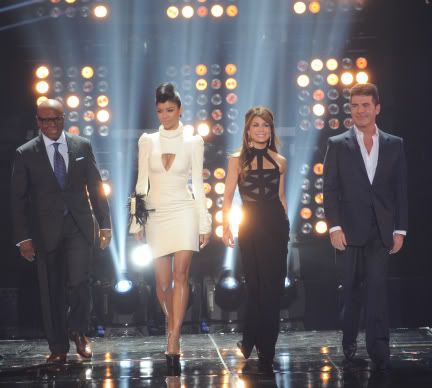 What do you think, who did you vote for, who should win? And if that isn't compelling enough, Justin Bieber is performing tomorrow night (no, sadly, I'm not kidding). Also performing tomorrow are Ne-Yo, Pitbull, and X-Factor UK winner Leona Lewis. Tune in tomorrow for my recap and thoughts.