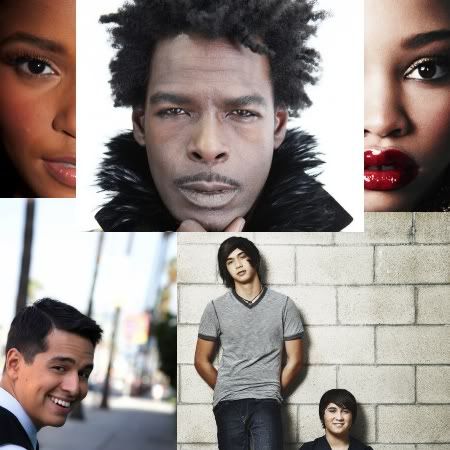 Tonight was the first live night of The X Factor and 17 acts will quickly be whittled down to 12, as chosen soley by the judges. I made predictions prior to the show airing; let's see how many, if any, I get right. Each full category will perform, then their mentor will send one of them home right there on the spot after the entire category finishes.
Astro comes up first and holy hell, he's doing "Jump" by Kriss Kross! That's wiggedy wiggedy wiggedy whack! This kid is annoying as crap but he's got stage presence. The audience went bananas, I was jumping, I am a believer. Simon said "you're obnoxious and confident and now it's multiplied because you are 14 and just came out and killed it."
LA Reid introduces Chris Rene next who does "Love Don't Live Here Anymore" and while he's not a great vocalist, you can't take your eyes off of him for even a second. Simon says he's not the best singer but he's one of the best recording artists; he thinks he's authentic and loves that about him.
Phillip Lomax gets "I'm A Believer" which could have been a fun pick for him but I typed this instead of watching him, and the "crooner" style he prides himself on was nowhere to be heard, as he screamed the entire time. Nicole said he radiates and they all had fun watching him. Simon said LA Reid set him up with a bad song, and that he likes Phillip, just hated the song. LA loved it because he was no longer imitating Frank Sinatra. I picked him to go home, we shall see!
Marcus Canty has been given "Do You Really Want To Hurt Me" by Culture Club and it was a pretty damned genius move on LA Reid's part. Not the best he's sounded thus far but, he's fun to watch. Nicole said "Honey you make it lookay too easy, you were born to be on that stage." Simon says "You've thought your entire performance through and that was a brilliant song choice." LA tells him he's really proud of him tonight, and now LA Reid must make the decision of who's going home.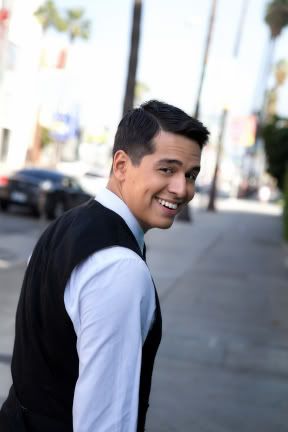 Eliminated: Phillip Lomax, which was really a no-brainer.
Paula Abdul introduces Stereo Hogzz as her first act from her Groups category and she chose "Try A Little Tenderness" for them and it was an inspired, perfect choice. This was awesome, a blast to watch and current despite the age of the song. Of Paula's four they are my front runner, although I have a sick feeling one of the X Factor generated groups (Lakoda Rayne and InTENsity) will win. LA Reid loved it, even Simon said they were an amazing combination of retro and new and the radio needs something like them, right now.
The Brewer Boys who I have adored up until now were not as amazing and adorable as I remember, on a "Faith/Rich Girl" mashup (George Michael/Hall & Oates). LA said he felt it wasn't the right song, and wasn't blown away by them, Simon thinks they haven't progressed and was not a $5 million performance.
InTENsity is next doing Cupid's "369"/Kenny Loggins' "Footloose" mashup (HATE these two song combos) and it was very busy and sounded okay. LA said he was entertained, Nicole loved them, Simon called it the equivalent of a music miracle and said they're a new, young, Glee.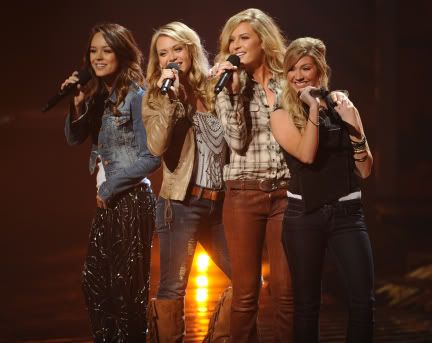 Lakoda Rayne is a country-ish all girl group who did a weird version of "Come On Eileen" that I kind of loved, in spite of myself. Nicole told them they looked like a family, Simon and LA said there's a place in the market for them and he's annoyed to tell Paula she did a great job.
Eliminated: The Brewer Boys, which after tonight's performances I actually agree with, although I am annoyed a genuine, organic duo not made for TV was sent home but they were the dullest of the Groups tonight.
Nicole Scherzinger's Over 30's start off with Dexter Haygood doing Britney Spears' "Womanizer"/Katy Perry's "I Kissed a Girl" which was the equivalent of throwing Dexter under a bus. It was as weird and spaz-tastic as you'd imagine it to be. LA Reid told Dexter, "it's not your fault" shooting a look at Nicole; Simon said to steal a line from the song, "it felt so wrong but felt so right."
LeRoy Bell is next and gives us an amazing rendition of "Nobody Knows" that lit the judges up; he was flawless but looked nervous.
Stacy Francis is next and I'm already over her. Nicole gave her "One More Try" by George Michael and it's a case of a lot of power and not a lot of control. I'd like more understated singing with a big note here and there which would have a lot more power and impact. Paula thinks she looks like a star; I think in her feathery, Chewbacca coat and spangley jeans she looks like a hooker. Simon didn't like her look or the song because to him she's a church singer.
My other favorite, Josh Krajcik sings "Forever Young" and despite all that power he has, he toned it down and held back which makes this song all the more powerful. This guy is a star; LA said Josh's voice is one of his favorites. Simon says Josh is the artist he fears because he's got everything, all the components to win.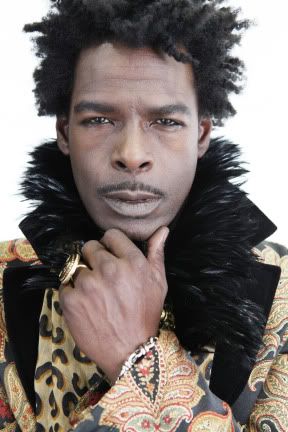 Eliminated: Dexter Haygood, we all saw this coming, except for Dexter who is confused.
Simon's Girls are next, starting with Simone Battle doing "Just Be Good to Me" which is as awful as I knew it'd be. LA ripped Simon a new one, basically saying he loves Simone but, there was nothing there. She's very pretty but not $5 million pretty.
Little Rachel Crow is next and has the first two song mashup that actually worked: Justin Bieber's "Baby" and The Supremes "Where Did Our Love Go." However, she was dressed like Charlie Chaplin and there was too much going on around her. She sounded great and I think we'll see her on Broadway in the very near future; she reminded me of Shirley Temple. LA said she can have a music career or even a career "that's much bigger, if you'd like."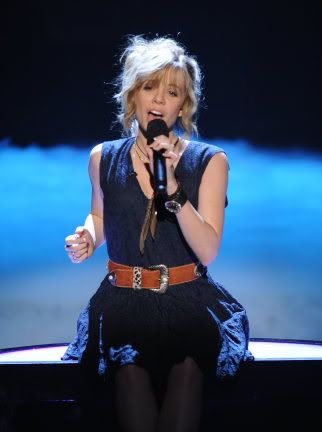 Drew dropped her hard to spell last name (Ryniewicz) just as I had mastered spelling it but who cares about that because after hearing her do Irene Cara's "What A Feeling" I think she may very well be the one to beat. When she was done, Simon had a very "I told you so" look on his face.
Tiah Tolliver delivered the worst rendition of "Sweet Dreams" I have ever heard, and the performance was ridiculous. The highlight was Simon calling Paula and Nicole, "spiteful little cats" when they took issue with her performance.
In what we Idol watchers call the "pimp spot" is Melanie Amaro who gets the very predictable and safe "I Have Nothing" which was big and powerful and boring as can be. I still stick by my earlier assessment that she is dull as dirt, and X Factor's version of American Idol's Pia Toscano but, y'all love her. LA called her "Unbelievable" citing the song as predictable but, "it doesn't matter because she nailed it."
Eliminated: Tiah Tolliver and Simone Battle in the ultimate "no duh" moment. Why these two were still here until now will forever baffle me.
No major surprises tonight, except Simone Battle telling us she's releasing her music video tonight, entitled "He Likes Boys." Okay, then, good luck with that.
The judges have mentored their contestants and left us with 12 contestants. Beginning next week, viewers and fans will have their say. Stay tuned to BlindedBySound for details on how you can get your voice heard and decide The X Factor's first winner.