I got the chance to sit in on another X Factor conference call this week, this time with most recent castoffs Lakoda Rayne and LeRoy Bell. The exit of Lakoda Rayne marks the third and final of Paula Abdul's groups and LeRoy is Nicole Scherzinger's second act to be eliminated.
I've been a part of these weekly calls ever since the first elimination but, quite honestly, with the exception of the LA Reid conference call, there hasn't been a lot of substance or interesting information to pass on to you guys.
Here's a quick rundown: InTENsity says "like" and "oh my god" a lot, sometimes all 10 say it at the same time; they feel their being voted off so early was like, so totally unfair. Oh my god. The Stereo Hogzz took their elimination in stride and will be friends for life, and will never stop striving for their dreams. Stacy Francis is bitter and blames Simon for her falling out of the public's good graces.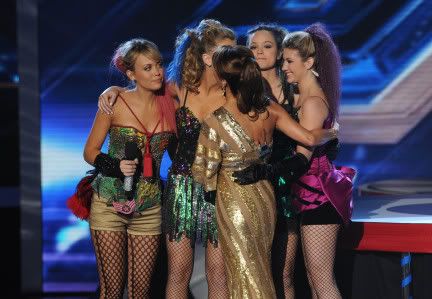 Which leads us to the Lakoda Rayne who feel they were at a disadvantage in The X Factor competition being in a group versus solo artists as they had intended to be when trying out. They also think there's a hole in the market for an all-girl country group, and they're eager to fill it. When asked about Worthless Host Steve Jones telling them their dream is over directly after news of their elimination, one of the girls says he's learning on the job because he's a new host (he's not), and to "give him some flack." I'm fairly certain she meant to cut him some slack, which I refuse to do.
The girls say Paula was the perfect mentor and she encouraged them to always have a great time and leave everything on that stage because if they're having fun, so will the audience. They go on to tell us Rachel Crow has their collective votes for winning the whole thing but, they love and pull for everyone.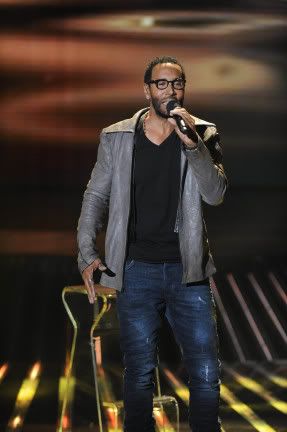 LeRoy Bell's call was next and infinitely more interesting. We got to see a bit of a sassy side from LeRoy we hadn't been privy to, previously. He said he was just getting comfortable being on stage without his guitar, and was happy to have gone out on a high note with a strong performance. When asked about moving forward as a solo artist or if he'll continue with his band he's been with for ten years; he said that's a no brainer because he has a hot band full of talented musicians. When asked about breaking in to the music industry "at his age" LeRoy corrected the question asker by saying he had a record deal at the age of 27, along with a top 20 hit on the charts and wrote hit songs for Elton John. He considers himself as re-entering the industry, not as a newcomer.
LeRoy also said he was a little surprised Simon left the decision up to the voters with a tie-breaker, versus keeping him over Marcus Canty but he has no hard feelings and had a great time on the show. When asked what songs performed on the show most reflect who he is as an artist he said "Still Haven't Found What I'm Looking For," "Don't Let Me Down," and "Angel," although he'd make some changes to the arrangement.
Before the call ended, Leroy wanted to chance to say he has been blown away by the entire experience and loves every one of his fans and appreciates their support and feedback.
So, two very different calls and LeRoy Bell revealed himself to be a class act with an actual voice and opinions. I wish we had seen more of this LeRoy on the show but, I look forward to seeing what he does in the future.
Tonight's show is a Michael Jackson theme, check back to see my thoughts and reviews of their performances.