Tonight's installment of The X Factor has the remaining seven contestants not only performing the songs of the legendary Michael Jackson; they'll also be in front of three of his sisters, mother and children. No pressure!

Nicole Scherzinger's final act in Over-30s, Josh Krajcik kicks off the show with "Dirty Diana" and promises some guitar playing. He starts off with it over his shoulders but I'm not sure when he'll be playing it. He sounds great, he obviously has a great raspy voice that's big and perfect for rock tunes but it's just not the style we're used to by him. Okay, there's a weird, ill-timed guitar solo; I didn't like this performance at all but I still love Josh. Paula Abdul tells him it was a show-stopping performance and encourages America to vote. Simon said it was a spectacle however he feels Josh was over-produced by Nicole, who wants to be a rock singer and was projecting.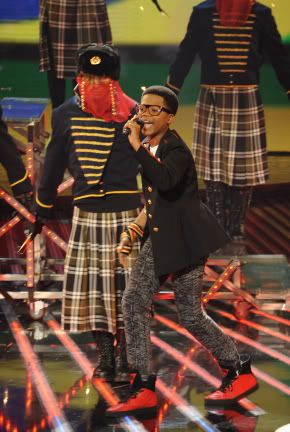 The first act from the LA Reid's Boys category is Astro, who should be a lot of fun to watch with this theme. True to form, with all original lyrics over the chorus of "Black Or White," Astro commands the attention and respect of every person in the room. Holy crap this kid raps fast. He has nice little dancers dressed in Russian garb; I am suddenly missing the morphing video, though. Nicole loved the lyrics and thinks Astro finally is enjoying himself on stage, Paula says he can win the competition. Simon loved the entire performance, the changes, and the hook at the end. Worthless Host Steve Jones tells Astro, "that was dope…as you'd say." Painful, just painful.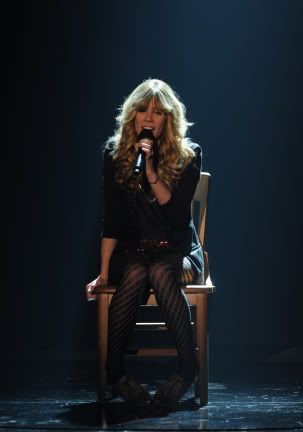 Drew No Last Name is Simon's first act in his Girls category and he inexplicably (or perhaps predictably) gives her "Billy Jean" in much the same style of David Cook from his season of American Idol- a performance Simon thought was brilliant, it's worth mentioning. This song is so weird lyrically for a girl, let alone a very young girl, and I didn't like one second of it. All of her performances blend together as one long, slow song in my head. LA Reid liked it, Nicole likes Drew, didn't like the fact that she was sitting in a chair the entire time, and Paula thinks it was Drew's best vocal performance.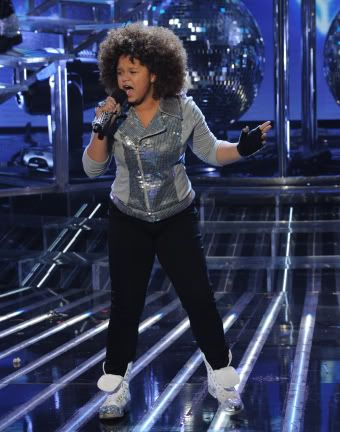 Simon's second act, Rachel Crow, has already been compared to Michael Jackson this season, does a lesser known MJ song, "Can You Feel It" from the 1980 Jackson 5 album, Triumph. It seemed like she was just going through the motions, and was a little low-energy, while sounding perfect. Nicole said she didn't have any shine tonight, Paula thinks the song didn't do her the justice she deserves.
Marcus Canty is LA's second from his Boys group to perform and seems to be a perfect, natural fit for a Michael Jackson theme. He does my favorite MJ song, "P.Y.T. (Pretty Young Thing)" and it was going good until I looked up from my laptop and saw his white, sleeveless vest and the grinding on the stairs. He suddenly is harkening images of Sisqo (of "Thong Song" fame) and it's not pretty. Vocally he was only okay and I hated the performance almost completely. Nicole and Paula loved it and hope he gets votes, Simon agrees with me that his vocals were his weakest yet.
Chris Rene's grandfather wrote "Rockin' Robin" and parts of "Ben," which were both later sung by Michael Jackson, so he's very excited and feels connected to the material. He wisely picks a different song and "I'll Be There" seems to be the perfect fit. Chris comes out in a bedazzled Varsity jacket that he must have borrowed from Marcus Canty's terrible collection. The song starts off shaky vocally, the chorus being the highlight, until he gets to his little rappy part which is obviously where his comfort zone is. He isn't a fantastic live singer, but he has charisma and stage presence for days. The performance ends strong and the audience is on its feet. Nicole said he sounded and looked beautiful, Paula wants to buy his album and plugs his X Factor audition getting 10 million hits. Simon likes the "Fugees-feel" of the song and encourages Chris' homies in Santa Cruz to vote like crazy.
Simon's third act of the night, Melanie Amaro, gets the pimp spot with "Earth Song" which will always be remembered by me as the song that Haley Reinhart almost punched a judge over on American Idol last season. It's just not one of my Michael Jackson favorites, but she looks fantastic and sounds amazing- the best of the night vocally by a mile. LA loved it; Nicole said if that song doesn't save a small country she doesn't know what will.
With Melanie, Chris, and Astro being the strongest of the night, the Bottom Three will go to Marcus, Drew, and Rachel, with Josh falling in the neutral zone. With another double elimination tomorrow, I predict Marcus and Rachel will be going home although my wish is that it's Drew and Marcus.
Check back tomorrow to find out which two will be leaving the show and joining me on a Friday Consolation Conference Call.