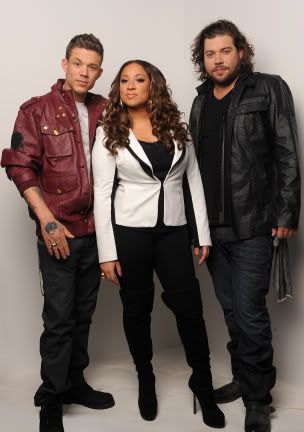 Tonight we will watch the Top Three X Factor contestants perform for our votes for the final time before America votes on who will be the first US winner of the $5 million Sony deal and "iconic" Pepsi commercial.
The lucky souls are Chris Rene (LA Reid's "Boys" team), Josh Krajcik (Nicole Scherzinger's "Over 30s" team), and Melanie Amaro (Simon Cowell's "Girls" Team) which is a nice, diverse group and that makes me happy. Now we get to the portion where I tell you who will win, who won't win and why either of those are possible.
Let's start with my "young homie" Chris Rene:
Why Chris will win: over 10 million hits for his audition clip on YouTube is definitely a good start, also many, many copies and covers of it posted as well, he and that song are a bit of a sensation. He's charismatic, has a sad story which has blossomed into a success story and ladies love him so he's got the young girl, cougar vote on lock. His vocals aren't the strongest but with his style of music, they don't need to be, and he's more about the feel and mood of the music. When he's singing it's in his soul and skin, he has to move and he's captivating. Chris also writes, plays multiple instruments and has been performing for years, as well as self-distributed a CD before coming on the X Factor, he's my bet for most ready to record and tour, promote his brand right now.
Why Chris won't win: for many of the same reasons I listed above; many people are turned off by a sad story and feel like contestants milk that for sympathy votes, he's pretty one-dimensional, voice is not terrific and his dance moves are pretty much dated and one-note.
Now we're moving on to Josh Krajcik:
Why Josh will win: have you heard this man sing?! If this were American Idol, he'd be a lock, he's exactly what they love; a big voice, been around the circuit for a while, always on the fringes, never quite getting his big break. Josh has been the solid sleeper hit, this entire time, his only bobbles are when he's been forced into a genre that's just not suited to his vocal style or personality.
Why Josh won't win: He's not Chris or Melanie. Josh's only real "flaw" is his seeming lack of a personality, he's well-spoken and funny when prompted but, he doesn't have that sparkle that Chris has.
Melanie Amaro:
Why Melanie will win: she's the quintessential singing competition contestant and winner, he's got the honey voice and ability to slay any ballad thrown at her, she's garnered the requisite Whitney and Mariah comparisons and she's got Simon Freaking Cowell as her mentor and SFC does not lose on his own show. I also feel Simon's molding her in (former X Factor winner) Leona Lewis' shadow. If it ain't broke, don't fix it.
Why Melanie won't win: Melanie is hard to relate to or feel fondness for, she brings that Virgin Islands accent in only sometimes, and it makes her feel inauthentic and difficult to relate to. I've never had an intermittent accent before; I'm not sure how that works.
I'm not sure how this will work, we'll probably know more after tonight's show but, if they get rid of the lowest vote earner first, I guess that will be Josh, with Chris and Melanie as the Final Two. I know this is the unpopular and minority opinion but, I really think this competition is between Chris and Melanie whereas the rest of you see it as a Melanie and Josh showdown with Chris being an annoying little tick, hanging on. The kid's got a fan base and like I said before…he has the "X Factor"; there is something enthralling about him and I know I'm not the only one who's noticed. My gut says Melanie's got this, but I have a strong hunch it's going to be a "dark horse" shocker with Chris pulling it out.
We only have one more night to wait before we find out and tonight's performances could blow everything out of the water. Check back for my thoughts.