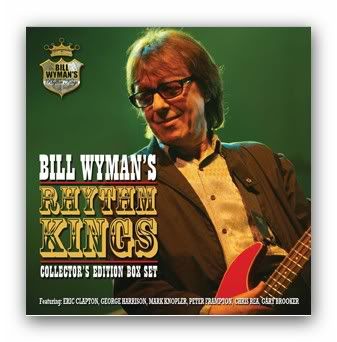 Since leaving The Rolling Stones in 1992, Bill Wyman has quietly stayed busy with his Rhythm Kings. Formed in 1997, Bill Wyman's Rhythm Kings have featured a rotating all-star cast in both the studio and live performance. The newly released five-disc Collector's Edition Box Set contains the first four albums that the group recorded. These are Struttin' Our Stuff (1997), Anyway The Wind Blows (1999), Groovin' (2000), and the two-CD live package Double Bill (2001).
Wyman's status as a founding member of the Stones, plus his consummate playing ability led to a wide variety of guest stars on these albums. These include such artists as Eric Clapton, George Harrison, Mark Knopfler, Nicky Hopkins, Paul Carrack, Peter Frampton, Mick Taylor, and Chris Rea, among many others. The core members of the Rhythm Kings are drummer Graham Broad, singer-guitarist Andy Fairweather-Low, singer-organist Georgie Fame, guitarist Albert Lee, vocalist Beverley Skeete, horn players Frank Mead and Nick Payn, pianist Geraint Watkins, and guitarist Terry Taylor. Taylor co-wrote a good number of the originals with Wyman as well.
The operative word in the 66 songs collected on the Collector's Edition is "roots." But maybe not roots in terms of the roots of rock and roll, more the roots of Wyman himself. The various stylistic excursions on the set include blues, reggae, soul, gospel, jump music, early rock 'n roll, even stuff that would have been right at home on seventies rock radio.
The main reason Wyman left the Stones was that he no longer wished to take part in their worldwide tours. This is the reason that the Rhythm Kings have only toured the U.S. once. As he puts it, "We don't seem to go to another level because I just don't travel anymore," he says, "Whether it's been the right direction or not, I don't know, but I've enjoyed it."
Enjoyment of great music is what the Collector's Edition Box Set is all about, and it sounds like Bill Wyman and his friends have enjoyed themselves a great deal over the past decade and a half. It's time for this well-kept secret to come out in the open. Wyman's Rhythm Kings rock the house, without question.