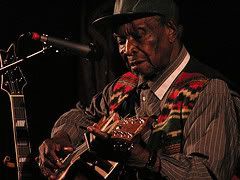 Roamin' and ramblin' bluesman, David "Honeyboy" Edwards, died in his Chicago home early this morning of congestive heart failure. He was 96 years old. Honeyboy had started 2011 off with a tour celebrating what would have been his late friend Robert Johnson's 100th birthday, playing up through April. Then failing health resulted in a short hospital stay, followed by the cancellation of his performance at the annual Chicago Blues Festival in June, and the announcement of his retirement in July.
Edwards, the son of sharecroppers, was born in Shaw, Mississippi in 1915 and got his start as a bluesman at 13, when he played a local party. Not long after he was earning his living on the road, taking up with such players as Big Joe Williams, Rice "Sonny Boy Williamson" Miller, Howlin' Wolf, Peetie Wheatstraw, Sunnyland Slim, Lightnin' Hopkins, Big Walter, Little Walter, as well acts such as Fleetwood Mac.
An artist who spent many years traveling, Edwards was recorded by musicologist Alan Lomax in 1942 but didn't record again commercially until 1951 (under the name Mr. Honey), missing out on much of the publicity and air play his contemporaries received. Honeyboy Edwards earned his first Grammy in 2008 for his participation in the recording of Last Of The Great Mississippi Delta Bluesmen: Live In Dallas. He also received a Lifetime Achievement Grammy in 2010; was inducted into the Blues Hall of Fame in 1996; additionally, he has played at many of the Rock 'n' Roll Hall of Fame induction ceremonies honoring his friends, but has not yet been included there himself. Edwards was the star of a documentary, fittingly titled Honeyboy. He also appeared in the documentaries Lightning in a Bottle, Six Generations of the Blues, The Search For Robert Johnson, City Confidential, and 10 Days Out: Blues From The Backroads.
Honeyboy also had a small, but pivotal role in Walk Hard: The Dewey Cox Story.
Honeyboy's book, The World Don't Owe Me Nothing, a fine read, covers much of his life, up until his early 80s. Included are stories of life as a sharecropper, the loss of his mother, the changing face of the South, and his time with the musicians who influenced him, including Robert Johnson.
I first met Honeyboy Edwards in early 2005. That day will be with me forever. I literally sat at his feet, goosebumps forming on my arms as I listened to him play guitar and sing. Though we'd never met before, he struck me as someone very familiar. It was later as we spoke that it came to me: he reminded me of my grandfather (who was also a musician). Though my grandfather was at least fifteen years older than Edwards, white, and raised in quite different circumstances, it was the music that bridged all those gaps and a certain spirit from a bygone era that brought the two together in my mind. From that moment on, I was a fan and saw Honeyboy as often as possible. A few years back, I got my son in on the act (he saw Honeyboy twice and even interviewed him the second time).
My last encounter with Honeyboy was January 30 this year at Anthology in San Diego. We had the opportunity to talk for a bit before he performed as well as chatting between sets. Again, those memories will be with me always as they are as precious to me as anything; the genuine warmth of this man's soul is nothing one easily forgets. David Honeyboy Edwards' passing leaves a great void in this world. Never again will we have the opportunity to hear his stories of coming up in a rapidly changing environment -- social change, growing technology, the changing face of music, modes of transportation. He lived to see it and share it with audiences the world over. We've lost a great historian. We've lost a great man.
David Honeyboy Edwards: 6/28/15 - 8/29/11