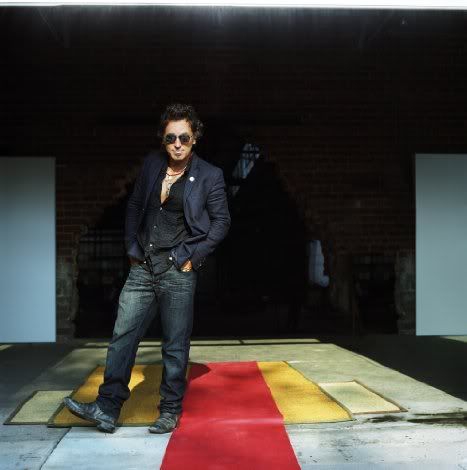 Years of paying close attention to Bruce Springsteen setlists have taught me to be wary of the first night of a multi-night stand in one city and tonight he played the first of two scheduled Los Angeles shows. If tonight's show turns out to be the lesser of the two, tomorrow will be an epic to remember.
The best thing about tonight's set in LA is that it was heavy on Darkness On The Edge Of Town, and not just the same two songs you know he's always going to play. In addition to "Badlands" and "The Promised Land," we got "Candy's Room" and "Something In The Night." Neither of these songs is played often enough and he played them back-to-back. I wonder when the last time that happened was! "The Ties That Bind" from The River was also thrown into the mix early.
The disappointment for tonight is "Lonesome Day" following "The Rising." "LD" is a good song that needs to go on a long vacation, suffering from intense exhaustion over these past several tours. He should keep playing the title track but that slot right before or right after has occasionally been a premium position and with a couple nice songs slotted earlier, that could have made all the difference.
Other notable items for tonight include Tom Morello showing up to play a few songs with the band. Morello played on Wrecking Ball so it's no surprise he came out to play "Death To My Hometown." Morello and his mates in Rage Against The Machine covered Springsteen's "The Ghost of Tom Joad" and Morello and Bruce have played it onstage together, so again it's no surprise to see that in the set list. The stage was a crowded place to be tonight because Patti Scialfa ended her brief hiatus from the tour and returned tonight, as well. The E Street Band is almost large enough to get an Electoral College vote.
I've been accused of having no sense of humor where Bruce, covers, and setlists are concerned but considering the fair number of goodies he did play tonight, I think I can have a laugh about "California Sun" being in the encore.
Bruce Springsteen & The E Street Band
April 26, 2012
Los Angeles, CA
Badlands
We Take Care Of Our Own
The Ties That Bind
Wrecking Ball
Death To My Hometown (feat. Tom Morello)
My City Of Ruins
E Street Shuffle
Jack Of All Trades
Something In The Night
Candy's Room
She's The One
Easy Money
Waiting On A Sunny Day
The Promised Land
Apollo Medley
The Ghost Of Tom Joad (feat. Tom Morello)
The Rising
Lonesome Day
We Are Alive
Land Of Hope And Dreams
### ### ###
Rocky Ground
California Sun
Born To Run
Dancing In The Dark
Tenth Avenue Freeze-Out (feat. Tom Morello)