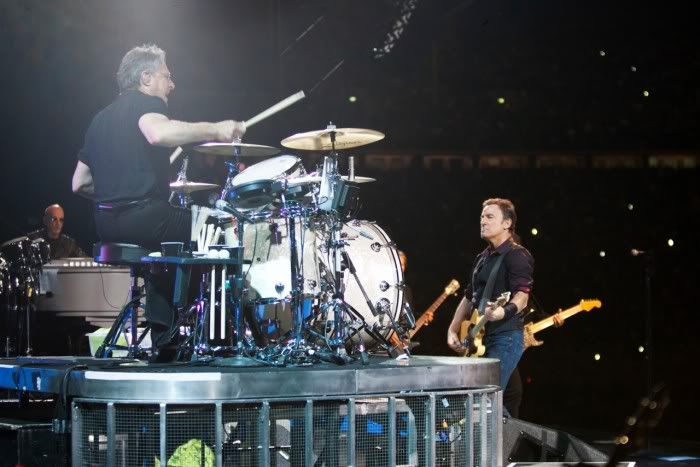 Bruce Springsteen & The E Street Band closed down Rock In Rio…in Lisbon, Portugal. If you are one of those who thought you might hold Rock In Rio in, oh I don't know, Rio De Janeiro, surprise! Well, they do. But that's not this one. I'm sure there's a reason. It might even make sense but you've got me.
This being a festival, the set is pared down to 24 songs and Bruce was in a generous mood, frequently taking requests from fans who brought signs to the gig. Three of the songs from the set were sign requests: "She's The One," "I'm On Fire," and "Hungry Heart." It's safe to say the signbearers aren't among the hardcore or Bruce was ignoring them in favor of the casual. Don't worry, Bruce, no one in the audience wants to hear "Incident On 57th Street" or "Streets Of Fire."
"Spirit In The Night" seems to have found favor with Bruce as it has become a regular part of the early block and was followed by "Because The Night." That's a 1-2 I'd pay good money to see and looks to me like the highlight of the show.
"The River" and "The Rising" as a pairing is also something that's become a regular on the European leg and I like it. If only "Lonesome Day" got a more frequent rest. I want someone to tell Bruce we like other songs on The Rising and he should feel to play them (and I don't mean fucking "Mary's Place").
"Seven Nights To Rock" came out as the encore cover and for one of the few times on this tour, "Tenth Avenue Freeze Out" didn't close the show. That honor went to "Twist And Shout," which I'm sure brought the crowd to a frenzy on their way out.
So here you have it: Bruce Springsteen & The E Street Band at Rock In Rio…in Lisbon.
1. We Take Care of Our Own
2. Wrecking Ball
3. Badlands
4. Death To My Hometown
5. My City of Ruins
6. Spirit in the Night
7. Because the Night
8. No Surrender
9. She's The One (sign request)
10. I'm On Fire (Sign request)
11. Shackled and Drawn
12. Waiting on a Sunny Day
13. The River
14. The Rising
15. Lonesome Day
16. We Are Alive
17. Thunder Road

18. Born in the U.S.A.
19. Born to Run
20. Glory Days
21. Hungry Heart (Sign)
22. Dancing in the Dark
23. Tenth Avenue Freeze Out
24. Twist and Shout