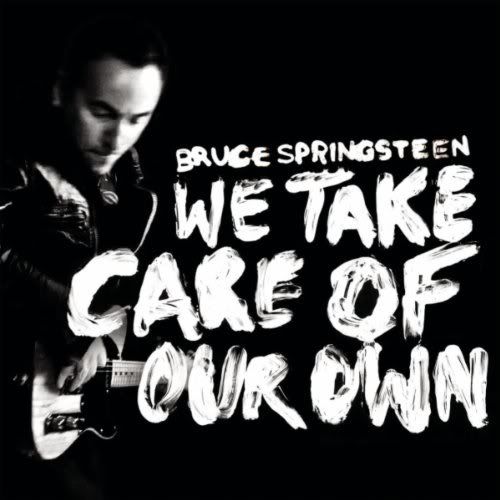 Bruce Springsteen has released "We Take Care Of Our Own," the first track and single from his 17th studio album Wrecking Ball. It is available digitally and you can stream it for free and sing along with the lyrics as they dance before your eyes.
What do we make of the tune? It's a welcome return from the overproduced, overloud pop turd "Working On A Dream." "We Take Care Of Our Own" returns Springsteen to the anthemic sound so familiar to his fans. How familiar is familiar?
It's a difficult balancing act for an iconic, veteran artist to constantly sound fresh without straying too far from the sound they've built. We want our artists to sound like themselves without repeating themselves and this straddles that line.
The patented interplay Roy Bittan and Dan Federici made famous over decades has been recreated, likely by Bittan and Charlie Giordano (who took over for Phantom Dan after his passing). That keyboard interplay is spliced with chiming, ringing guitars. Springsteen's vocal sounds tired and lacks range, undercutting the anthemic nature of the song but the fatigue in his voice is clearly referenced in the lyrics, which in turn works in its favor.
It's not possible to properly judge recording quality from a compressed MP3 but even here there is a noticeable difference in the EQ and mix with Ron Aniello behind the boards rather than Brendan O'Brien. It's quieter without quite as much sound or nearly as much clipping.
"We Take Care Of Our Own" plays it safe, living at the intersection of "Born In The U.S.A." and "The Rising." This song is going to be misunderstood and misused much the way "BITUSA" is and the "la-la's" at the end will be sung along to with the same vigor as the 9/11 anthem "The Rising." I wonder how many times Bruce's manager Jon Landau will have to tell political candidates to stop playing this at their events this year with the refrain of "Wherever this flag is flown, we take care of our own." I wonder if Vegas has an over/under on that yet. I don't gamble but I'd bet the over.
What do all these observations add up to? A very solid song. Springsteen is on his home turf musically and thematically and while that will turn some fans off, I am a Springsteen fan because of the sound he created and the ideas he explores. A little more vigor or variation would have been welcomed but I like this song because it sounds like a Bruce Springsteen song. It has ideas and purpose. This is what we pay him for, kids.
It's not the first time he's done this and glancing at the song titles for Wrecking Ball and the headlines in the news, it won't be the last. He's done it better than he does here but he does it well. This isn't a punk anthem of anarchy. This is thoughtful, mature anger from a man who... just wants his country back! I'm going to hell for that but I couldn't resist. The anger has a source, determination, and destination. It goes beyond bitching about the state of things and reminds us of a higher ideal.
Take a look and listen and stay tuned as we discuss the album and look forward to the announcement of North American tour dates.