When I Left Home introduces us to Buddy Guy and finds him in a warm, reflective frame of mind as he looks back on a life that took him from plantation life in Louisiana to Chicago where he became a world renowned, influential artist.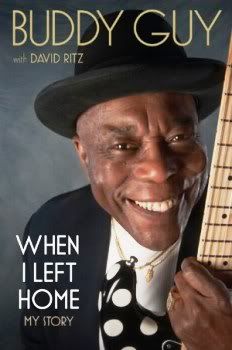 It doesn't take long for Guy to present readers with the contradictions in his DNA and throughout the rest of the book we see how those contradictions in his personality and life experiences would shape and make his fortunes balancing humility, confidence, and ambition as well as introversion and gregariousness.
We learn of a young boy who grew up with a loving family in the segregated South. It's fascinating to hear Guy tell of his formative years and his loving family. He looks back over his life now at age 75 and a career of 50 years, and tells of the first time he met the blues. Guy has been such a fixture for so long, some blues fans may not be aware of a blues scene before Buddy but we know that's not true and so does Guy. He is generous with his praise of those who inspired and influenced him and will tell you he doesn't see himself as an innovator, not entirely. John Lee Hooker introduced him to the blues and Guitar Slim influenced his flair for the dramatic onstage- something that didn't come easy to a boy so shy he played with his back to the crowd the first time he performed in public.
In addition to seeing the journey of his life through his own eyes, the real joy in this book is the cast of characters we're introduced to, some internationally known, others not. Among the most vivid portraits are those he creates by recounting his time with Muddy Waters (The Mud), the stuttering John Lee Hooker, and Guy's partner in the blues, the great Junior Wells. His stories bring these men back to life and his love for them is genuine and palpable. He sees past their flaws and looks upon The Mud and Hooker with reverence for their influence and generosity to him over the years and Wells as a blood brother.
Guy's life as a bluesman focuses more on his time on stages in bars, festivals, and venues of all sizes throughout his career than as a recording artist, particularly from the early period of his career, which is a shame for fans who love those singles, singles that may not have been hits at the time but they found their way into the hands, ears, and hearts of players like Eric Clapton, Jeff Beck, Keith Richards, and the Vaughan brothers. Maybe it's because of the frustration he mentions at feeling handcuffed and handled in the studio that he doesn't feel particularly close to those songs.
He also discusses at great length his role as a continuing ambassador for the blues beyond that of an icon who continues to record and tour whose influenced generations of musicians but as a club owner of one of the remaining blues clubs in Chicago. He takes great pride in being an entrepreneur and keeping alive the blues tradition that drew him to the Windy City.
Those seeking to learn about Guy as husband, father, and grandfather won't find much here. He alludes to them but spends more time talking about the musical part of his life. It's his story to tell and he keeps much of that part of himself private, for reasons referenced in the book and obvious others. He put his name on his club and embraces the opportunity to share much of himself with fans but some parts remain his own.
When I Left Home: My Story is a breezy yet engaging read taking us on Buddy Guy's journey from Lettsworth, Louisiana to Chicago, a journey that made him an international superstar and one of the most influential musicians of the 20th century.