Recently the R&B lost the distinctive voice who graced one of the 1960s' best singles.  AllMusic describes her 1965 hit "Rescue Me" as "the greatest record Aretha Franklin never made," and Fontella Bass's rich voice certainly invites such comparisons.  Yet Bass's higher range lends the song energy that Franklin's deeper vocals may not have achieved.  Her death at age 72 on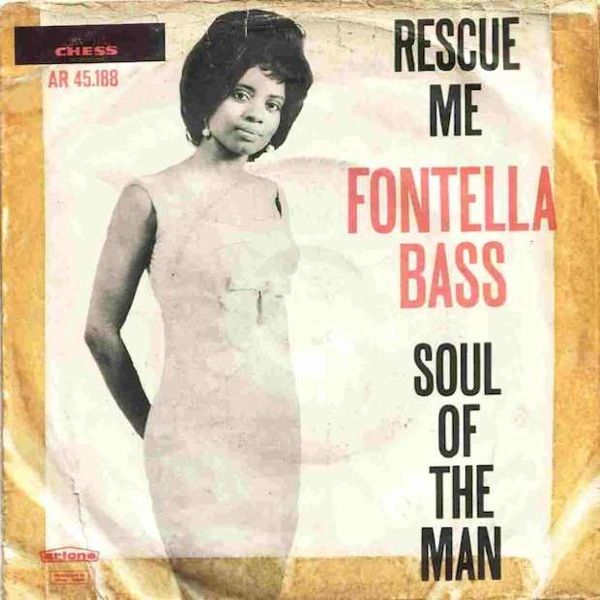 December 26, 2012 reminds us of a song that, while somewhat overexposed through commercials and movie soundtracks, still soars with its timeless plea for her lover to rescue her from loneliness.



Not surprisingly, Bass's roots remained firmly in gospel throughout her career.  Both her mother and grandmother were professional gospel singers, her mother a member of the Clara Ward Singers.  Born in St. Louis in 1940, Bass made her church singing debut at the tender age of five.  As she entered her teenage years, however, she began sneaking out of the house to perform secular R&B at local fairs and nightclubs.  Soon she became the house pianist at the nightclub Showbar, which led to Bass's stint with local blues legend Little Milton Campbell's band.  Various connections eventually linked her with Ike Turner, who produced a couple of her singles in 1963 (including a duet with then-wife Tina).  During this time she moonlighted as a performer with the Oliver Sain Soul Revue.  Sain then escorted Bass and R&B crooner Bobby McClure to Chicago, where they recorded their top ten hit "Don't Miss A Good Thing" for the city's Chess label.  Parting ways with the band, Bass moved to Chicago in 1965 and recorded "Rescue Me," which became one of Chess' most successful singles.  
The story behind "Rescue Me" is as fascinating as the song itself.  Needing a B-side to her newly cut, Sain-penned single "The Soul of a Man," Bass joined Chess songwriters Carl William Smith and Raynard Miner, her manager Billy Davis, and his arranger Phil Wright for a jamming session at Chess Studios. This August 1965 weekend resulted in them recruiting musicians including a pre-Earth, Wind, and Fire Maurice White on drums and Louis Satterfield on bass.  Gene Barge led the powerful horn section, while future "Loving You" singer Minnie Riperton joined on backing vocals.  Interestingly, the humming section toward the end of the track actually represents Bass forgetting some of the lyrics.  "'When we were recording that, I forgot some of the words,'' she told the New York Times in 1989. ''Back then, you didn't stop while the tape was running, and I remembered from the church what to do if you forget the words. I sang, 'Ummm, ummm, ummm,' and it worked out just fine.''
Soon it became clear that "Rescue Me" was the hit single, not its original A-side "The Soul of a  Man."  "Rescue Me" reached number four on the Billboard Top 100, topped the R&B singles chart for four weeks, and propelled her album The New Look to number six on the R&B charts. However, like so many soul artists from that era, Bass did not receive substantial credit and revenue from the hit song.  According to Bass, Smith, Miner, and Davis assured her that she would receive co-songwriting credit; upon "Rescue Me's" release, her name was missing from the roster.  Her subsequent battles with Chess culminated with her departure from the label; unfortunately, Bass was then labeled as "difficult" in the music industry, making labels reluctant to work with her.  For over 20 years, Bass fought to receive her just due from sales and usage rights.  By 1990, according to the Independent's obituary, she had moved back to St. Louis, had no car or phone, and was left penniless after a tree fell on her house.  She told journalist David Nathan in 2001 that "I was devastated from not getting paid the way I should have. In 1990, something snapped. I heard 'Rescue Me' being used in a commercial for American Express and I said, 'that's it!'"  Bass finally hired a lawyer and filed suit. "The lawyers were all there at this long table and then finally, the judge called us into his chambers. He turned to me and said, 'I've wanted to meet you for years!' and that was the end of the story! I finally got paid!" she said.
Regardless of its related legal battles, "Rescue Me" remains an elegant example of early 1960s' soul.  White's strong drumbeat, accompanied by Satterfield's pulsating bass, lend the song a relentless energy.  Barge's horn arrangements never overpower Bass's vocals, but add a dimension of passion and emotion to the tune.  The lyrics may not be complicated, but they help Bass emphatically deliver her message.  Just read the first verse, and try to think of another song that contains such a memorable passage:
Rescue me
Take me in your arms
Rescue me
I want your tender charm
'Cause I'm lonely
And I'm blue
I need you
And your love too
Come on and rescue me
When she almost shouts the lines "Can't you see that I'm lonely/Rescue me," one can hear her gospel training; these words could be interpreted romantically or even spiritually.  While the ending "mmm" part may have been accidental, the back-and-forth between Bass and the backup singers adds to the church-like feeling.  Even when humming, she belts out the words like she has lived every single syllable; perhaps this helps explain the track's longevity and universal appeal.  

This perfect melding of voice and band ensures the song's timeless quality and its place in music history.  Bass may not have received the full credit she deserved, but every time "Rescue Me" is played on the radio and appears on television or film, her soulful and distinctive voice lives on.