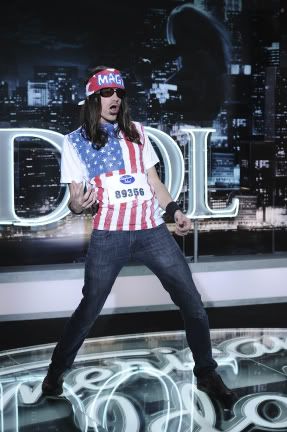 American Idol auditions keep on rollin' and tonight they rolled into the land of pretty people wearing UGGs year round; Aspen, Colorado. Lest you think it's just all puppies in purses and furry boots, we also were "treated" to ugly yellow jumpers, a Magic Cyclops, and Rocky Mountain Oysters.
After three talent-laden episodes, it was only a matter of time before we got to the gag reel of auditions. We were told 31 Golden Tickets were given out however only nine of those were featured on camera and of those nine, only three made any sense to me whatsoever, and of those three, zero of them will be in the finals. They were good but that may have more to do with what they were competing with than what they actually did themselves.
I'm highlighting the three I liked because, trust me, the other's aren't worth any of our time and will never be seen or heard from again. Haley Smith works three jobs and singing is all she wants to do with her future. Her take on Chaka Kahn's "Tell Me Something Good" was kind of weird but, not even in a bad way. I like her voice and it didn't sound like a fresh, new song. I'm not sure I've ever heard it like that. Three easy yeses from the judges and we'll see her in Hollywood; don't look forward to seeing her beyond that.
Shelby Tweten is battling depression and bipolar disorder and has her entire life; she's a total sweetheart with a sad story, similar to James Durbin of last year. The only difference is while Shelby's take on "Temporary Home" was good, it's not Top 12 Girls, good even if the girls' field is predictably weak.
Jairon Jackson is my third and final contestant worthy of all our times, but just barely; he does get hutszpah votes for auditioning an original song called "So Hard," which brought forth praise like "breathtaking" and "natural artist" from the judges and he's a shoo-in for Hollywood Week.
This was a pretty underwhelming collection of talent but I'm very hopeful the Houston, Texas auditions will be make up for it. They better, to make up for what we all had to watch tonight. Even the trainwrecks weren't interesting.