American Idol auditions move to Houston, Texas and if everything's bigger in Texas, I hope it's the talent and not the amount of crap like we had in Aspen last night.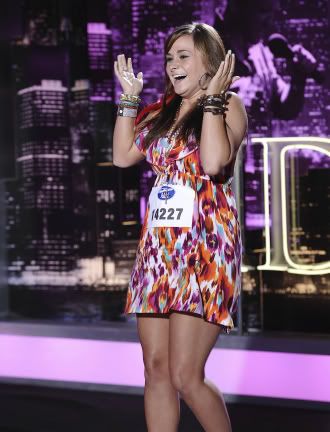 Skylar Laine is a firecracker who sang a spot on rendition of "Hell On Heels" by the mega-talented Pistol Annies and it took less than five seconds for all the judges to give her a Texas-sized yes. We will see her in Hollywood; I predict her to be a Top 12 Girl contender.
Baylie Brown is another re-do that is auditioning for a second time (seems to be a trend this season more so than in the past), her first try being in Season Six where she made it to Hollywood Week. Baylie sings a magnificent version of Bon Jovi's "Bed Of Roses" and not only is she going back to Hollywood but I see her as an easy Top 10 finalist.
Newly divorced Kristine Osario is 28, which is the cutoff age for American Idol, and she is the first contestant to bring me to instant goose bumps and almost tears on Adele's "One And Only." She was raw, emotional, and incredible. I love her and call her for Top 10 finalist as well.
Next we get clips of the judges disagreeing on who should and shouldn't go through, Jennifer Lopez getting outvoted again and again, even throwing a fun little fit at one point and threatening Steven Tyler with a little bodily harm. My money would be on Jenny from the block in that catfight.
Cortez Shaw has a sad little story of struggles with a single mom and an infectious personality. He does a fast-paced R&B flavored version of Adele's "Someone Like You." While Randy Jackson was unsure of the song choice, he gave him the third and definitive yes, sending him to Hollywood.
Ramiro Garcia was born without ears and through many surgeries and his faith; he can not only hear but can sing in a full, rich, passion-filled voice. He sang "Amazing Grace" and while we won't see him after Hollywood, I'm happy he got this chance.
This was pretty much the Superman to last night's Bizarro Superman auditions in Aspen, far less jokey contestants and real, genuine talent. I see a couple of them making it far, and I'm excited to see if I'm right or even close.
Next week's auditions come to us from the City of Roses, Pasadena, California.