So here we are, American Idol watchers, with only five left vying to be your next American Idol, boy how time flies when you're having fun. I know it seems I've been MIA since Erika Van Pelt left us at Top Ten elimination but, no my friends, alas, I was there! I cried when Heejun Han left, laughed like a maniac when Deandre Brackensick finally left us and felt a little angry and elated when Colton Dixon left two weeks ago and nothing but angry with no elation when Elise Testone was the bottom vote getter last week.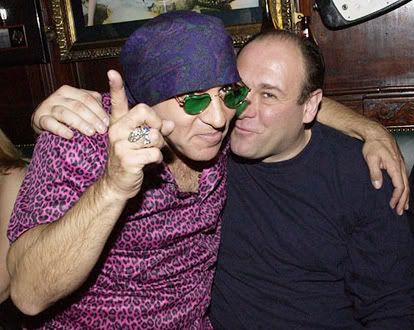 Tonight's theme is songs from the '60s and Brit Pop and also a duet for the remaining boys and trio for the girls, making that 3 songs each for our remaining contestants. To help our weak finalists muscle through tonight's show Jimmy Iovine brought in his buddy and Bruce Springsteen's main guy Little Steven Van Zandt (Some will know him as main guy to a different kind of boss…Tony Soprano to whom he played Silvio).
Starting us off with the '60s theme is Hollie Cavanagh (I really hoped if I stayed away long enough you all would have killed her off before I got back!) and she butchered Ike & Tina Turner's "River Deep Mountain High" in new and inventive ways. What a way to start us off! She sang at us and while she really sounded good in parts, it was a song that needed depth and an understanding of the blues and she couldn't carry that. Unless everyone else sucks worse, Hollie's in a river deep and mountain high's worth of trouble. The judges unanimously loved her and that should be enough to finish her off as their approval is often the kiss of death.
Phillip Phillips chooses "The Letter" by The Boxtops and while Jimmy was concerned by Phillip's chord change in the melody, I was more concerned we'd be watching the exact same performance we've been watching since January and I was right. This kid is winning the entire competition and I'm in pain at the very thought of it. I'm also in pain saying these next words: Lee DeWyze did this so much better two seasons ago. Randy Jackson started off judging by saying "Dude, you vibed up the song and made it new, I loved it" he also called him "jam bandy" and JLo said he Phillip Phillips'd it. Crazy Uncle Steven Tyler missed the melody but said Phil gets away with it. Ryan might have murdered PP's chances in the competition however by showing the world that he's taken and pointed out his girlfriend in the audience.
Skylar Laine is doing CCR's "Fortunate Son" and I really like this feisty, deer killing, spitfire but she way missed the mark here. I couldn't hear hardly any of the lyrics, it was so rushed and super shouty. I will say that she is exactly what I wanted last season's Runner-Up Lauren Alaina to be like. JLO called her fearless but didn't say anything about the singing. Steven said he loves her boot scoot and Randy gave props to the song before telling Skylar she was born to be on a stage.
Joshua Ledet and Phillip Squared are partnering up on "You've Lost That Lovin' Feeling" by The Righteous Brothes and while it will never top Maverick and Goose in Top Gun it should at least be memorable in a trainwreckish sort of way. And boy was I not disappointed. To be honest they were nice singing solo and then lost it in the harmonizing. Joshua definitely had some bobbles and Phil raspily growled all over it so it seemed like he had the upper hand but ultimately it got away from them both, capped off by PP putting his arm around Joshua and getting forcefully shoved in my new favorite Idol moment, ever. Steven said the high parts and the harmonizing was exactly what he needed tonight and called the pairing "a match made in Heaven."
Predictably Jessica Sanchez does Tina Turner's "Proud Mary" and predictably she gave a technically perfect,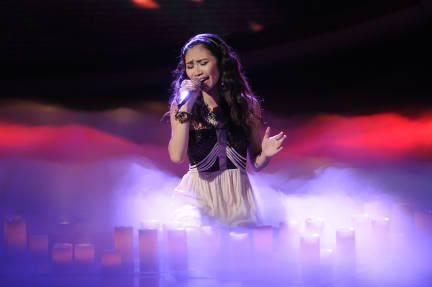 soulless performance. To his credit, Little Steven did try to talk her out of it saying he really hates this song after years of hearing it in bars. It was to no avail as this Fillipino robot strutted and preened and acted the part but was ultimately a singer with no actual connection to the material. Steven Tyler said "The only thing that gives experience a run for its money is a 16 year old" and mothers of teenage girls everywhere simultaneously hugged their babies tight. Randy was not impressed and said it was only "OK."
Now back doaing his solo performance is Joshua Ledet with the Temptations' "Aint To Proud To Beg" and he said this was the most fun he's had in a mentoring session, where Jimmy and Stevie V said what Joshua did with the song was impossible. I dismissed Joshua early on as a Jacob Lusk 2.0 and too gospel oriented for my tastes but this song was superb, I didn't want it to end. Steven Tyler tells him he's "got to be the top two Idols of all time." JLo says he's a "throwback from another era and just sick." Randy says Joshua has got a Terence Trent D'Arby vibe going on.
Moving on to the Brit Pop portion of the show our resident Brit Hollie Cavanagh tackles Simon Cowell's show pony from The X Factor Leona Lewis' hit "Bleeding Love." While she started super strong, it definitely fell off in the bridge and her shining moments were the slower, softer parts. Hollie tends to harness her inner Celine Dion and the song gets away from her but Steven Van Zandt encouraged her to sing to one person, make it intimate and it worked. JLo called her baby seventy-five times, Steven Tyler said he never heard the song but loved it and Randy said she's peaking at the right time.
"Time Of The Season" by the Zombies is a sexy, fun song that everyone knows and loves to sing along to and Phillip Phillips pledged to sing it pretty straightforward and not change it up too much. Mentors Jimmy and Stevie were pleased with that decision but said it might scare people a little now that they're used to the changes he makes. PP is not a hot or sexy kid but, I wanted to do some unmentionable things to him immediately at the "what's your name, who's your daddy, is he rich like me" line. That said, this was a snoozefest and I'm ready for next season already. JLo gave him a gold star and Steven Tyler applauded him for finally singing a melody.
Now onto the trio of ladies doing Jackie Wilson's "Your Love Keeps Lifting Me Higher " with Jessica and Hollie easily stealing the show and Skylar looked not only out-matched but extremely amateurish. At the end of it, Hollie had the strongest showing and Steven said it was a weird arrangement but they sang the hell out of it. JLo remarked that seeing all three of them together "was a treat."
"You Don't Have To Say You Love Me" by Dusty Springfield is an iconic song and it's far too big for country bumpkin Skylar Laine but, kudos to her for trying. She started off so pretty she actually gave me goosebumps and I was beginning to think I might have to change my mind. Then the chorus happened and I knew this was not a bright moment for Skylar despite the eyes brimming with tears I didn't feel any emotion from this 16 year old. Randy loved the entire thing and JLo said she can tell Skylar wants to "win this thing, don't you, baby?"
Jessica Sanchez is doing "You Are So Beautiful" by Joe Cocker (yes, he's British) and Jimmy Iovine called it boring and said it was like Muzak because it's too pretty and she's too pretty and there's a great chance it will be boring. In her Katharine McPhee "Somewhere Over The Rainbow" moment (even up to being shoeless) Jessica was on the floor only she had the privilege of being enveloped in smoke while surrounded by fake candles. Again, technically flawless and I couldn't care less. The judges loved her and JLo said there's no way they could have sent her home and said "great job, mama" Randy added that Round Two goes to Jessica Sanchez.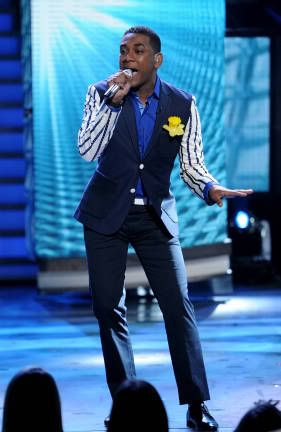 Joshua Ledet told Jimmy and Stevie he wanted to do a Tom Jones song and they both giggled and said it was a terrible idea. Joshua said those two together are like mischievous little boys. They asked him to try "To Love Somebody" instead and when he came back after spending 15 minutes with it he turned in a performance that made Stevie V say it might be the best thing he's ever heard. I don't know how he sounded in rehearsal but the way it sounded for his live performance was goose bump inducing and again, I wanted more. I'm not even a Joshua Ledet fan and I loved him tonight. Randy declared Joshua to be one of the best singers on Idol ever, after all these years, and also gave a shot out to the BeeGees and the ailing Robin Gibb. JLo said he's one of the best singers she's heard in 50 years and implored Jimmy to "not mess this up!"
So a surprising night overall, Phillip Squared faltered, Skylar showed she's the weakest of the bunch, Jessica showed us she's better than Ambian, Hollie was a highlight and I fell in love with Joshua Ledet. All very improbable scenarios just a few weeks back. I see this being the end of the road for Skylar with Phillip maybe making his first appearance in the Bottom Three.
Who were your favorites this week, who do you want to see going home tomorrow?