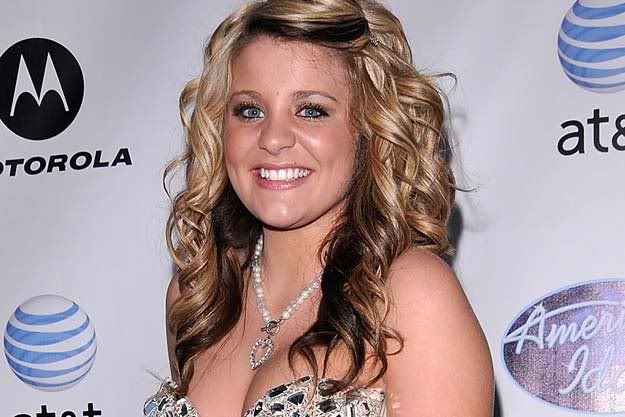 I did the same thing with Lauren Alaina that I did with Haley; I went back and listened to her audition and watched all of her Hollywood Week performances. Her audition was so annoying to me at the time, I didn't like the sad story angle (sick cousin Holly, who hasn't been mentioned since…have we even seen her in the audience?) and I judged her as a chubbier, Carrie Underwood-knockoff. I was wrong. She's much more of a Kelly Clarkson knockoff but with blonde hair. She is, however, coming into her own and we have to remember this little girl was FIFTEEN when she started this process. Looking at the audition again, many months removed made me miss that Lauren. She was exuberant, confident, and very self-assured. Looking at her now in interviews and during judging it's like the wind has been knocked out of her, she's so much more reserved and over-thinking every move.
Why she won't win: Lauren won't win because she's simply too young and too immature. She's 16 now, but a young 16 who is sensitive, gets her feelings hurt easily, tears up over a less than glowing critique, and will absolutely implode in the finals. She needs you to like her every time and all the time; with age she could toughen up a little and be good to go. But right now, as a fragile 16-year old, it's in her best interest not to win.
Why she could win: She could absolutely win because as the judges say every week ad nauseam…girl can sing anything and usually sing it well. She is young, malleable and can record right now, no doubt about it. Lauren is personable, fun to watch, and with enough backup singers could probably hold down a five or six-song set right now.
Best moment: My very favorite Lauren Alaina moment was singing "I Told You So" with Scotty McCreery. They complement each other beautifully and for some reason she sounds better when singing with him. He fades into the background, and she shines. "Where You Lead" from Carole King week was also a performance I'll remember; not for her vocals which were just OK but, for her stage presence and confidence.
Not-so-best-moment: I really thought someone should have warned her again "Natural Woman" because for anyone who's been watching this show, that song is Kelly Clarkson's song, it has never and will never be sung better than when she did it in season one. Another low moment was doing Sara Evan's "Born To Fly" which is the week she fully lost her confidence.
Verdict: There's actually a really good chance Lauren will be in the finale but she won't win. And I reiterate that it will actually be the best thing for her. She'll still get a record contract and won't be under such heavy scrutiny and will be able to grow and become confident with her amazing talent.