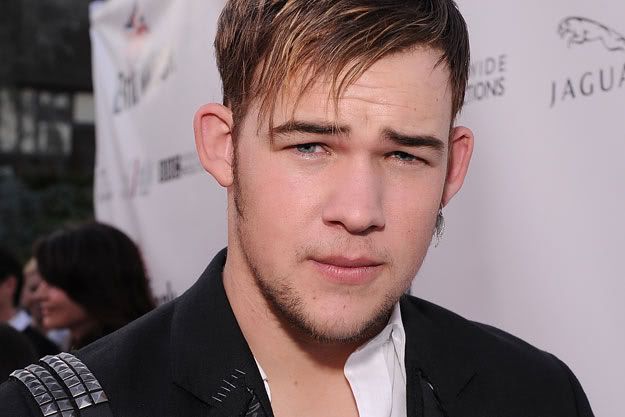 James Durbin recently unleashed his first post-American Idol album Memories Of A Beautiful Disaster and today we get to see the full video from his single "Love Me Bad." I was not too kind to James, the single or the album as a whole in my previous reviews of them but the video is a different animal and can sometimes expand the appeal of a song.
Not this time.
We start much the same way many edgy, pseudo-metal videos are starting these days…angry singer, in a hot muscle car he can't afford, driving to the desert. James is replete with all the rock gimmicks the stylists and directors could get away with. Fingerless driving gloves, guyliner, shiny Charger, bandana, leather bracelets, scarf tail- so forth and so on, and James hasn't even exited the vehicle yet. I'm laying my money on leather pants and studded biker boots, let's see, shall we? Oh, black jeans and biker boots… I was so close!
James drives out to this remote location and lo and behold; there is a piano, a sofa and various other carefully placed trash items, no doubt left by the ne'er-do-wells inhabiting the desert. He gets out of the car and from his trunk retrieves a suitcase of clothing, a lamp, and for some reason, a phone. Once the items are violently hurled to the ground, James beats the crap out of each possession of his former love and sets it all a blaze.
Now we move to the band playing amongst the flames and carnage while their front man sings with more ferocity and force than is necessary for the lyrics and sound of the song. One thing I will say is that James knows how to work a camera and is expressive as hell while doing so. His movements and apparent passion lead me to believe a James Durbin concert would be a very entertaining and exuberant affair (if only he had songs I wanted to hear him sing).
If you already like MOABD and have a soft spot for 30 Seconds To Mars and My Chemical Romance, this video is for you and available on iTunes for less than two dollars. Or, enjoy it below, for free.