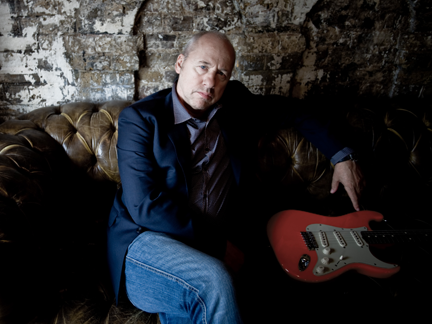 Mark Knopfler will follow up his critically acclaimed Get Lucky with a 2-CD set entitled Privateering on September 3, according to his web site.
The complete tracklisting and artwork have been revealed for the set but further details -- first single, tour dates, album producer, and contributors -- have not yet been announced.
He may always be most famous for "Sultans Of Swing" and "Money For Nothing" from his Dire Straits days but a bulk of Knopfler's best work has come after he disbanded Straits and gone out on his own.
His collaboration with Emmylou Harris, All The Roadrunning, is a brilliant record and his most recent efforts Sailing To Philadelphia and Kill To Get Crimson have also been excellent, culminating in the brilliant Get Lucky, which was released in 2009. He's transitioned from GuitarGod and RockStar to master storyteller and a preeminent guitar stylistst over the course of his solo career.
I'm willing to bet the hot streak continues as he's stacked up a pile of 19 new songs. There are some evocative song titles and I'll be particularly interested in the final track on Disc 1, "Seattle," having lived there for a time. I wonder what story he might have to tell of the Emerald City. I'm very excited to while away a few hours absorbing it all, the simple pleasures and journeys of Knopfler's best songs.
Here is the complete tracklisting for the 2-disc Privateering.
CD1:
Redbud Tree
Haul Away
Don't Forget Your Hat
Privateering
Miss You Blues
Corned Beef City
Go, Love
Hot or What
Yon Two Crows
Seattle
CD2:
Kingdom of Gold
Got To Have Something
Radio City Serenade
I Used To Could
Gator Blood
Bluebird/Dream of the Drowned Submariner
Blood and Water
Today is Okay
After The Bean Stalk
We'll be watching this one closely for further details as they become available.