The first report from blues radio for 2011 is out and Robin Rogers begins the year at #1.
Rogers' Back In The Fire was a top seller and smash at radio, buoyed by support from friends and fans rallying to her side after she was diagnosed with inoperable liver cancer. She passed away in December, days after learning she and her album were among the nominees for the 32nd Blues Music Awards.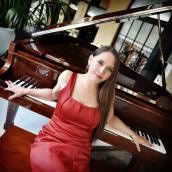 Eden Brent's Ain't Got No Troubles was a no-show on the charts last fall after its release but made a huge winter surge and that late-year momentum continues. I love this record so much it made my Best Blues of 2010 as well as my overall Best Albums of 2010. You really need this album if you don't already have it. That same thing can be said for Ronnie Earl's Spread The Love, which also appeared on both of my lists. Duke Robillard's Passport and Charlie Musselwhite's The Well were both on my Best Blues of 2010. These are records you need to own and they continue to make an impact at radio.
I want to highlight a pair of recent Delmark releases -- James Kinds' Love You From The Top and Studebaker John's Maxwell Street Kings' That's The Way You Do – which are also big winners this week at radio. I'm paying special attention to Kirsten Thien and her album Delicious. I'm expecting my copy to arrive soon and my fellow BBS contributor Joan Hunt told me good things about it. Expect to read more about her in the coming days and weeks.
Here is the full Blues Radio Report for the week of January 7, 2011:
Robin Rogers - Back In The Fire
Eden Brent - Ain't Got No Troubles
Buddy Guy - Living Proof
James Kinds - Love You From The Top
Lucky Peterson - You Can Always Turn Around
Albert Castiglia - Keepin On
Studebaker John's Maxwell Street Kings - That's The Way You Do
Lynwood Slim & The Igor Prado Band - Brazilian Kicks
Duke Robillard - Passport To The Blues
Jim Byrnes - Everywhere West
Chrissie O'Dell - If I Had A Dime
James Cotton - Giant
JP Blues - I Will Not Go Quietly
Eric Clapton - Clapton
Bill Johnson - Still Blue
Ronnie Earl & The Broadcasters - Spread The Love
Charlie Musselwhite - The Well
Reverend Raven & The Chain Smokin' Altar Boys - Shake Your Boogie
Cyndi Lauper - Memphis Blues
Kenny Neal - Hooked On Your Love
Shawn Camp - 1994
Deb Callahan - Tell It Like It Is
Dave Specter - Spectified
Ray Charles - Rare Genius - The Undiscovered Masters
Elvin Bishop - Red Dog Speaks
Boo Boo Davis - Undercover Blues
Ron Tanski - Dragged You Down
Tony Joe White - That On The Road Look - Live
The Derek Trucks Band - Roadsongs
Kirsten Thien - Delicious