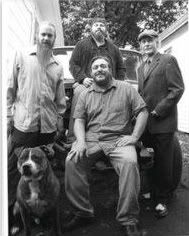 It's been awhile since we checked in with the biggest albums at blues radio but we resume our weekly check of the charts and I'm thrilled to see our friends Kilborn Alley Blues Band in the Top 5 with their latest record Four, one of my Best Albums of 2011.
I can't say enough good things about Kilborn Alley's record and it's exciting to see the album catching on with blues listeners nationwide. The album topped the radio charts atLiving Blues, as well. It's such a great roots-oriented record that embodies the feeling of the blues without being a slave to the well-worn traditions of the idiom. It crackles with energy, fresh ideas, and great ensemble playing by four guys who really have a lot to offer. You really owe it to yourselves to check this one out!
Ruthie Foster tops the list with Let It Burn and that's on my list of records to check out soon. I'm working on a review of the #2 record from Otis Taylor, Contraband. I love Otis' unconventional way of creating the feel of traditional, vintage blues music. He's also one of our bluesmen with something to say and that's not always the case with blues lyricists. He's a bluesman with a singer/songwriter's heart and soul. The late Etta James' final record The Dreamer and the great new set from the mighty Joe Louis Walker rounds out the Top 5. Ahhh, Etta. The greatest of all time. Period.
Elsewhere, we've got a really cool disc from Ray Bonneville and blues listeners are really taken with the collaboration between legends Eric Clapton and Wynton Marsalis, a live album from The Lincoln Center.
Here are your Top 10 Blues Records according to Roots Music Report for the week ending February 24.
Ruthie Foster - Let It Burn
Otis Taylor - Otis Taylor's Contraband
Kilborn Alley - Four
Etta James - The Dreamer
Joe Louis Walker - Hellfire
Contino - Back Porch Dogma
Ray Bonneville - Bad Man's Blood
Joan Osborne - Bring It On Home
Matt Andersen - Coal Mining Blues
Wynton Marsalis & Eric Clapton - Play The Blues Live From Jazz At Lincoln Center