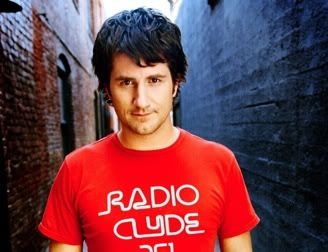 If you follow the iTunes Music Store charts closely enough - for example, say you do a weekly series wherein you report the top selling singles and albums - you notice there are certain types of artists or records that are bound to do well. The young, hip hop, beat-driven pop is always going to be a seller and there is also a loyal contingent of indie lovers out there. All that is on disaply in this week's chart where both Bon Iver and Matt Nathanson have landed in the Top 10 albums, Iver taking the top spot from Adele. Our pal Stephanie has endorsed the Nathanson record.
We've also got the latest from Jill Scott on the albums chart. I will always remember her most for naming her debut Who Is Jill Scott? No one thinks that's funny but me, and I don't really care. I still laugh about it.
Beyond the indie wunderkind of the moment, we also have plenty of hip hopping and beat popping and then there's Blake Shelton, representing country. It's kind of cute, the lone twang in the otherwise crowded sea of recycled, mechanical thuds and thumps.
iTunes' top 10 selling singles and albums of the week ending June 27, 2011:
Singles:
1. "Last Friday Night (T.G.I.F.)" - Katy Perry
2. "Moves Like Jagger (The Voice Performance) (feat. Christina Aguilera)" - Maroon 5
3. "Party Rock Anthem (feat. Lauren Bennett & GoonRock)" - LMFAO
4. "Give Me Everything (feat. Ne-Yo, Afrojack & Nayer)" - Pitbull
5. "Super Bass" - Nicki Minaj
6. "Rolling In the Deep" - Adele
7. "The Edge of Glory" - Lady GaGa
8. "Tonight Tonight" - Hot Chelle Rae
9. "How to Love" - Lil Wayne
10. "Honey Bee" - Blake Shelton
Albums:
1. Bon Iver - Bon Iver
2. 21 - Adele
3. The Light of the Sun - Jill Scott
4. Hell: The Sequel - Bad Meets Evil
5. Planet Pit - Pitbull
6. Outlaws Like Me - Justin Moore
7. Sigh No More - Mumford & Sons
8. Sorry for Party Rocking - LMFAO
9. Modern Love - Matt Nathanson
10. Nothing But the Best -- The Frank Sinatra Collection - Frank Sinatra