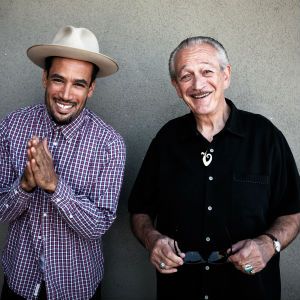 Welcome to 2013 and the return of New Music Tuesday where we preview just a few of the most interesting new music releases each and every week.
The first title I want to discuss this week comes from Ben Harper and Blues Hall of Famer Charlie Musselwhite, Get Up! Harper has cultivated a devoted following over his years of recording and touring but I've remained indifferent towards his work. The same isn't true of the legendary Musselwhite, whose work I adore (including his Blues Music Award-winning Album Of The Year Delta Hardware and his stunning most recent solo record The Well). I'm very curious about this pairing; I can see it really working and creating something special. I'm adding this to my list of new records to check out.
Also out this week is another re-issue of Fleetwood Mac's defining album Rumours. This re-issue is being offered in a number of configurations and I've thrown down the money on the 3-CD edition that brings us the album plus Stevie Nicks' wonderful B-side "Silver Springs" on the first disc, a disc of demos and outtakes from the Rumours sessions, and the real selling point for me is a disc of recordings from the band's subsequent tour. Fans of the most commercially successful lineup have at least one copy of Rumours in their collection. I can get pretty loose with your money but this looks like a set worth throwing down for to upgrade.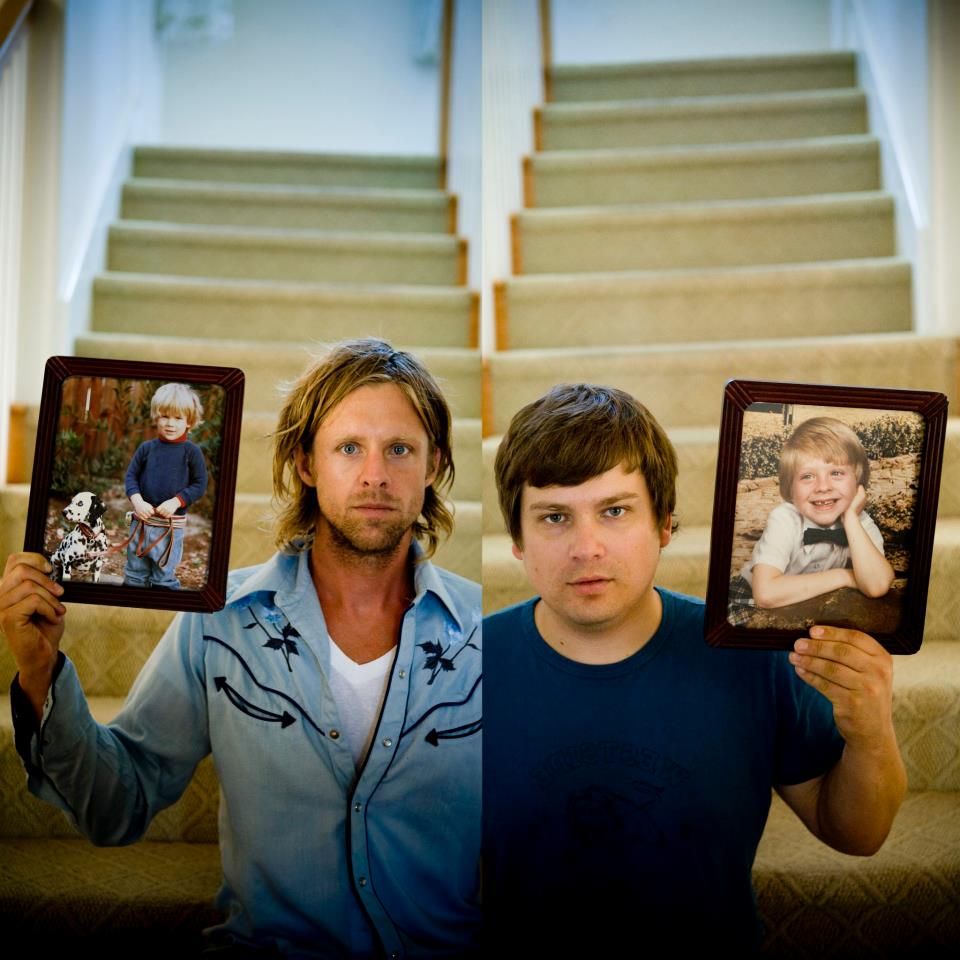 I make no secret of my love for Switchfoot and we have new music from the band's frontman Jon Foreman. Foreman has released a series of solo EPs and also collaborated on a side project with former Sean Watkins, formerly of Nickel Creek and Works Progress Administration. They follow their self-titled debut with Fiction Family Reunion. The first single from the set is "Up Against The Wall."
I read an awful lot about Tegan And Sara, or rather see their names in music press, and I can't place a single song by them. This is probably one more reminder I'm impossibly old but I can at least say I've heard of them and am pointing you to their new record Heartthrob. I am passing this one up... for now. I suppose it's entirely possible I could hear a song from this and like it but I'm not making any effort to check it out; I've got Charlie Musselwhite & Ben Harper, Fiction Family, and a Rumours revisit to keep my ears occupied this week.
Those are the albums I'm looking forward to this week. Here's the list of new releases for Jan. 29, 2013. What are you looking forward to hearing?

Accept - Playlist: The Very Best Of Accept
Adam Green & Bikini Shapiro - Adam Green & Binki Shapiro
Amor De Dias - The House At Sea
Ashanti - Braveheart
Assassin - Chaos And Live Shots
Atlantic Starr Tribute - Smooth Jazz Tribute To Atlantic Starr
Basshunter - The Early Bedroom Sessions
Ben Harper/Charlie Musselwhite - Get Up!
Black Explosion - Servitors Of The Outer Gods
Blaudzun - Heavy Flowers
Bleeding Rainbow - Yeah Right
Blue Sky Riders - Finally Home
Borderline - Sweet Dreams And Quiet Desires/The Secon
Box Tops, The - Playlist: The Very Best Of The Box Tops
Buke & Gase - General Dome Cassadee Pope - The Complete Season 3 Collection
Choo Choo Soul - Disney Favorites
Chris Potter - The Sirens
Christ On A Crutch - Spread Your Filth -  The Doughnut And Bourbon Years
Chrome Molly - Gunpowder Diplomacy
Circle Ii Circle - Season Will Fall
Civilization One - Calling The Gods
Cockney Rejects - East End Babylon
Coen, Gabriele - Yiddish Melodies In Jazz
Con Funk Shun Tribute - Smooth Jazz Tribute To Con Funk Shun
Crystal Viper - Crimen Excepta (Lp)
Cult Of Luna - Vertikal
Davis, Miles - Miles Davis Quintet: Live In Europe 1969
Dead Prez - Information Age / [Explicit]
Deep Purple - Live In Paris 1975 / [2 Cd]
Dees, Sam - The Show Must Go On
Deluna, Kat - Viva
Dennen, Brett - The Definitive Collection
Destiny's Child - Love Songs
Disney Karaoke Series - Shake It Up
Doobie Brothers, The - Playlist: The Very Best Of The Doobie Br
Doro - Fear No Evil (Lp)
Ducktails - The Flower Lane
Duo Miho & Masumi Ho - Piano Four Hands: Stravinsky: Rite Of Spring; Hindemith: Sonata For Piano Four Hands; Ravel: Rhapsodie Espagno
Dyble, Judy - Talking With Strangers
Elisha Abas (Piano) - Abas, Elisha Plays Chopin & Yedida
Elvenking - Red Silent Tides (Lp Picture Disc)
Emmy Rossum - Sentimental Journey
Eric Burdon - Til Your River Runs Dry
Essence Goldman - A Dog Named Moo And His Friend Roo
Evans, Sara - Playlist: The Very Best Of Sara Evans
Fiction Family - Fiction Family Reunion
Fleetwood Mac - Rumours (Deluxe Edition)(4cd/1dvd/1lp)
Freddie Mcgregor - Di Captain
G. Love & Special Sauce - Playlist: The Very Best Of G. Love & Spe
Giant X - I
Gordon, James - Coyoteõs Calling
Grigoryan, Vardan - In The Shadow Of The Song
Guapo - History Of The Visitation
Gundecha Brothers - Night Prayer
Harouki Zombi - Objet Petit A
Harvie S With Kenny Barron - Witchcraft
Hasselbring, Curtis - Number Stations
Hatebreed - The Divinity Of Purpose
Henry, Nicole - So Good, So Right: Nicole Henry Live
Hey Ocean! - Is
Highwaymen, The (Jennings/Nelson/Cash/Kr - Playlist: The Very Best Of The Highwayme
Hollenbeck, John - Songs I Like A Lot
Hpg Presents - Chicano Rap Favorite Varrio Disc
Ike & Tina Turner - The Blues
Il Songo Del Marinaio - La Busta Gialla
Indians - Somewhere Else
Iron Maiden - Live After Death / [2 Lp]
Jeffrey Osborne - A Time For Love
Jenkins, Ella - Get Moving With Ella Jenkins
Justin Bieber - Believe Acoustic
Kinane, Kyle - Whiskey Icarus
King, Albert - The Big Blues
King, Freddy - Goes Surfin'
Kustom Kings - Kustom City
Lake Of Tears - Illwill (Lp)
Led Zeppelin - Celebration Day (3lp 180 Gram)
Ledet, Rosie - Slap Your Mama
Lena Hughes - Queen Of The Flat Top Guitar
Levin, Pete - Iridiumlive 008 -  4.8.2012
Lewis Connection, The - The Lewis Connection
Lewis, Jerry Lee - Playlist: The Very Best Of Jerry Lee Lew
Lisa Loeb - No Fairy Tale
Lloyd-Langton, Huw - Space In Time Anthology
Lost Animal - Ex Tropical
Marie, Teena Tribute - Smooth Jazz Tribute To Teena Marie -  Vol. 2
Maxim Vengerov (Violin); Itamar Golan (Piano) - Vengerov, Maxim: Bach & Beethoven
Medusa - First Step Beyond
Mei Yi Foo (Piano) - Musical Toys: Gubaidulina: Musical Toys; Chin: Six Piano Etudes; Ligeti: Musica Ricercata
Merrimack - The Acausal Mass (Lp)
Missing Links, The - The Missing Links
Mob Rules - Cannibal Nation
Moignard, Adrien - Between Clouds
Monoswezi - The Village
Mountain - Playlist: The Very Best Of Mountain
My Soliloquy - The Interpreter
Naim, Yael - Yael Naim
Nas - Playlist: The Very Best Of Nas (Pa)
Nilsson, Harry - Playlist: The Very Best Of Harry Nilsson
O'dell, Kenny - Beautiful People
On An On - Give In
Ortiz, Aruan & Michael Janisch - Banned In London
Pelt, Jeremy - Water And Earth
Perkins, Carl - Playlist: The Very Best Of Carl Perkins
Pozo Seco - Shades Of Time
Radar Brothers - Eight (Lp + Cd)
Rescuer - With Time Comes The Comfort
Rev 16:8 - Ashlands (Lp)
Rob Mazurek Octet - Skull Sessions
Rock Candy Funk Party - We Want Groove / [Cd/Dvd Combo]
Rogers, Kenny - Discovery Vaults
Ross The Boss - Hailstorm
Rozz Williams - Pig/1334 (Bd/Dvd)
Ruby Suns, The - Christopher
Ryan Francesconi/Mirabai Peart - Road To Palios
Samudio, Sam - Hard And Heavy
Shakra - Powerplay
Shaver, Billy Joe - The Complete Columbia Recordings
Shipp, Matthew - Greatest Hits
Skinny Lister - Forge & Flagon
Smith, Sonny - 100 Records Vol.3
Soundtrack - Parker (David Buckley)
Stewart, Al - Year Of The Cat & Modern Times
Suidakra - Book Of Dowth (Lp)
Swing Out Sister - Private View
Tegan And Sara - Heartthrob
The Reverend Horton Heat - Discovery Vaults
The Saturdays - Chasing The Saturdays / [Ep]
The Uniques - Absolutely The Best
Tim And The Space Cadets - Anthems For Adventure
Tomahawk - Oddfellows
Trae - Incredible Truth
U.D.O. - Solid (Anniversary Edition)
Ultraman - The Constant Weight Of Zero
Various - Cover Story: Smooth Jazz Plays Your Favorite Hits
Various Artist - Classic Love Songs Of The '60s: Sealed With A Kiss (2cd)
Various Artists - R&B Hit Box / [3 Cd]
Vaughan, Stevie Ray - Texas Flood (Legacy Edition)
Video - Previous Engagement, A
Vore - Gravehammer (Lp)
Wakeman, Rick - No Earthly Connection
Watson, Dale - El Rancho Azul
Williams, Andy - Playlist: The Very Best Of Andy Williams
Wilson, Charlie - Love, Charlie
Winston, Charlie - Running Still
Winter, Johnny - Johnny Winter And-Live At The
Wiz Khalifa - O.N.I.F.C. (2lp)
Yellow Red Sparks - Yellow Red Sparks
Yung La - Check
Zorn, John - Filmworks Xxv" City Of Slaughter/Schmatta/ Beyond The Infinite