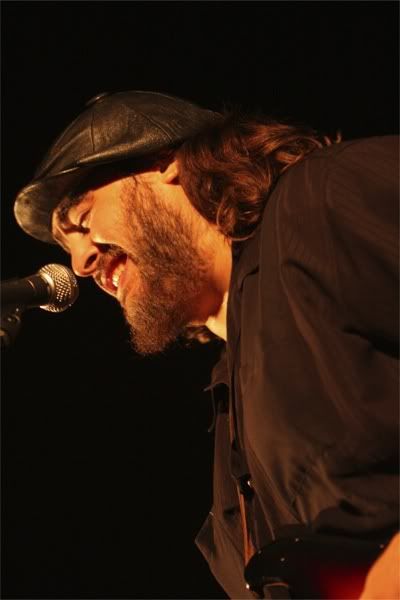 Nick Moss made a decision on his previous record Privileged to open his sound beyond Traditional Chicago blues, the hallmark of his career through seven records that made him one of the most popular figures on the current blues scene. He knows that sound, having learned from and worked with the greats like Willie "Big Eyes" Smith and Jimmy Rogers, both of whom were great artists in their own right and also tie into the tree of the immortal Muddy Waters. It's a sound and style he knows and one that comes from his heart.
It's always a risk to change something that has been successful but Moss wasn't changing for change sake. He made the decision because he was ready- not to move on, but to move forward. The result was a fantastic record that was a hit with listeners and critics alike. The title of his brand new record, Here I Am, is a direct message to the world: its a direction he's not finished with yet.
Don't despair, blues fans. The intuitive feel Moss displayed from his first record is completely in tact, just as with Privileged. That feel is being used in new ways, not replaced, ignored, or shelved.
Son House once said people can slap the "blues" label on whatever they want but there's really only one kind of blues, and that's between a man and a woman. If that's the definitionand let's go ahead and agree Son House knew what he was talking about there's plenty of blues on this record and they come about quickly. "Why You So Mean?" is a snarling, punishing, powerful screed about a no-good woman.
Noted historian, author, and critic Bill Dahl praised Moss after his set at the Chicago blues festival as "the most exciting blues guitarist we have around here" and he's been one of my favorites for a few years. It's exhilarating to hear him explode with new ideas throughout this record. He breaks out his slide early and often and nowhere is it more devastating than on "Mean."
Here I Am is a versatile record rooted in the blues but bursting with other sounds and textures. There's a distinct gospel feel on the first single from the record, "It'll Turn Around." New member Michael Ledbetter contributes great harmony and counter vocals, in itself something new for a Moss record. Guest vocalists Shuree Rivera and Jennifer Evans take that even further. Add to that some exultant keys work from Travis Reed, and we're off to church in music and message, as "Turn" takes the feeling of the blues and works it in reverse, speaking of a belief and hope that there is life beyond these blues and better times are ahead.
"Here Comes Moses" remains my favorite track on Here I Am and has been since the first time I heard it; it has everything. It's another example of Moss' growth as a songwriter and lead vocalist. He harmonizes with Ledbetter and fuses his riff with Reed's funky, percolating keys. Drummer Patrick Seals bangs and thrashes beneath, creating blunt-force rhythm that Moss assaults with a series of scorching leads.
Here I Am funks, rocks, grooves, bends, stretches, and bleeds the blues over the course of its 10 songs and 76 minutes. It is expansive and exploratory yet cohesive, putting on display an artist continually growing as a singer, songwriter, guitarist, and bandleader. This is Moss; he's at his absolute best and this album is one of the year's best.