Like Jack Black in High Fidelity I'm obsessed with making Top Five lists so I roped in a few friends to regularly discuss our favorite musical things. This week we're talking about our favorite duets.
"Under Pressure" as sung by David Bowie and Queen Selected by Stephanie: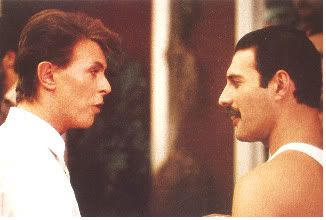 It's with a certain amount of shame that I confess to being born as a part of the Vanilla Ice era. What does that mean exactly? Well, there's a distinct set of us who discovered really good music only as the result of first hearing botched cover songs and samples done by horrible 90s pop artists (I'd make a list to illustrate the point, but it's likely to just depress me).
So while my friends and the rest of the MTv generation were shaving lines in their eyebrows (now that's what I call "to the extreme") and arguing about whether or not Vanilla stole the iconic bass line, I was uncovering the amazingness that is "Under Pressure." Originally recorded in 1981, "Under Pressure" made its first appearance on Queen's 1982 record Hot Space. And thanks to Mr. Ice (never thought I'd say that), the song saw a resurgence in 1990 due to lots of press about Queen/Bowie not receiving credit or royalties for the sample.
Mixing androgyny with…well…more androgyny - "Under Pressure" was a true collaboration between Bowie and the members of Queen - with all 5 musicians receiving songwriting credits The scat style of singing heard throughout the single is the perfect showcase for two of the most distinct voices in music history. Originally given the working title of "Feel Like," the song took flight when Queen met up with Bowie in his studio in Montreux, Switzerland.
To me a perfect duet is one that's just never as good as when it's performed by the original cast. And "Under Pressure" fits that bill. Subsequent live versions performed by Queen minus Bowie and by Bowie minus Mercury are mediocre impersonations of the original. A nearly pristine combination of talents, "Under Pressure" is a timeless classic that will, sadly, forever be tied to a brief moment of appalling '90s white rap music.
"Bye Bye Baby" as sung by Ronnie Spector & Joey Ramone Selected by Dan Griffin
I was fortunate enough to see the last of Joey's Christmas Shows at Tramps in NYC. He and Ronnie Spector sang together for most of the show but two songs stood out: Johnny Thunder's "You Can't Put Your Arm Around A Memory" and the duet "Bye Bye Baby." Both of the songs were from the Joey-produced EP She Talks To Rainbows. The two of them went through their fun and campy Christmas selections but these two songs made the audience cry – and, at the time, we didn't know why.
Though all songs on the EP are collaborations, "Bye Bye Baby" is the only actual duet. Everyone "in the know" from my generation and beyond appreciates Joey and misses him. Everyone else knows not what they missed.
"Angel From Montgomery" as sung by John Prine and Bonnie Raitt Selected by Mat Brewster
This song about an old woman who wants to escape from her dreary existence was written by John Prine when he was just 34, but it sounds as though it were written by a much older woman. The original comes from Prine's self-titles debut album and its a good song, but Prine's voice is way too young for the lyrics. Eventually Bonnie Raitt discovered it and made it a staple of her concert appearances. This is a live version with Prine singing alternate verses and harmony on the chorus.

Bonnie owns it. From now on "Angel From Montgomery" is hers, Prine's just waving to it as she passes by. Bonnie's voice embodies those life-weary lyrics and oozes with all the loneliness, depression and heartache a person can feel. About the half-way point there's a lyric that goes like:

"How the hell can a person go to work in the morning, come home in the evening, and still have nothing to say?
Prine's words mixed with Bonnie's voice tell a whole story in but seconds. You can just see an old housewife sitting around all day with nothing but flies for company waiting on her husband to return from work so she can have someone to talk to and yet when he arrives all he wants is silence. It breaks your heart right in two.

In the chorus they sing "To believe in this living is just a hard way to go." That may be right, but listening to this song makes it just a little bit easier.
"Aint No Mountain High Enough" as sung by Marvin Gaye and Tammi Terrell Selected by Kit O'Toole
You can have the best songwriters and the top backing musicians, but the crucial ingredient in a classic duet remains chemistry. If the vocalists, whether male and female or the same sex, have absolutely no repartee and fail to inspire one another to sing to greater heights, even the catchiest songs can fall flat. Few tracks illustrate the importance of chemistry better than "Ain't No Mountain High Enough," where Marvin Gaye and Tammi Terrell displayed their unique bond and ability to both harmonize and gently nudge each other to test their vocal limits.
Written by the legendary duo Nick Ashford and Valerie Simpson in 1966, "Ain't No Mountain High Enough" became the songwriting pair's golden ticket for admission to Motown. Gaye had experienced previous success with duet partners Kim Weston and Mary Wells, but Motown decided to pair him with newcomer Turrell. Her previous experience included stints with James Brown and Jerry Butler, but was still a mere 22 when paired with Gaye. Despite her relative inexperience compared to her singing partner, she exuded similar confidence, equaling Gaye when it came to emotion. For a textbook example of an exciting duet, just listen to their interaction during the following lines: "My love is alive way down in my heart/ Although we are miles apart/ If you ever need a helping hand/ I'll be there on the double just as fast as I can." Their give-and-take on these verses demonstrates their one-of-a-kind chemistry, and transforms this Motown track from merely a catchy soul song to one of the best love song duets ever recorded.
"Paradise by the Dashboard Light" as sung by Meatloaf and Ellen Foley Selected by El Bicho
One of my favorite duets is Jim Steinman's "Paradise by the Dashboard Light" off Bat out of Hell. The song tells a very believable, and far too common, story of teenage lust resulting in adult frustration.
It opens with a man (Meatloaf) reminiscing about parking by the lake with a woman (Ellen Foley) when they were each "barely seventeen/And…barely dressed" and he was certain they were "gonna go all the way" that night. Doo-wop background vocals give a sense of time, circa early '60s.
Documenting the make-out session and young backseat fumblings, NY Yankees broadcaster Phil Rizzuto gives a metaphoric play-by-play as moans and groans are heard underneath. As the guy heads for "home", the young girl calls an immediate stop to the action. Before they "go any further" and she gives herself to him, she needs to know the answers to the following:
"Do you love me?
Will you love me forever?
Do you need me?
Will you never leave me?
Will you make me so happy for the rest of my life?
Will you take me away and will you make me your wife?"
Hoping he can get out of promising anything, he asks to "sleep on it / And I'll give you an answer in the morning" but she won't take no answer for an answer. With paradise seeming so close, he confesses to the listener:
"I couldn't take it any longer
Lord I was crazed
And when the feeling came upon me
Like a tidal wave
I started swearing to my god and on my mother's grave
That I would love you to the end of time"
Steinman has written clever lyrics because the story of "Paradise by the Dashboard Light" isn't clear until the final part when the listener is returned to present day and the man reveals he is unhappy with the deal he made. He's going to stand by his word, but he tells the woman he's "Praying for the end of time/ So I can end my time with you!" No doubt, a sentiment shared by many an unhappily married man.
The music is instrumental in creating the song's epic, rock-opera sound. Producer Todd Rundgren plays guitar. Steinman plays keyboards and is credited with "lascivious effects". The most notable musicians to join them are E Street band members pianist Roy Bittan and drummer Max Weinberg, contributing to smell of Springsteen teenage spirit the song gives off. The arrangement changes throughout, keeping the band on its toes.
Aside from its songwriting and music, "Paradise by the Dashboard Light" is naturally a Top Duet because of the talents of Meat Loaf and Ellen Foley. They impress with their ability to recreate the range of feelings the characters have and interact very well with each other, even when their characters are at odds. A duet "never felt so good/…never felt so right".
[FYI: Ellen Foley is not in the video. In her place is Karla DeVito, who sang Foley's parts during live performances.]
And there we have it. What are your favorite duets?