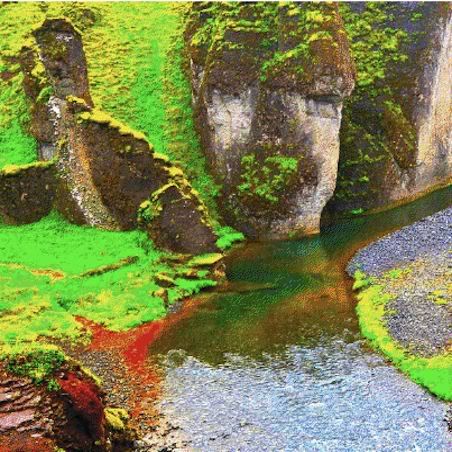 Primarily known for his beats for artists such as Lil B, Prodigy, and Soulja Boy, Clams Casino gained acclaim earlier this year with his Instrumental Mixtape. Hearing his beats without lyrics exposed their true artistry. He continues to shine on his latest work, the five-track EP Rainforest. Straddling the gap between hip-hop and electronica, Rainforest is a fascinating listen worth checking out.
For those unfamiliar with his work, Clams Casino's production style is a bit different from other hip-hop producers. His beats are often chock full of atmosphere. Vocals by such female singers as Adele, Imogen Heap, Bjork, and Janelle Monae are cut, slowed down, and distorted, sometimes beyond recognition. Various sound effects come into play with synths featured prominently and heavy bass accompanying them.
Rainforest opens with "Natural." The main vocal sample that drives this track sounds like someone in the throes of...something. Echo is used wonderfully here. Other vocals are used but the only one that is understandable repeatedly says "you should be." The layering of sounds also stands out as there never seems to be a point where there's unused space.
"Treetop" is probably the most dramatic departure from Clams Casino's hip-hop beats. This is the only song on Rainforest with no vocal samples. Synths are looped and paired with slower drums. Nature sounds flow through the song but, interestingly, they are cut up. The song has the feel of a lost Boards of Canada track and this is meant in the best possible way. "Waterfalls" is a harder-hitting track. The vocal sample here sort of represents a waterfall in audio form as it drones on. The drums are a bit more prominent and sometimes take a tribal feel to them.
"Drowning" follows and is quite creepy. The opening builds suspense with sounds reminiscent of the infamous sound effect from the movie Friday The 13th. When the main vocal samples kick in, the only word you can definitely understand is "footsteps." Those samples are manipulated to sound one way and then are deepened further to give the song a horror movie feel. The primal sounds of "Gorilla" give the EP a fitting conclusion.
Rainforest makes it clear that Clams Casino is someone to watch. The five tracks are just enough to leave you wanting more. It's a work that rewards repeat listens as you find random, unexpected sounds hidden in its depths. Whether you're a hip-hop fan, an electronica fan, or someone just looking for unique sounds, you will find something to enjoy.
Rainforest is available for download on iTunes.