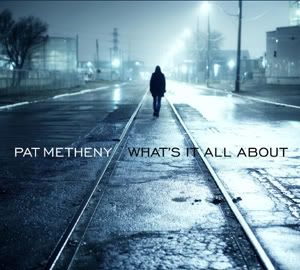 How do you take a song that is based on six strings and two voices and interpret it on a 42-string guitar, no voice, and maintain the song's identity and intimacy? Why would you even try? What would possess a man to want a 42-string guitar? What would make "The Sound Of Silence" by Simon & Garfunkel feel like an ideal candidate for this kind of treatment? That is the imagination, creativity, and virtuosity of Pat Metheny.
There are some who might mistake the intimacy of these solo acoustic recordings as Muzak for elitists or just plain dull. If you hear anyone say that, you'll know they've missed the point entirely and you should probably hit them on the head with a tack hammer. The audacity of the record isn't found in guitar chops or licks, improvisation, or complex time signature changes. The boldness is in the intimacy of the playing and the very idea of the record itself. The payoff is in the execution, for those who appreciate nuance and the difference between quiet and soft.
Many of these songs started out as "simple" pop songs and yet we, as civilians, marvel at the immense power of them. How can someone distill a lifetime of feelings or the intensity of the most beautiful, sacred, heartbreaking, terrifying, or confusing moments of the human experience and condense them into four minutes?
How, then, do you take these beloved and incredible songs that are so familiar to so many and hear them in a way so different than what millions of people have heard? How do you deconstruct and reassemble them in a way that is familiar and unique? That is the imagination, creativity, and virtuosity of Pat Metheny.
It takes all three of those things to make What's It All About work: the imagination to hear something different, the creativity to try, and the virtuosity to achieve what the imagination has conceived.
The album is a pleasure to experience in its entirety and highlights will differ but standouts include the aforementioned "The Sound Of Silence," "And I Love Her," "Cherish," and "Rainy Days And Mondays." The Carpenters recorded some dreck but Karen Carpenter had one of the purest voices I've ever heard. The warmth and authentic of her voice are missed and on this interpretation they are missed and yet somehow that spirit remains. He mixes percussive playing, harmonics, and beautiful touch on "Cherish." Paul McCartney is either the most or second-most important melodist in pop history and yet there are so many crap covers of Beatles' songs. Metheny does Macca and his Fab Four brethren proud on "And I Love Her."
Let's hope Metheny gets the urge to revisit the ideas of this record again soon.