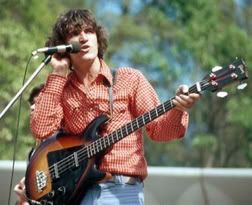 The Rick Danko/Graham Parker evening at the Bearsville Theater was such a success Rick and I talked about doing one each month with different special guests. As the season wore on and Rick's money woes increased, he wanted to host a night at the theater twice a month. We never seemed to have a problem attracting special guests with drawing power for a capacity crowd for all performances. Rick would have been happy with one night at the theater every week but I knew that would be overkill for ticket buyers despite the creative spin we could put on the series.
The songwriter's circle tape from the Bottom Line inspired me to ask Rick about an evening with four artists. My friends Marshall Crenshaw, Jules Shear and Bill Lloyd would join Rick. Rick knew Marshall and Jules from living in the Woodstock/Bearsville area. Jules had worked with The Band on songs for an aborted Columbia Records project. Bill Lloyd was from the country rock duo of Foster & Lloyd. He had been a friend of mine since the Let's Active touring days and we kept in touch when I moved back north after the first of two short stints in Nashville.
Once again, I connected everyone by phone to talk about the set list. The performance had been planned for the group to open and close the show with individual and joint sets between. As with Rick's show with Graham Parker, I arranged to have the theater ready for a full rehearsal the night before the performance. Once again, I had a rolling tape machine recording a tape that I still enjoy each time I put it on.
Bill was booked to fly into Albany from Nashville with his wife, Laura, and newborn son, Ryman. The trip down to Bearsville was timed to give the Lloyds a couple of hours to unwind before dinner at the Bear Restaurant and rehearsal at the theater into the night. As Marshall was also a close friend of the Lloyds, I called to ask if he wanted to join me on the ride north to pick them up. It turned out to be convenient for him as he could pick up his pet bulldog, Snoopy, at the vets in Albany. I borrowed the studio van, used mainly as a loaner to visiting artists or shuttle clients back and forth from the airports in Albany and Newburgh. The studio staff jokingly warned me that it had recently been cursed, as it was Ozzy Osborne's vehicle of choice while recording at Bearsville. Following Ozzy's departure, things had mysteriously occurred to the van without notice but they assured me it was in tip-top shape for the 50 mile or so trip to Albany and back.
I consider Marshall as the biggest catalyst in my life post 1984, so it is always a pleasure spending time with him – we have a lot in common in the love of old and obscure records and artists. The trip to Albany was uneventful but the fun began when Marshall retrieved Snoopy from the vet. Out of respect for my longtime friend, I will refrain from including details about the so-called K-9 except to say that it was one vile animal. I was a little concerned about the pet being in the van with the Lloyd baby but I figured as long as both parents are along, things could not get too out of control.
Little did I know, wackiness was about to ensue.
Marshall and I met the Lloyds in the terminal and it was obvious when they appeared that something was out of sorts. Bill looked like he had been hit by a truck, Laura looked stressed and the baby, well, it was a baby. Bill had contracted a nasty stomach flu and was instantly declared a no-hug or handshake zone by Marshall and me. I guided the crew to the waiting van and off to Bearsville we went. Snoopy sniffled, snuffled and growled, Bill sniffled, snuffled and growled, the baby cried and Marshall and I looked at each other in the front seats like we were among aliens and had a fear of contracting the new plague from animal or human. Bill had volunteered to sit way in the back of the 15-passenger van with his wife and child in the middle seats. A couple of minutes after reaching the New York Thruway, Bill yelled that we needed to pull over. This was no easy task during evening rush hour but I guided the van to the side of the road. Just as we stopped moving – and before the door was open – Bill began to wretch into the floor of the back seat and as he did, Snoopy became alarmed and began to bark which, in turn, caused the baby to scream. I wish I had a photo of the looks on Marshall's and my faces. Marshall had a half grin with a look of fear. We stared at each other in shock. After all, we only had about 45 miles to go before Bearsville and a planned dinner with all four of the headliners, me and Ian Kimmet, manager of the studios.
Against all odds or oddities, we made it and I was able to get the Lloyds settled into their rooms for the weekend. Dinner was set for 8:00 PM, which gave us an hour to recuperate and for Marshall to get Snoopy home, quiet and safe. We assembled at The Bear Café a/k/a the Big Bear Café, the late Albert Grossman's favorite of the three on his property; the other two being a Chinese restaurant and a French cuisine eatery.
Marshall and his wife, Ione, the Lloyds, Jules Shear and his girlfriend, Pal Shazar, Ian Kimmet and I were all at the restaurant promptly at 8:00 PM. By 8:30, we figured we would not be blessed with Mr. Danko's presence, so we ordered food. Halfway through our entrees, Rick walks through the front door and, spotting Ian and me, heads directly to our table. Without much introduction, Rick begins telling us a story of how he had been delayed by The Band's tour bus late arrival from Atlanta where they performed for an outdoor "Mullet" Festival. He explained that, in addition to a bad 80's haircut, a Mullet Festival included a race to see how far an individual could run with a live fish in their mouths. He informed us he was going home for a bit and would see us at the theater for a run-through of the next night's show.
At the theater, we assembled and waited for Rick – and waited – and waited. Jules, Marshall and Bill ran through some of their selections and rehearsed some duo and trio selections. Bill began to feel ill once more so as not to relive the experience in the van, he went to his room with our blessings to rest up for the next day. Around 11:00 PM Rick walks through the door with a smile on his face and guitar in hand. He seemed pleased that we had worked out the placement of artists and set the sound system. When asked for a suggestion for a song for the group intro, Rick throws "Louie Louie" on that table and, after an initial chuckle, Jules and Marshall don guitars and it sounds great with all three voices. As Bill was well versed in music history, he could jump into it easily for the opening number. We were out of the building by midnight and agreed to assemble at 5:00 PM at WDST, Woodstock's fine radio station, for an on air interview before the performance.
5:00 PM at WDST found the crew of us, including Bill Lloyd but – yet again – minus our host, Rick Danko. As we were under a time restraint, we began the interview with the D. J. promptly. As Jules, Marshall and Bill talk about the music and their histories, still no sign of Rick. Suddenly the engineer signals that Rick is on the telephone. He says hello to all and proceeds to tell us – on air – a hilarious story of how he had been driving to the station when he hit a deer on one of Woodstock's mountain roads. He stopped to see if the deer was OK when he noticed it was a doe – going into labor…Rick helped deliver the baby deer and carried mother and baby to a local veterinarian. We were so knocked out by the story – as a follow-up to the Mullet Race - we did not question nor would attempt to verify. If both stories were made up to have an excuse for Rick being late, it was well worth it. Though Rick always delivered when it came to the music, the rest of his life was a bit helter skelter – and he never failed with a great story.
The evening's performance went splendidly, "Louie, Louie" was the perfect opener and the audience was, once again, enthusiastic. The encores had run to the point of the group jamming on songs they had not rehearsed the evening before. It didn't matter to the crowd or the performers, it was fun. It was fun in a way that it could be one of those "had to be there" moments but, thankfully, I had the recorder going for the rehearsals, radio interview and performance. Each time I listen, I still laugh at the stories, the between song banter, the harmonizing voices and the people that came together for that weekend – and that weekend only.