Writers' block and laziness have conspired to constrict my workflow to little more than a trickle. Blame me, the cosmos, the distractions of life in the 21st century. Blame Black Keys.
What?
Most of the reviews I haven't written are down to me not persevering but not this one. The reason I haven't written this until now is because I've been pretty well flummoxed by it. I bought it the day it came out and I've listened to it several times from beginning to end as well as cherry picking a few favorites along the way but no matter how hard I tried, I couldn't generate anything more than a few weak sentence fragments.
I got incredibly frustrated because this was supposed to be a no-brainer! I love Black Keys and have since (shoot me) my brother turned me on to them many years ago. This was supposed to be that late entry that topped my Best of 2011 list (it was released in December) but none of that happened and I couldn't figure out why!
Today I abandon hopes of breakthroughs and grand proclamations. This is the record they've given me and here is my reaction to it.
"Sister" and "Stop Stop" are the two catchiest moments on the album, both filled with the spirit of great rock singles of years past. "Stop Stop" is a great piece of retro pop-rock songcraft with an insistent, memorable melody. "Sister" packs more punch with its muscular riff and chugging rhythm.
"Little Black Submarines" is the Led Zeppelin moment, following the tradition of "Over The Hills And Far Away" and "Stairway To Heaven" with its acoustic intro and conclusion with a rocking, electric middle. It's impressive how epic the song feels in just over four minutes.
The riffing in the electric portion of the track feels very Zeppelin-esque but it doesn't feel like a ripoff or relic because it's all processed and filtered through the Keys and adorned with modern flourishes courtesy of producer Danger Mouse; it's a high point of the record. It's good to hear BK rock out and do so with some of the same sonic accouterments more often heard on their slower, soulful excursions.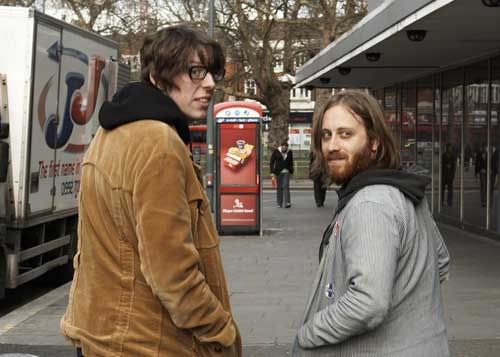 "Mind Eraser" ends the album and it's a fitting title for the album closer. I'm accustomed to quickly starting an album over at its conclusion but most of the time it's because I'm excited to hear it again. I kept starting El Camino over because I just couldn't remember enough of what I'd heard.
El Camino a good record and I like it but I expected to love it wanted to love it and the truth is, I don't and I don't know why. Black Keys haven't jumped any sharks nor have they become too popular to still be cool or even good. All the ingredients are here but the spark never quite catches fire. I struggled for weeks searching for a conclusion where this disc is concerned until I finally realized I had one all along.